Column: New Chargers-Raiders plan for Carson stadium sounds a little crazy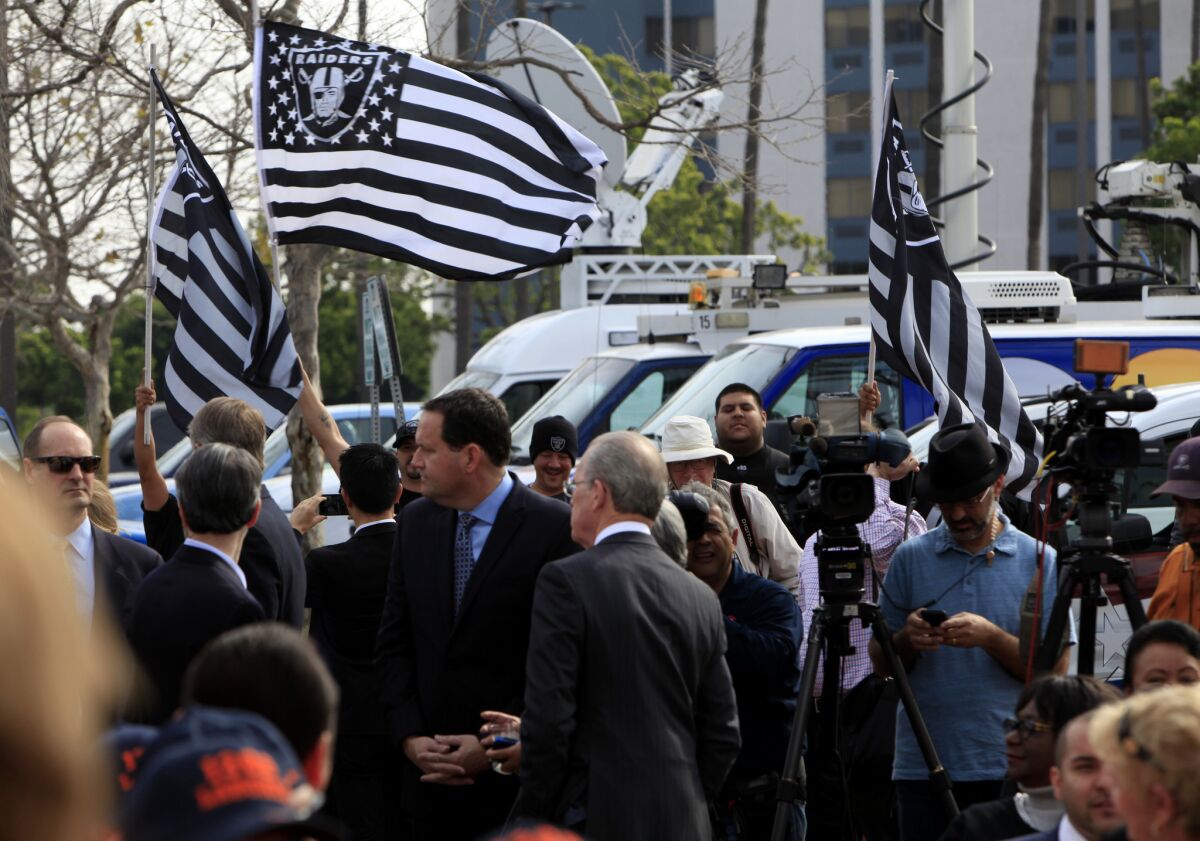 Here we are, 20 years after being jilted by the Rams and Raiders, arriving at a theater of the absurd.
You need to read about this stuff in a small, soundproof room, so nobody will hear your loud giggles and screeches of laughter and suggest a straitjacket.
Now we are told the NFL's return to Los Angeles is to be the Chargers and Raiders, together in one big, happy playpen. Think of the mascot possibilities — a one-eyed pirate with a lightning bolt on the patch. Artists are scrambling for the job. Think of whoever becomes stadium manager. The Nobel Peace Prize committee ought to just send the check now.
Twenty years of thumbing their noses at us and finding us useful only as crowbars at their building sites is one thing. But the Mutt and Jeff of the league, the Hatfields and McCoys, doing a stadium Kumbaya on what was once a toxic landfill?
Please, please, stop.… My stomach is aching.
Carson has been rejected as a stadium site more often than Lance Armstrong at a Boy Scout convention.
When it comes to Los Angeles, we are the all-time leveraged city. But has there ever been a more blatant, oily leverage play than this one?
At least Stan Kroenke didn't hide his land purchase at Hollywood Park. Nor has Phil Anschutz snuck up on anybody in his quest for a team for downtown, or Ed Roski in the City of Industry. We all found out about the Carson deal Thursday because the Chargers and Raiders didn't purchase the land — it's owned by a third party — they only bought the rights to control the land.
San Diego's mayor said he found out about the deal not from the Chargers, but from The Times.
We love being the primary carrier of news, and often are. But when you are working on a deal in your hometown and keep saying you want to stay there, don't you bring pertinent news such as Carson to the negotiating table first, before handing it to people with notebooks and microphones?
And aren't the Raiders merely sad-sack losers, along for the ride out of desperation?
Let's look at this sad-sack thing.
Most estimates put each NFL team's annual starting revenue from TV — before they sell a ticket, hot dog or team jersey or park a car — at around $200 million. With that in the bank, it would seem difficult not to make a profit, even if you are the Raiders.
The desire for Los Angeles as home base is built on degrees of greed, not on a need to make payroll.
In Los Angeles, more so than San Diego and Oakland, you can more easily sell millions worth of personal seat licenses — a one-time payment that guarantees prime location and first rights to those seats in the future.
Fair enough, but where has everybody been for 20 years?
Our Sam Farmer, the bearer of this surprising news to San Diego and Oakland on Thursday evening — which prompted our corresponding belly laugh in L.A. — cites an acquaintance with a perfect metaphorical description of what is currently going on with the NFL and Los Angeles, after all these years of mostly lack of interest.
It goes like this:
Once upon a time, you had a favorite toy. You couldn't get enough of it. You always wanted to play with it. But you got older, lost interest in it and it ended up at the bottom of the toy box.
Then, one day, your little brother found it in the toy box, loved it and played with it constantly. That made you mad. It was your toy, not his, and you wanted it back. Right now.
Think of Los Angeles as the toy, Kroenke as the little brother, and you've got it.
As usual, perspective is needed here.
The new Carson dream is represented by a public relations video easily found on YouTube. It was done by the architects, an industry that has suddenly found the land of milk and honey in Los Angeles, where stadium drawings and concepts demand high six-figure payments.
This video is entitled "Carson2gether." Against a backdrop of rose-petal music, it spans four minutes panning over perfectly parked cars, in a perfectly manicured parking lot, with people strolling toward the sparkling new stadium along tree-lined walkways.
Soft clouds float overhead. In the distance is the ocean and, oh my, can that be Catalina?
The huge sign on the stadium lists this football Taj Mahal as Los Angeles Stadium. That will never happen. A major part of any new stadium these days is a multimillion-dollar naming rights deal.
Upon reflection, keeping in mind the location, this stadium would be perfectly suited for one name.
First, some background.
There is a neighborhood in Carson of roughly 1,500 homes called the Carousel. It has been the subject of controversy and litigation for years. In some homes, oil actually seeped up onto the patio. Barbara Post, president of the Carousel Homeowners Assn., has been quoted in the Daily Breeze as saying, "People are contracting cancer and other debilitating diseases at an alarming rate."
At one corner entry to the Carousel tract, there is a sign with an unusual addition. It says: "Got Benzine? Got Methane? We do, under our houses."
The Los Angeles law firm of Girardi Keese recently won a settlement with original owner Shell Oil, which includes payments for homeowners and a $146-million commitment to a cleanup. There remains ongoing litigation with Dole Food Co., which bought the site from Shell and developed it into homes.
The Carousel tract is about 4.5 miles from the proposed NFL stadium.
Which brings us to the obvious stadium name:
The Carson Exxon Valdez.
Get our high school sports newsletter
Prep Rally is devoted to the SoCal high school sports experience, bringing you scores, stories and a behind-the-scenes look at what makes prep sports so popular.
You may occasionally receive promotional content from the Los Angeles Times.