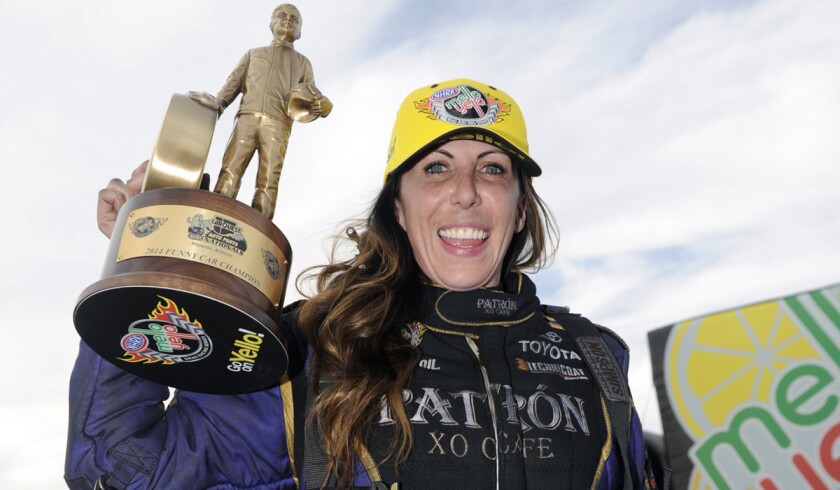 In the final drag race to decide the funny car winner at last year's NHRA event in Phoenix, Alexis DeJoria — looking for her first career victory — lined up against Robert Hight, a former champion.
DeJoria won and, for good measure, again bested Hight in Las Vegas a month later to earn her second victory.
Naturally, she was euphoric and Hight was not. "She had my number there for a while," Hight said.
But neither was surprised. "When you see somebody work that hard and want to do it that badly, they're going to succeed," Hight said of DeJoria. And DeJoria said her wins were "just a matter of time."
DeJoria won a third time last year by capturing the U.S. Nationals in Indianapolis, one of the most prestigious events in the National Hot Rod Assn.'s Mello Yello Series. That cemented 2014 as a breakout season for the 37-year-old daughter of billionaire John Paul DeJoria.
Now, Alexis DeJoria sees no reason why she can't win her first funny car championship this year, starting with a victory Sunday at the NHRA's season-opening Circle K Winternationals in Pomona.
"We've got all the ingredients" to win the title, DeJoria said in an interview. "Great crew chief [Tommy DeLago], great team, the car is set up really well right now, it's consistent and it's fast."
DeJoria is a fortunate daughter who could be lounging on a beach rather than steering a 10,000-horsepower funny car that flies down the 1,000-foot drag strip in four seconds at speeds topping 300 mph.
But DeJoria, who drives a Toyota-backed car for the Kalitta Motorsports team, would have it no other way. "I've always been kind of the rebel of the family, so it's not surprising I ended up here," she said. "This is my passion."
Besides her three wins, DeJoria turned heads last year by becoming the first woman in NHRA history to make a run of less than four seconds in a funny car. She first did it at last year's Winternationals with a pass of 3.997 seconds.
Her biggest cheerleader is her father, who attends about five NHRA events each year. "I'm very, very proud of her," he said.
John Paul DeJoria, 70, is co-founder of the Paul Mitchell line of hair-care products. He also helped start the Patron Spirits tequila company and other enterprises, and Forbes estimates his net worth at $3.5 billion.
Alexis DeJoria's car carries Patron as its main sponsor, but she's known for having spent several years learning her craft in drag-racing's minor leagues rather than merely buying her way into the sport's top levels.
"That's not the way I was raised," said DeJoria, who reached the Mello Yello Series full-time in 2012.
"I was always impressed because she worked her way up," said veteran funny car driver Ron Capps, who will face DeJoria in the first round of final eliminations Sunday. "She loves being grounded. It's unique to find somebody like that who has that sort of background."
Alexis DeJoria worked for Paul Mitchell after high school. But by then she'd attended her first drag race in Pomona and was hooked. Drag racing "had been nagging at me," she said, and she began racing in the NHRA's lower ranks in her mid-20s.
Her father fretted about the danger, especially that funny car engines are in front of the driver — engines that not infrequently explode from the enormous stress placed on them.
"I said, 'No, that's too dangerous,' but she talked me into it," John Paul DeJoria said. Later, as he watched one of her races in the NHRA's second-level divisions, "tears are coming out of my eyes," he recalled. "She went straight and true."
Alexis DeJoria, who is married to motorcycle customizer and TV personality Jesse James, now is a threat to win every weekend. And when Hight was asked if DeJoria was ready to win her first title, he replied: "Without a doubt. And she has the team to do it."
Final qualifying
DeJoria was the 11th-fastest funny car driver after the event's third qualifying session Saturday. Courtney Force led the field by joining DeJoria in the sub-four-second club with a pass of 3.995 seconds (322.65 mph).
In the sport's other elite class, top fuel, Shawn Langdon ran the quickest time in NHRA history, 3.700 seconds (328.30 mph).
But it's not yet a record. The NHRA requires the driver to post another run at a time within 1% of the original time during the event's weekend to have the original time certified a record.
A fourth qualifying session scheduled Saturday was canceled due to rain.
Twitter: @PeltzLATimes
---