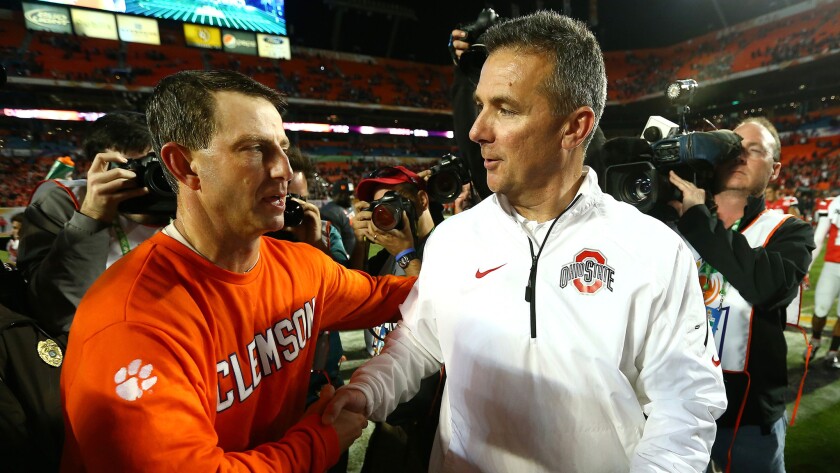 Glendale, Ariz. —
If you're looking for the secret to Urban Meyer's success, forget about the underwear theory.
The Ohio State coach made that crystal clear during a Friday news conference, insisting his approach has nothing to do with a "lucky T-shirt or good fortune."
Which apparently came as a surprise to the man seated beside him, Clemson Coach Dabo Swinney.
"You mean the game-day underwear, that's not the key ingredient?" Swinney asked.
Meyer's .854 career winning percentage has been a frequent topic of discussion in the leadup to Saturday evening's Fiesta Bowl showdown between Ohio State and Clemson.
His 10-2 record in bowl games — which includes three national championships at two schools — goes a long way toward explaining why the No. 3 Buckeyes are slight favorites over the No. 2 Tigers in this College Football Playoff semifinal.
As Swinney put it: "Those guys have won a million games for a reason."
But if Meyer and his program rank among college football's royalty — mentioned right up there with Nick Saban and Alabama — then Swinney and his team are trying to nudge their way into the conversation.
The last time these teams met, the Tigers sprinted to a 40-35 victory at the 2014 Orange Bowl. It was a big win for the program, setting the tone for great things to come.
In the three seasons since, Clemson has gone 36-5 with two Atlantic Coast Conference championships and a close loss to Alabama in last season's CFP title game.
Along the way, Swinney has established himself among a handful of elite coaches.
"A lot of hard work has gone into it," he said. "We've set out to be right here where we are."
The Tigers are 12-1 thanks mainly to quarterback Deshaun Watson, a two-time Heisman Trophy finalist who — along with receivers Mike Williams and Artavis Scott — fuels one of the nation's top passing attacks.
Running back Wayne Gallman and tight end Jordan Leggett provide additional NFL-level talent.
On the other side of the ball, Clemson ranks eighth in total defense with a pass rush that averages 3.54 sacks.
"They have really good, athletic corners and safeties," Ohio State running back Mike Weber said. "And their 'D' linemen are really tough and gritty down there in the trenches."
The line of scrimmage should be a key matchup at University of Phoenix Stadium. The Buckeyes' offensive front is young but anchored by All-American center Pat Elflein and has performed well enough to pave the way for the ninth-best rushing game in the country.
Weber and H-back Curtis Samuel have accounted for much of that production, with quarterback J.T. Barrett adding 847 yards off the read-option and run-pass option.
"There's a reason why they're in the final four," Clemson defensive end Christian Wilkins said. "They have such a good offense with a dynamic quarterback who can run the ball and can hurt you in a lot of different ways."
Defensively, the Buckeyes have stopped the pass more efficiently than any other team in the nation and have converted turnovers into seven touchdowns, which ranks second only to Alabama.
"Very disciplined," Watson said. "They make you earn it the whole way."
They also have one of the winningest coaches in the history of the game.
If Clemson used that Orange Bowl victory as a springboard, Meyer found a way to lead the Buckeyes back. And quickly.
The program has gone 37-3 since that disappointing January day — Meyer's first loss after starting his tenure in Columbus with a 24-0 run — and won a national title the very next season.
Recruiting talented athletes is a prerequisite in college football, but winning also requires making the right decisions on the sideline and, even more importantly, establishing the right sort of culture.
On Friday, Meyer listed some of his core principles, starting with "4 to 6," the demand that players go hard for the four- to six-second duration of each play. He wants all nine units — offensive line, defensive secondary, etc. — clicking at a high level.
"I always want to have a team that's not worried about making mistakes," he said.
Earlier in the week, Swinney mentioned that he has been studying up on his rival, procuring a copy of Meyer's 2015 book, "Above the Line."
"Trying to get that thing read by the end of the week," he said. "If you all got the Cliffs Notes, shoot them my way."
He must have pushed at least partway through because, on the eve of the big game, he nodded while listening to Meyer discuss coaching strategy.
"I'm getting it," he said, adding: "I'm no dummy."
Still, the Clemson coach seemed skeptical about one thing, saying: "I thought it was the lucky underwear."
---