If Boston stumbles in 2024 Olympics bid, L.A. could be asked to step in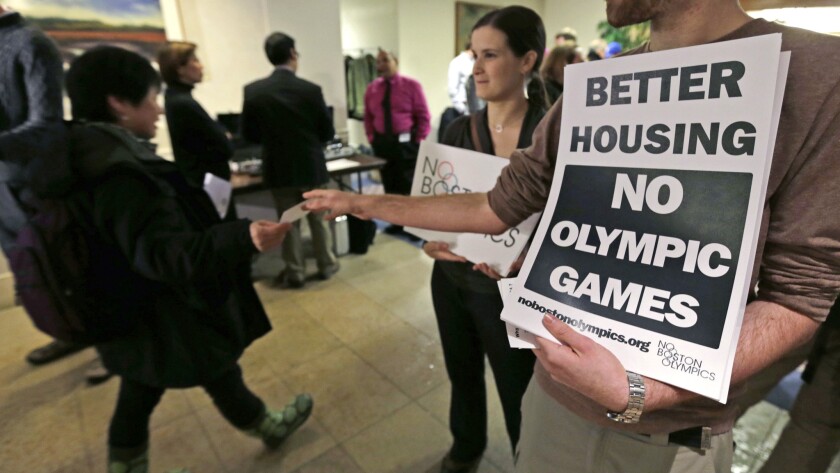 Five months have passed since Boston defeated Los Angeles in a close race to represent the U.S. in bidding for the 2024 Summer Olympics.
It has been a difficult stretch for organizers in the Massachusetts capital, who have faced persistent opposition and watched public support dip below 40% amid concerns about the cost of the Games.
The bid committee has reshuffled its leadership and promised a revamped master plan on Tuesday. The clock is ticking.
U.S. Olympic Committee board members will meet in Northern California this week and, while they will probably not take decisive action now, there is increasing pressure to abandon the Boston bid.
Pulling the plug would leave two options: Submit no American city for 2024 or make a last-minute switch.
Los Angeles — with an Olympic track record and an array of world-class venues — could be an easy solution, said individuals close to the situation who are not authorized to speak publicly.
"The Boston bid is in serious trouble," said Jules Boykoff, a political science professor at Pacific University in Oregon who tracks Olympic affairs. "These next few weeks are so important."
USOC and Los Angeles officials say they have not discussed — and will not comment on — the possibility of a switch. A Boston 2024 executive says his group remains confident as it presents a new plan to USOC directors.
"I know the board is curious," said Richard Davey, the bid committee's chief executive. "I don't sense this is anything other than keeping our trusted partner informed and getting their advice."
The U.S. has until mid-September to submit an application to the International Olympic Committee. After that, the process slows considerably, with almost two years of planning and presentations before the IOC selects a host in 2017.
That gives Boston officials a chance to fix their problems if they remain the candidate. Last week, USOC leaders took a first look at the revised bid plan and were encouraged, Davey said.
If nothing else, Boston might have bought itself time.
The bid committee has scrambled to rebound from early missteps that included a lack of communication with residents about the proposal's details.
"Bostonians like to be heard early and often," Davey said. "We did not get the 'early' part right but now we're getting the 'often' part right."
A recent poll by radio station WBUR showed only 39% of residents favor hosting the Games. Forty-nine percent were opposed.
Not that Olympic leaders expect overwhelming support with cities around the world becoming more sophisticated about the billions of dollars it costs to host the Games. Boykoff said: "The word is out — the Olympics aren't the economic deal we were always told they would be."
Still, the IOC prefers something around 70% approval.
"Ultimately, public support is very important," said Michael Payne, a former IOC marketing director who also advised the successful London 2012 and Rio de Janeiro 2016 bids. "Two years from now, the IOC wants to know that a majority of the local population thinks hosting the Olympic Games is a good idea."
London's bid overcame early poll numbers that lingered around 50% by changing leadership and improving communication with residents. Boston appears to be taking similar steps.
Construction magnate John Fish stepped down as chairman of the bid committee in May, giving way to Steve Pagliuca, co-owner of the Celtics. More recently, there has been an apparent strategic shift.
The WBUR poll showed 51% of respondents favor venues being spread across the state. Boston 2024 — which originally proposed a "walkable" Olympics — would still have as many as 25 venues clustered in the city but now has several potential sites in outlying areas.
Handball would be played in Worcester, fencing would be in Lowell and sailing events would be almost 60 miles away in the waters off New Bedford.
Opponents have not been entirely impressed.
"They're certainly making efforts," said Chris Dempsey, co-chair of a group called No Boston Olympics. "The question is, are they really addressing fundamental concerns with this bid?"
The biggest worry? Taxpayers getting stuck with the bill for cost overruns.
"If everything goes swimmingly, there is a finite amount of risk," Dempsey said. "But what if everything doesn't go according to plan?"
Affordability was a major selling point in Los Angeles' proposal last winter, when the USOC board chose from a list that also included San Francisco and Washington, D.C.
The Southern California bid featured Staples Center, StubHub Center and a renovated Pauley Pavilion among other venues constructed in the decades since the 1984 Summer Games. The region might also have an NFL stadium by 2024.
Existing sites would allow Los Angeles to get up and running with a viable bid campaign almost immediately.
"Nobody questions that they can deliver the Games," Payne said.
There is another reason to choose Los Angeles — as opposed to submitting no bid at all — if the USOC turns away from Boston.
Fewer and fewer cities have shown interest in hosting the Olympics over the last decade. Several candidates withdrew bids for the 2022 Winter Games, leaving only Beijing and Almaty, Kazakhstan.
With its "Agenda 2020" reform package, the IOC has sought to make the process less formal and costly. Paris, Rome and Hamburg have already announced campaigns for 2024 and Olympic officials want to add a U.S. candidate.
"It is good for the Olympic movement to have games in the U.S.," Canadian IOC member Dick Pound told the Associated Press.
If selected, Los Angeles would have to overcome being seen as a second choice, but experts believe two years should be sufficient to combat that image, especially if local support runs high.
This leaves the USOC board with a difficult discussion. When the members gather in Redwood City on Monday and Tuesday, the 2024 bid will be foremost on the agenda.
As Payne said: "They have to ask, 'Do we think this situation is going to improve significantly or are we going to be continually hitting our head against the wall?' "
Twitter: @LATimesWharton
---
Get our high school sports newsletter
Prep Rally is devoted to the SoCal high school sports experience, bringing you scores, stories and a behind-the-scenes look at what makes prep sports so popular.
You may occasionally receive promotional content from the Los Angeles Times.