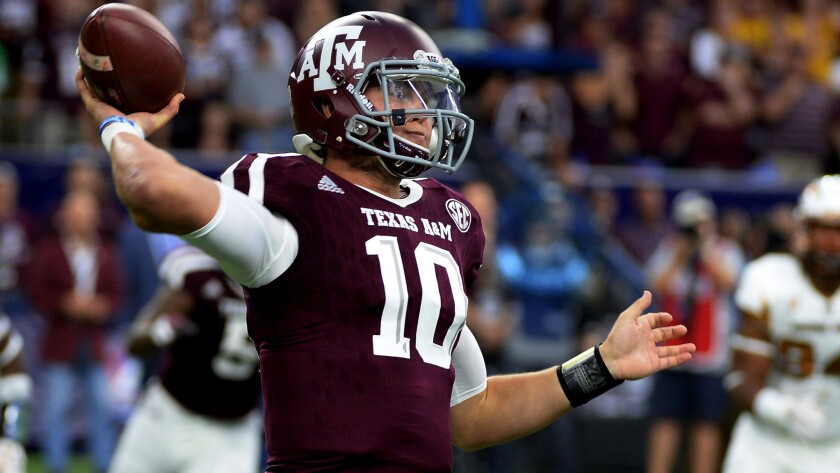 HOUSTON -- Kyle Allen threw for a score early and sealed the game by running for a touchdown and throwing for another in the fourth quarter after being benched in favor of freshman Kyler Murray, and Texas A&M beat No. 15 Arizona State, 38-17, on Saturday night.
Allen won the starting job in camp, but coach Kevin Sumlin replaced him with Murray in the second quarter and alternated quarterbacks for much of the second half. Allen spent most of the third quarter on the bench before returning early in the fourth and capping a long drive with a 12-yard touchdown run that made it 24-14.
Arizona State kicked a field goal before Allen connected with freshman Christian Kirk — like Allen, from Scottsdale, Arizona — on a short pass and he dashed 66 yards for a touchdown to make it 31-17. Kirk also returned a punt 79 yards for a TD in the second quarter.
Mike Bercovici threw for 199 yards and a touchdown for the Sun Devils.
Northwestern 16, No. 21 Stanford 6
EVANSTON, Ill. -- No. 21 Stanford could not get its passing game going, and the Cardinal went nowhere when they tried to run against Northwestern.
Freshman Clayton Thorson ran for a 42-yard touchdown while playing turnover-free ball at quarterback, Justin Jackson added 134 yards rushing, and the Wildcats had a win in their season opener.
"We didn't give ourselves a chance to win," Cardinal Coach David Shaw said. "You can't score six points and beat anybody."
It was not what Stanford envisioned coming off an 8-5 season that snapped a string of four consecutive BCS bowls. They won the final three games last year. But this season is off to a rough start.
Kevin Hogan had a difficult afternoon, going 20 of 35 with 155 yards and an interception. He was sacked three times.
Christian McCaffery ran for 66. But the Cardinal managed just 85 yards rushing and 240 in total offense.
"The bottom line for us is that we have to be efficient on first down," Shaw said. "We can't have penalties. We can't have dropped passes. We can't have missed blocks."
For Northwestern, Anthony Walker broke up two passes and had a fumble recovery, and Kyle Queiro intercepted Hogan in the end zone with about a minute left to seal the win.
"It was probably one of the best performances I've seen our `D' play top to bottom against a ranked team maybe in my time," coach Pat Fitzgerald said.
California 73, Grambling State 14
BERKELEY -- Jared Goff threw for 309 yards and three touchdowns in one half and California returned two interceptions for scores in the season opener.
Goff connected with Kenny Lawler three times for scores as the Golden Bears broke out to a 52-0 halftime lead with the highest-scoring half in modern school history.
Cameron Walker and Devante Downs each returned interceptions for scores as Cal overwhelmed lower-division Grambling State on both sides of the ball.
Johnathan Williams threw four interceptions in the first half against the Tigers, who have been outscored 185-20 in their last three meetings against schools from Power Five conferences.
Martez Carter scored on a 90-yard run in the fourth quarter and Nicholas Peoples added two interceptions for the Tigers.
Portland State 24, Washington State 17
PULLMAN, Wash. -- Steven Long scored on a 1-yard run with just over 2 minutes left in the game to lift Portland State to the upset in a steady rainstorm that hampered the Cougars' passing offense.
The rain and unseasonably chilly temperatures stymied Washington State quarterback Luke Falk, who this year replaced national passing leader Connor Halliday.
Portland State, a member of the FCS Big Sky Conference, was playing its first game under coach Bruce Barnum, who was making his college head-coaching debut. Barnum is working under a one-year contract.
It was the first time Portland State beat a Pacific-12 team in 15 tries, and lifted their record to 3-32 against FBS teams. It was Washington State's first loss to an FCS team in 20 outings.
Portland State quarterback Alex Kuresa completed just 7 of 12 passes for 61 yards, but led all rushers with 92 yards on 16 carries in the opener for both teams.
Falk completed 27 of 41 passes for 289 yards with two touchdowns for WSU.
The Vikings outgained Washington State 233 yards to 104 on the ground.
---