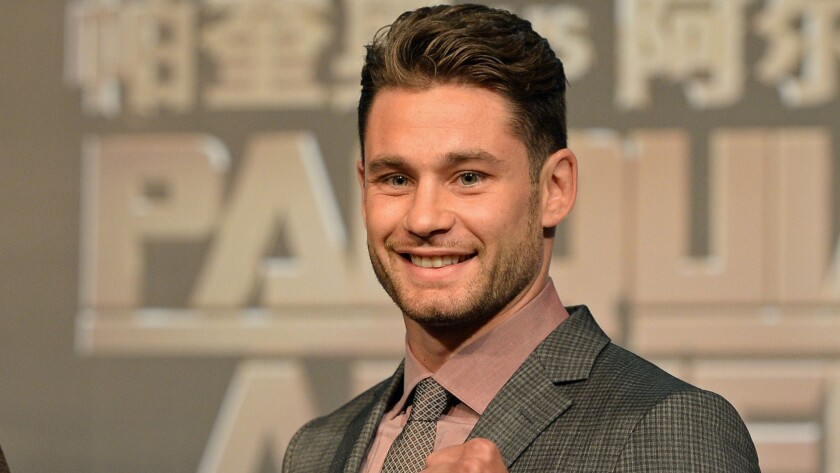 Chris Algieri wears stones around his wrist and neck that he believes increase the positive energy around him.
"They're for tranquillity, power and self confidence," the New Yorker said Tuesday in Hollywood, where he filmed a promotional segment.
Algieri isn't in Los Angeles to make a self-help DVD. He's here to sell sports fans on the idea he's capable of beating Manny Pacquiao in their HBO pay-per-view welterweight world title fight in Macao on Nov. 22. They'll appear at a news conference in Century City on Wednesday.
The 30-year-old Algieri (20-0, eight knockouts) propelled himself to a shot at Pacquiao (56-5-2, 38 KOs) with two upset wins — over Emmanuel Taylor in February, and over Pacquiao's former sparring mate, Ruslan Provodnikov, in June.
"After the fight, I said, 'Why the hell not Algieri?'" said Bob Arum, Pacquiao's veteran promoter. "Good-looking, articulate American. Smart as hell as an athlete too."
A former kickboxer who didn't box professionally until 2008, the fast-handed Algieri possesses a bachelor's degree in health and a master's degree in clinical nutrition from Stony Brook University in New York. Besides his extensive education on conditioning, Algieri exudes confidence that he can pull off his biggest stunner yet.
"I love this fight, love the matchup," said Algieri, who at 5 feet 10 is Pacquiao's second-tallest foe. The 5-11 Antonio Margarito lost a unanimous decision to Pacquiao in 2010.
"Stylistically, it's a very interesting fight. I don't think he's ever fought a guy like me with my physical abilities — as tall, as athletic as I am. I'm going to be a master boxer."
Pacquiao is aware Algieri was knocked down twice in the first round against Provodnikov before rallying impressively to outbox the Russian.
So how do book smarts and the intelligence to win one belt compare to the ring wisdom that Pacquiao has used to win belts in eight divisions?
"That's what we'll have to see, but Manny has his work cut out for him," Arum said. "Manny understands the sport at a world-class level, but there's something about Algieri you can't underrate. He keeps beating guys."
Algieri claims he'll show greater endurance than the conditioning dynamo Pacquiao, who's five years older and has fought 395 pro rounds compared to Algieri's 122.
Despite that, the challenger — who still lives at home with his parents in Huntington, N.Y. — understands that Pacquiao's body of work is why the welterweight champion draws thousands to appearances such as last week's promotional stop in Las Vegas.
"You'll catch some photos of me lost in the crowd, and I'm smiling. I have a smirk on my face," Algieri said. "I see what's going on. It's fun to me that people don't know who I am yet. Same thing happened in the Provodnikov fight. People thought I was there as fodder. It never broke me. I'm self-assured."
---