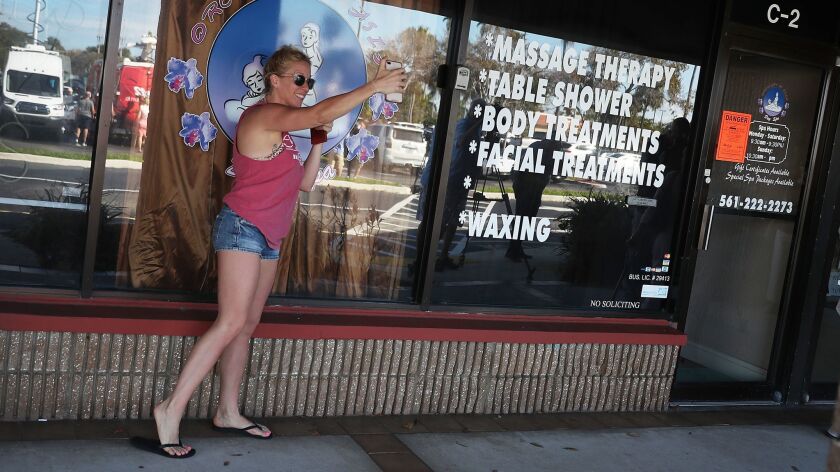 The Orchids of Asia Day Spa may be closed for business, but people were reportedly flocking there anyway this past weekend after New England Patriots owner Robert Kraft was charged with two counts of soliciting sex from a prostitute at the Jupiter, Fla., site on Friday.
Deadspin said traffic was backed up at the strip mall where the massage parlor is located that afternoon, with cars slowing or stopping to take photos or videos. The New York Post said dozens of people were lined up Sunday afternoon to take selfies in front of the now-shuttered business.
"I can't believe how many morons like me are here taking a picture," a Jupiter resident told the Post on Sunday. "Now this place is a historical site, it's a tourist attraction — everyone wants a picture."
More than two dozen men have been arrested as part of a crackdown on human trafficking and prostitution at nearly a dozen spas in the region. A warrant for Kraft's arrest is expected as early as Monday. The charges against him are misdemeanors.
Sign up for our daily sports newsletter »
Naturally, many of the folks on hand at the Orchids of Asia facility were non-Patriots fans who were there to bask in anything that can be seen as a blemish on a team that won the most recent of its six Super Bowls earlier this month — although Deadspin also reported that a Patriots fan was circling the parking lot in his pickup truck, blasting the team's unofficial theme song, "Bad Boy for Life."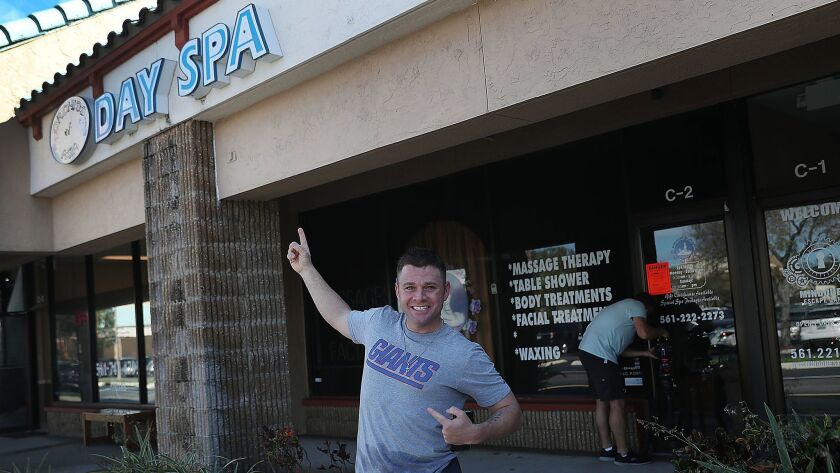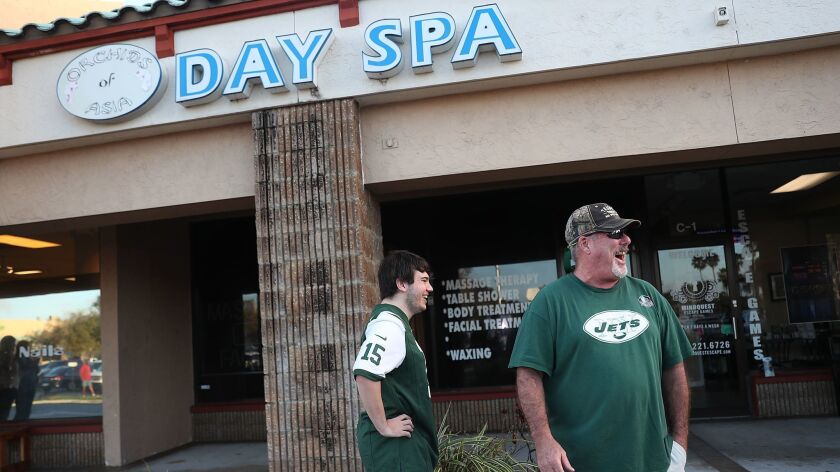 But amid the festive atmosphere, some people did note of the seriousness of the crimes that allegedly took place inside the building. A vacationer from Long Island, N.Y., told the Post, "I am a Jets fan, so I'm here to take a picture," but added, "It's so sad — you're reading all this stuff, and Kraft was contributing to all of this."
Another selfie-seeker from Florida told the Post that it's "amusing [Kraft] was caught this way, but it's also highlighting the issue of sexual exploitation."
Twitter: @chewkiii
---