How Ronda Rousey does it: 'I know the reactions that make sense.'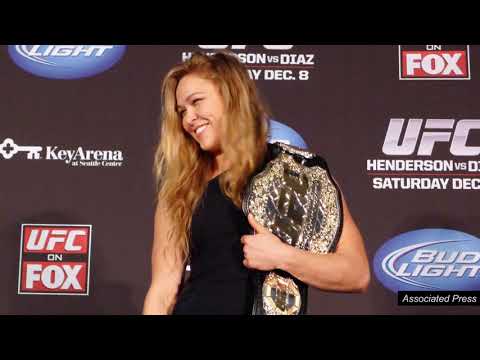 Venice's Ronda Rousey, the Ultimate Fighting Championship's women's bantamweight champion, provided The Times extensive breakdowns of her first-round victories in the octagon.
What Ronda Rousey has accomplished in the Ultimate Fighting Championship octagon almost defies explanation.
Until Rousey explains it.
The unbeaten women's bantamweight champion is preparing for her seventh UFC fight, against former world champion boxer Holly Holm on Nov. 14 in Melbourne, Australia.
Five of Rousey's prior six title defenses have ended in the first round — and the last four bouts have been don't-blink affairs.
Rousey, 28, needed only a combined 2 minutes and 10 seconds to finish off Sara McMann (1:06), Alexis Davis (16 seconds), Cat Zingano (14 seconds) and Bethe Correia (34 seconds).
Rousey last week sat inside the boxing ring at her trainer Edmond Tarverdyan's Glendale gym to dissect her five first-round victories, revealing what she thinks about during a fight.
"I don't memorize moves. I just do what makes sense at the time," said Rousey, who is 12-0 overall in mixed martial arts and holds the 135-pound title. "The way that I'm thinking [is] I have this action and so many reactions can come from that. … Pick one. … And I have an answer. I know the reactions that make sense."
Rousey's most difficult fight was the first UFC women's bout on Feb. 23, 2013, against Liz Carmouche at Honda Center.
Early in the first round Carmouche leveraged her way behind Rousey and tried to deliver a fight-ending choke.
"I dislocated my jaw, broke my sinuses, was coughing," Rousey recalled. . "When her hand went across my jaw, my mouth was ripped open. That's the only fight I got a bruise in."
The intense pain was especially troubling for Rousey because her years of work in judo — she was a 2008 Olympic bronze medalist — weakened her neck.
"The worse-case scenario is you break your neck, and my neck was past the place where it shouldn't have gone," Rousey said.
"It was in that moment I realized I was willing to die to win this fight. I was willing to be a quadriplegic to win that fight. It was that important to me. I didn't care. The thought of giving up never happened. You have to want it more than the other person."
After fending off Carmouche, Rousey said, "The first thing I tried to do was fix my bra, because [it] was coming off, but then she kicked me right in the chest."
By the end of the first round, Rousey figured out how to apply her famed armbar submission.
In her next fight, another armbar closed a third-round victory in a rematch against Miesha Tate.
Just 56 days later, Rousey was needed to fill another main event and took on wrestler McMann.
Rousey, who usually relies on her right foot, continually hammered McMann with left knees to the gut.
"The reason that left knee to the liver dropped her was I kneed her to the liver … one, two … eight knees. It was wearing on her," Rousey said.
Next came second-ranked bantamweight Davis, a black belt in jujitsu who charged at Rousey.
"She didn't think I could punch hard. She actually underestimated me," Rousey said. "[That] training camp, I was just being allowed to swing an overhand right and I was knocking a lot of people out. I had never really thrown it."
When she did, Davis collapsed.
Rousey described her Feb. 28 armbar submission of Zingano at Staples Center as a "character judging fight" because after watching Zingano's interviews Rousey was convinced her challenger was out to disprove criticism she was a slow starter.
Zingano predictably charged and Rousey avoided trouble with a cartwheel.
"She thinks I'm trying to pull [her] arm … so I switch from holding onto to this elbow to bracing [Zingano's other] arm behind my leg," Rousey said.
An armbar like that had never been done in the UFC until Rousey contorted Zingano's arm and forced a tapout to end the match after 14 seconds.
"She didn't think there was any way I could get that arm from there." Rousey asked. "It's all improvising. I make it up as I go along."
In August, Rousey ventured to Correia's home country of Brazil.
Correia's glib pre-fight prediction about beating Rousey and leaving her suicidal fueled Rousey's determination, given that her father had committed suicide.
"I specifically wanted to knock her out. I knew she didn't have knockout power in her hands," Rousey said. "I threw an uppercut. She got back up."
But then a knockout punch, a right delivered "right behind the ear," landed so flush it felt "soft," Rousey said.
Rousey is a 14-1 favorite over the 34-year-old Holm (9-0).
The champion was chatty about her recent fights, but with another bout nearing Rousey offered a coy response when asked if she has proven her punching power now: "Ah, I don't know."
Follow Lance Pugmire on Twitter @latimespugmire
Get our high school sports newsletter
Prep Rally is devoted to the SoCal high school sports experience, bringing you scores, stories and a behind-the-scenes look at what makes prep sports so popular.
You may occasionally receive promotional content from the Los Angeles Times.