Column: Women's World Cup: Rose Lavelle adds some spice for the U.S.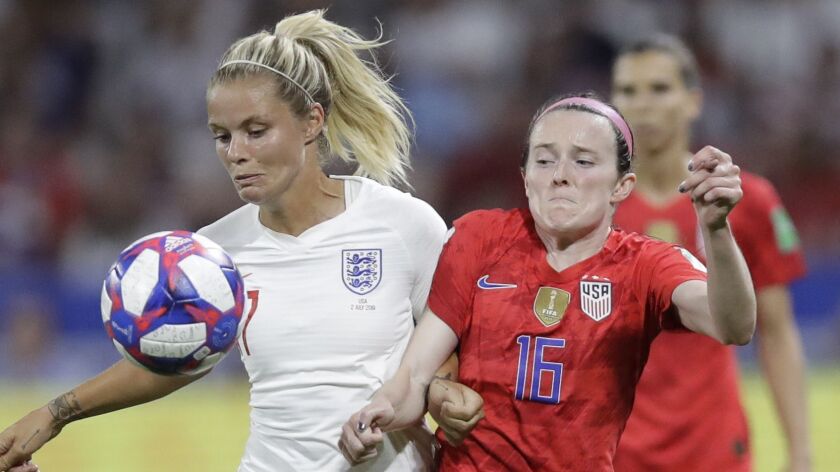 Reporting from Lyon, France —
It's dazzling in its simplicity, yet incredibly difficult. That daring move when a soccer player kicks the ball through the legs of a hapless opponent is called a nutmeg, and it requires quickness, good timing and great skill. Done well it's a thing of beauty — except to the humiliated victim.
U.S. midfielder Rose Lavelle added another nutmeg to her increasingly impressive resume on Tuesday, in the fourth minute of her team's 2-1 World Cup semifinal victory over England. As she dribbled the ball toward the far sideline she suddenly pushed the ball between the legs of defender Millie Bright, regained possession while Bright spun around, eluded another defender, and then booted a dangerous, left-footed shot that goalkeeper Carly Telford had to scramble to parry.
Those who had previously seen her leave foes flailing in her wake nodded in recognition. Those who hadn't seen much of the World Cup rookie instantly became fans of her inventiveness. It was a stunning moment in a career that's accumulating highlights at a dizzying pace. But for Lavelle, nutmegging an opponent is easier to do than to explain.
"I don't know," she said when asked whether she plans those moves and how she pulls them off. "Sometimes when I do that stuff it just kind of feels like muscle memory. It's not anything I feel like in the moment. I don't know. It just happens. I don't really know how to describe it."
Basically, then, it's that she sees a chance to do it and her brain instantly sends a message to her feet, telling them to go. "I guess so," she said, laughing.
Lavelle's constant good humor has endeared her to her teammates, and her creativity and fearlessness have made her one of the biggest revelations for the U.S. women during their journey to the final on Sunday against the Netherlands. "Rose is having a fantastic tournament. She brings something different," forward Alex Morgan said. "She's always obviously very crafty. She's a special player."
The Cincinnati native has started five of six games and has scored two goals, but her impact has been noticeable in many other ways. Although she didn't score on that great move on Tuesday, she later effectively served as the dummy on the first U.S. goal by allowing a pass from Tobin Heath to get through to Kelley O'Hara, whose cross was headed home by Christen Press. Lavelle left the game in the 65th minute with an apparent hamstring injury, which was alarming because she has a history of hamstring problems. She said on Friday she feels good and is ready to go in Sunday's final.
Lavelle, who is 24 but looks younger, remembers where she was during the last World Cup final, a 5-2 victory by the U.S. over Japan in Vancouver, Canada, in 2015.
"I was playing for the Seattle Sounders summer league team and me and the team were all sitting at a pizza shop watching the game," she said. "It was obviously a fun game to watch because there were so many goals. And I always say I wish I would have written this down so people would believe me but I just knew they had gotten so close the last time that going into 2015, once they got to the final, they weren't going to let it slip. And I knew they were going to crush it."
It's not long ago chronologically, but it feels like ages ago to her because of the professional and personal distances she has covered since then.
Lavelle had been named the best player in the Under-20 CONCACAF championship in 2014 without scoring a single point but she wasn't sure she was on coach Jill Ellis' radar for bigger occasions. Lavelle certainly didn't envision being here when she sat in the pizza place that day in 2015.
"You never know if or when the opportunity will present itself. And that was something I was striving for, but at that point I hadn't been in with the national team so I didn't really know how I would match up with those players," said Lavelle, who was called up for her first national team camp during the 2015 post-World Cup victory tour. "I think at that time I definitely wasn't ready to be in this environment and wasn't good enough and I think it took me like two, three years before I felt like I actually was able to compete at this level."
Sign up for our daily sports newsletter »
Now that she's about to compete in an event she watched on TV four years ago, she's realizing it's harder than it looked from afar.
"When I wasn't in that situation I was like, 'Oh, they got it,'" she said. "I think Netherlands is a great team and they're at the top of their game right now so we don't take them lightly at all, and I think it's going to be tooth and nail, a close game.
"I think it will be a fun game. Both teams have a lot of fun, creative players so I think it will be an exciting game."
The U.S. women will be heavy favorites on Sunday, but teammates with Cup final experience have told her no one can afford to let up.
"We have to have the same mentality going in that we have the past couple games where we're fighting and we need to finish the job," she said. "We can't go in thinking we have it won already or that we have the upper hand. We have to go in and respect our opponent, because Netherlands is a great team. I think we've just got to be ready."
Nutmeg or not, here she comes.
---
Get the latest on L.A.'s teams in the daily Sports Report newsletter.
You may occasionally receive promotional content from the Los Angeles Times.