Women's World Cup: Rose Lavelle is ready to follow her heroes from the '99ers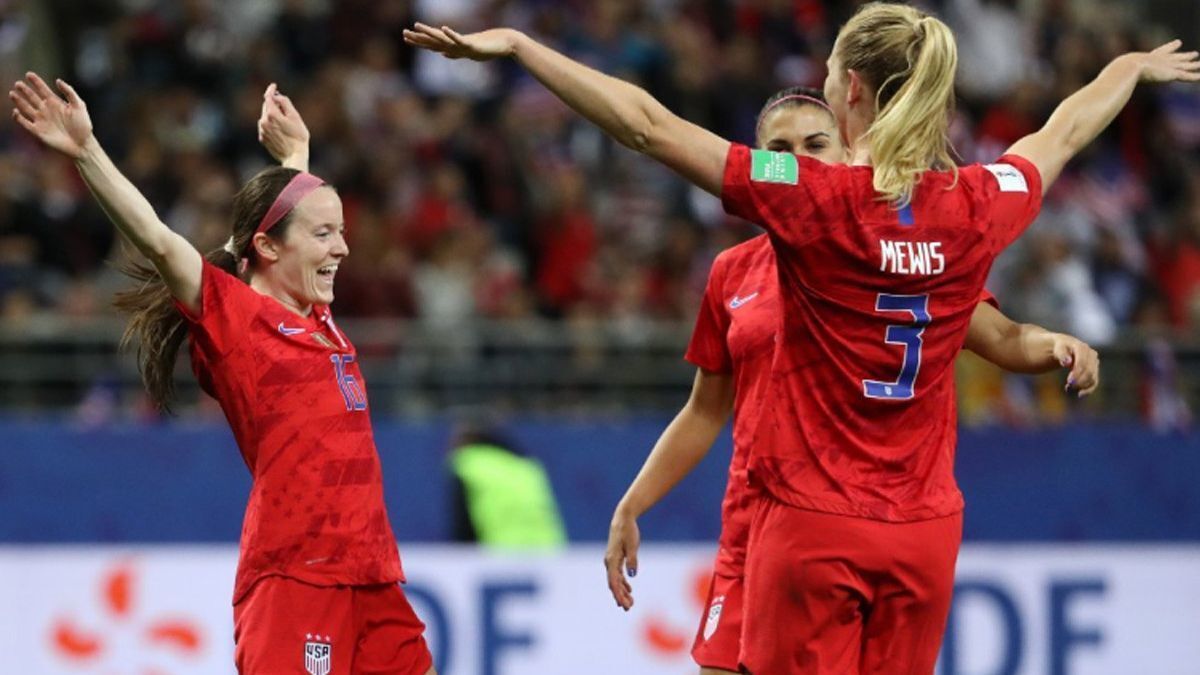 Reporting from Paris —
When Rose Lavelle was a girl growing up in Cincinnati, the women's national team came to town. The core of the roster then included iconic players from the 1999 Women's World Cup championship team — Julie Foudy, Mia Hamm, Briana Scurry, Brandi Chastain, Kristine Lilly.
Lavelle was smitten.
"I was obsessed with them," she said Thursday. "From that moment on I was just like, 'I want to be where they are one day.' "
Consider that mission accomplished. Lavelle made her World Cup debut with two goals and an assist in Tuesday's 13-0 rout of Thailand.
That hasn't chased away the long shadow cast by the so-called "'99ers," who went undefeated when the Women's World Cup was first hosted by the U.S., winning the title on Chastain's penalty kick before a crowd of more than 90,000 at the Rose Bowl.
That, too, might only be a matter of time. This team, with a core of 11 World Cup rookies, is building a legacy of its own in France.
2019 Women's World Cup guide »
"There is just a different feel. And it feels great," said Alex Morgan, who is playing in the tournament for a third time. "I feel like we are in peak form and ready to find success for the first time in this tournament as '19ers."
The new players have a little learning to do. On game day in Reims, for example, Lavelle and fellow midfielder Samantha Mewis, another World Cup rookie, left the team hotel in search of coffee.
"Which is something we always do," she said.
Rookie mistake.
The two players, besieged by fans, had to beat a hasty retreat.
"Alex, meanwhile, was like, 'Yeah, I'm not going to leave the hotel today,' " Lavelle said. "So that was lesson No. 1 that we learned."
Lesson No. 2: if you leave the hotel, don't wear any U.S. soccer gear.
"It's kind of a learning curve, obviously," Lavelle said.
Off the field, that is. On the field, the '19ers have more than held their own. Seven players made their first World Cup appearance against Thailand and four of them — Lavelle, Mewis, Lindsey Horan and Mallory Pugh — scored. Not since the first World Cup in 1991 have that many U.S. players made their tournament debuts in the same game. Never have that many scored in one.
"When you get on the field you're playing the same game that you've always been playing," said Lavelle, who will look to build on that performance in the next U.S. game Sunday against Chile. "But I think there was more of a buzz and an excitement around this game. We'd been waiting a really long time to play.
"I was glad to get on the scoreboard. But it wasn't like that on my bucket list."
Yet the newbies are so tight that Lavelle's goal moved Pugh, her roommate and NWSL teammate, to tears on the bench.
"We obviously have had such great examples of World Cup teams in the past," said Mewis, 26. "We have a lot more ahead of us to, hopefully, continue to have more exciting moments. It's been great so far."
Sign up for our weekly soccer newsletter »
If making a World Cup team was a dream for a 9-year-old Lavelle, just two years ago the road there had become a nightmare. Although 2017 started out as a year of firsts for Lavelle, with her first national team cap, her first international goal and becoming the first pick in the NWSL draft, it was quickly derailed by a season-ending hamstring injury.
Lavelle, 24, looks back and says that was a career-changing experience.
"I learned a lot from it and I think I'll be a better player and have a longer career because of it," she said of dealing with the injury. "The main thing was to be a 24/7 athlete. In college you can get away with not fully committing yourself.
"But that turned into my full-time job. I wasn't a student any more. I was just a soccer player. I had to switch my mind-set."
She'll have to do that again here because while scoring twice in her first World Cup game — something Chastain and Foudy never did — was nice, the '99ers won multiple championships.
For Lavelle and the rest of the '19ers, the next step on that road is the game against Chile. While Lavelle clearly has a long way to go to match the influence of the heroes that inspired her as a girl, she's already having an impact.
When the U.S. arrived in France last week, a dozen young soccer players were part of the local welcoming committee. Asked who their favorite players were, the French girls mostly responded with Morgan's name. Except one.
"Rose Lavelle!" the girl squealed.
Lavelle grinned at the memory Thursday.
"It's come full circle," she said. "I have always had players I've looked up to growing up. And now to be somebody who is being looked up to is really cool."
kevin.baxter@latimes.com | Twitter: @kbaxter11
---
All about the beautiful game
Go inside the L.A. pro soccer scene and beyond in Kevin Baxter's weekly newsletter.
You may occasionally receive promotional content from the Los Angeles Times.