Santa Anita race caller's dream job turns dark after learning of death threats
With lengendary race caller Trevor Denman no longer in the both, Australian Michael Wrona looks to makes his mark at Santa Anita Park.
Santa Anita track announcer Michael Wrona will pull into his parking space at the Arcadia track this weekend and wait for a few moments, much as he's done every race day for more than a month. He'll be looking for two plain-clothed armed security officers to escort him to his booth high above the track. He'll reverse this exercise at the end of the day.
This unsettling reality for the affable race caller has become the norm after learning of death threats against him shortly after he was named the permanent replacement for Trevor Denman. The threats, made on a horse racing blog, were from a fan of the former track announcer.
Santa Anita security officials contacted Arcadia police, who found the person who posted the threats.
"Based on the information we've been able to gather, we are comfortable that he is not a threat at this time," Arcadia Police Lt. Roy Nakamura said. "He's enamored with Trevor Denman and he's upset with the fact that Trevor is no longer going to be announcing the races. He's fixated on Trevor."
The man, who Nakamura declined to identify, was contacted by police, but not arrested or detained.
Multiple people familiar with the incident, who did not want their names used because of the sensitivity of the matter, said the person is a local resident with a developmental social disorder. He has also been tied to a threat against New York race caller Larry Collmus, who replaced Denman as the voice of the Breeders' Cup, according to a Santa Anita official.
Despite the conclusion of Arcadia police, the threat remains a concern at Santa Anita.
"We put extra security on Michael," said Joe Morris, senior vice president of West Coast operations for the Stronach Group. "We've got pictures of [the man who made the threat] all around the track. He's been barred from the track. We've got security at Michael's car and at his booth."
An armed security officer was placed outside the announcing booth for two weeks after the threat was made in May. That security has been removed but Wrona is instructed to always lock the booth when he is alone.
"It's certainly unfortunate that I've been encumbered by this situation," Wrona said. "It's not been pleasant. At the same time the security people at Santa Anita have been first class in their handling of this.
"It has inhibited my ability to circulate. For example, Clocker's Corner [where trainers, jockeys and fans gather in the morning to watch workouts] is the main example of something I couldn't do. It will be put behind me by the next meeting."
Denman, who in semi-retirement is scheduled to call Del Mar races starting July 15, learned about the threat in a call from Wrona.
"It's really, really strange," Denman said from his farm in Minnesota. "Hopefully nothing will ever come of it. And hopefully it will never happen again. But it's still a terrible thing to have hanging over your head."
Kurt Hoover, one of Wrona's closest friends and a TVG commentator, said the Queensland, Australia, native was in a better position than most to handle the situation.
"Obviously it's affected him," Hoover said. "But one thing about his job is when you make a mistake it's out there and you can't take it back. So he is used to always being under pressure. He's knows how to handle it."
Wrona's year has been a series of highs and lows. It started when he was one of four recruited to a very public audition for Denman's job, after it was announced he was leaving Santa Anita a few weeks before the start of its winter meeting in December.
The plan was for Wrona, 50, who was calling at Golden Gate Fields, to alternate with Frank Mirahmadi, who quit as the Oaklawn announcer to enter this competition. Englishman David Fitzgerald, who was at Royal Ascot, and Craig Evans, from Singapore, were given one-week tryouts.
"The audition process was taxing and even debilitating," Wrona said. "Not knowing where we stood was so tough. Santa Anita played their cards very close to the vest."
It was not Wrona's first public audition. In 2008, he was one of five calling a week each at Churchill Downs. Mark Johnson, from England, was the winner.
"He [Johnson] was a real darkhorse and so here comes David Fitzgerald, from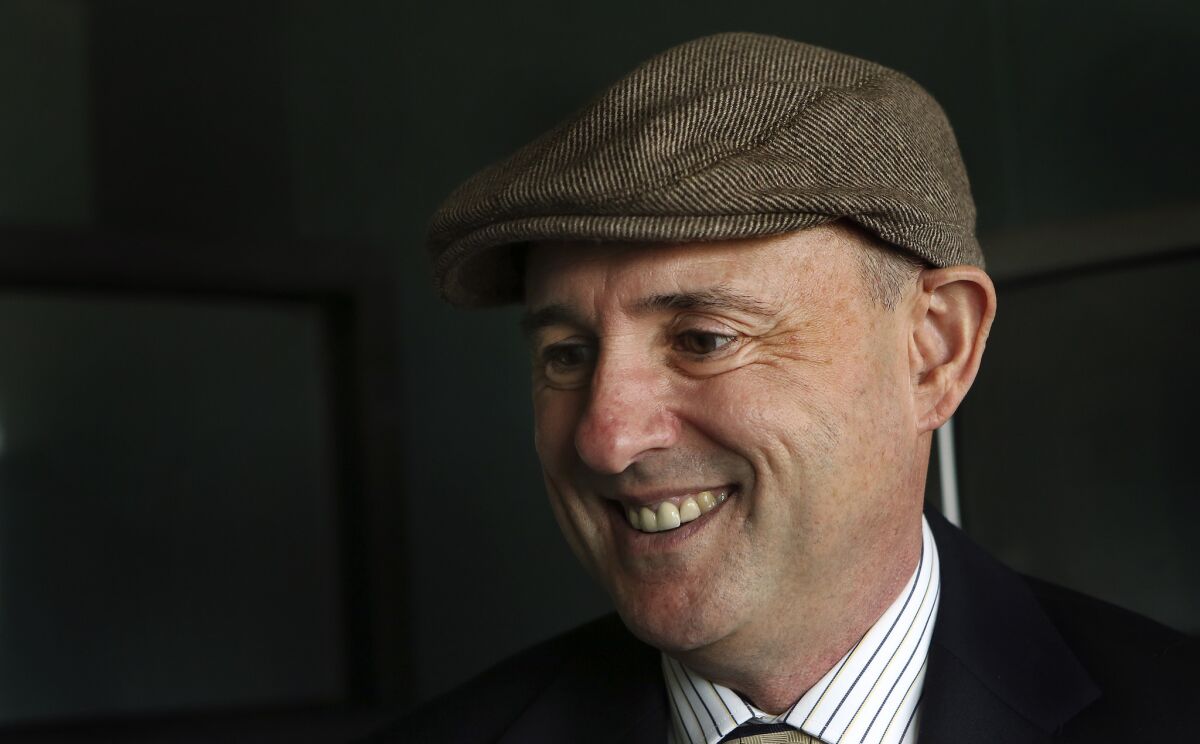 England, and I'm thinking, 'Oh, no, not again,'" Wrona said.
Real or imagined, a perception exists that Aussies and Brits do not always embrace their common past. But British-born Keith Brackpool, who heads West Coast operations for the Stronach Group, put that idea to rest with Wrona's ascension.
The search was headed by Amy Zimmerman, a track vice president specializing in broadcasting, but it was Morris who got to make the call on March 23 to Wrona.
"I was driving on I-5 on my way to the final audition period," Wrona said. "I didn't imagine they were making a decision. But they surprised me. I'm just pleased I was able to keep the car on the road.
"They made the announcement just before I went to the track and there was a huge outpouring. It was overwhelming, humbling. It was surreal and quite emotional.… This is my best job ever and I want to keep it forever."
Wrona has quickly become a major asset to the track's portfolio, which includes Triple Crown race winners and world-class trainers and jockeys.
"I always thought he was good," Morris said. "I ran Golden Gate when he was there but I think he upped his game when he came here. I think he's the best race caller in the country and one day he'll be considered a legend with Trevor and Tom Durkin."
At the conclusion of the meet on Sunday, Wrona will be heading to Lake Tahoe for another milestone. He'll be marrying Kathy Kennedy a part-time mutuel clerk he first met in May 2007.
"She also works in a dental office, so don't worry, she has a real job," Wrona joked.
After a visit to Australia, Wrona will return to Santa Anita for the fall meeting starting on Sept. 29, a meet where he's hoping to establish a new normal.
Get our high school sports newsletter
Prep Rally is devoted to the SoCal high school sports experience, bringing you scores, stories and a behind-the-scenes look at what makes prep sports so popular.
You may occasionally receive promotional content from the Los Angeles Times.