Sophomore takes her best shot at Olympic glory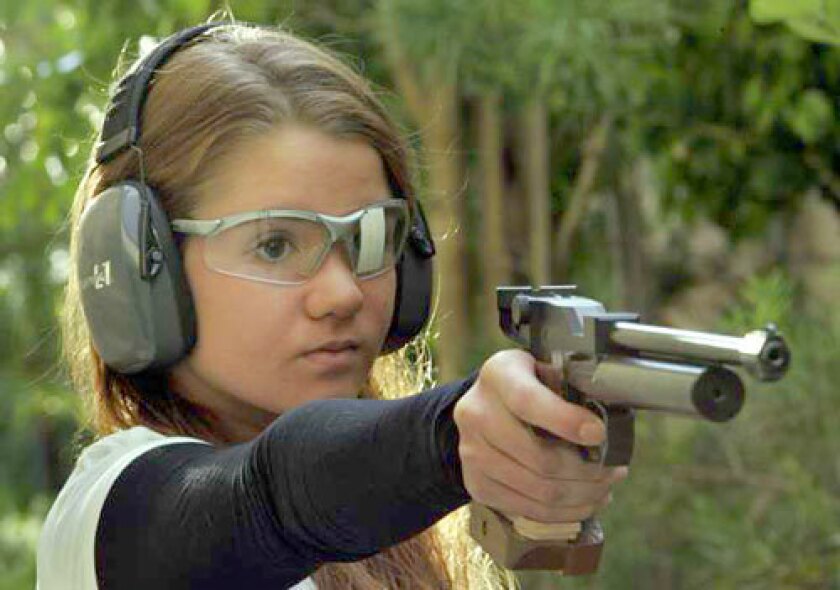 Marisa Berger, a 15-year-old sophomore at North Hollywood Harvard-Westlake, would have no problem toting a .44 Magnum while spouting, "Go ahead, make my day."
She practices shooting inside her family's house and garage, using an air pistol to fire lead pellets into a steel box. She can hit a target smaller than a dime from 10 meters away.
"You would not want to make me mad," she jokingly said.
Her acquired skills with a gun are only a small part of what she accomplishes in her spare time. She's one of a tiny group of U.S. teenagers training for the modern pentathlon, an Olympic sport that takes place over a single day and involves shooting, epee fencing, swimming, riding and running.
The modern pentathlon, created by the Baron Pierre de Coubertin, chief founder of the modern Olympic Games, to simulate the experience of 19th century military training, has been on the Olympic program continuously since 1912. A women's event was added in 2000.
"I expected to hate it and ended up loving it completely," Berger said of her introduction to the sport two summers ago.
She has traveled to Canada, Kentucky, New Mexico and Colorado Springs, Colo., home of the U.S. Olympic training center, for competitions.
While she runs cross-country and swims for Harvard-Westlake, the rest of her time is devoted to mastering the five disciplines of the modern pentathlon. And it isn't easy.
She has five coaches, all of whom want her to be committed to their practices, requiring quite a juggling act.
"All my coaches fight over what day and time I can see them," she said. "If I miss one practice, it's, 'Were you swimming? Were you fencing?' "
She's trying to become more than proficient in five distinct athletic skills, and it's a supreme challenge.
Audrius Barzdukas, Harvard-Westlake's director of athletics, used to be the associate director of coaching at the U.S. Olympic training center. He was fascinated with the physical and mental makeup of modern pentathlon competitors.
"It's this weirdly diverse skills set," he said. "It's like trying to be a poet, welder, cook, opera singer and newspaper reporter. How do you become world class at each at the same time?"
Berger has been an equestrian since age 8, then was introduced to the modern pentathlon through a friend of her mother. Fencing has been her weakest discipline, causing her to pick up her practice schedule.
"My fencing was quite atrocious over the summer, so I really focused on that for August, September and October," she said.
Last summer, she finished fourth at a senior junior national competition and took second at a youth national event. Her goal is to make the U.S. team for the World Youth Olympics in 2010 and try for the Olympic Games in 2016.
"That's my long-term goal," she said. "You have to be realistic when you talk about these things. I know when I go to college it will be a lot harder to keep my training up.
"Pentathlon is one of those unique old-people sports. One of the ladies going to the Olympics is 38 and is amazing. It's not the 19-year-old swimmer or the 15-year-old ice skater."
In fact, should Sheila Taormina, 38, of Livonia, Mich., already a three-time Olympian in swimming (1996) and triathlon (2000, 2004) qualify for the modern pentathlon this summer in Beijing, she would become the first U.S. athlete to make the Summer Olympics in three sports.
Modern pentathlon competition starts with shooting. Competitors get to fire 20 shots at 20 targets from 10 meters with a time limit of 40 seconds for each shot.
Epee fencing involves one-touch bouts lasting one minute. The winner is the first fencer to score a hit.
For riding, competitors must maneuver their horses over a series of jumps. For swimming, it's a 200-meter freestyle race, with points earned or lost depending on the final time. The last event is a cross-country race of 3,000 meters.
"You have to be the complete athlete," Berger said. "You have to have the mental aspect for shooting. For running and swimming, you have to be an amazing aerobic athlete. Fencing is mental mixed with your reaction time and riding is graceful and be really calm."
Shooting has become one of her favorite competitions.
"You have to be so still and so perfect each time," Berger said. "I used to hate it. Now I've learned, through sports psychology, I can almost make myself fall asleep when I shoot because I know I have to calm myself down."
It's a frenzied life these days for this teenager, but she intends to keep training for the modern pentathlon, even if some wonder what she's doing carrying a pistol around the house.
---
Get our high school sports newsletter
Prep Rally is devoted to the SoCal high school sports experience, bringing you scores, stories and a behind-the-scenes look at what makes prep sports so popular.
You may occasionally receive promotional content from the Los Angeles Times.