Separate playoff divisions isn't the answer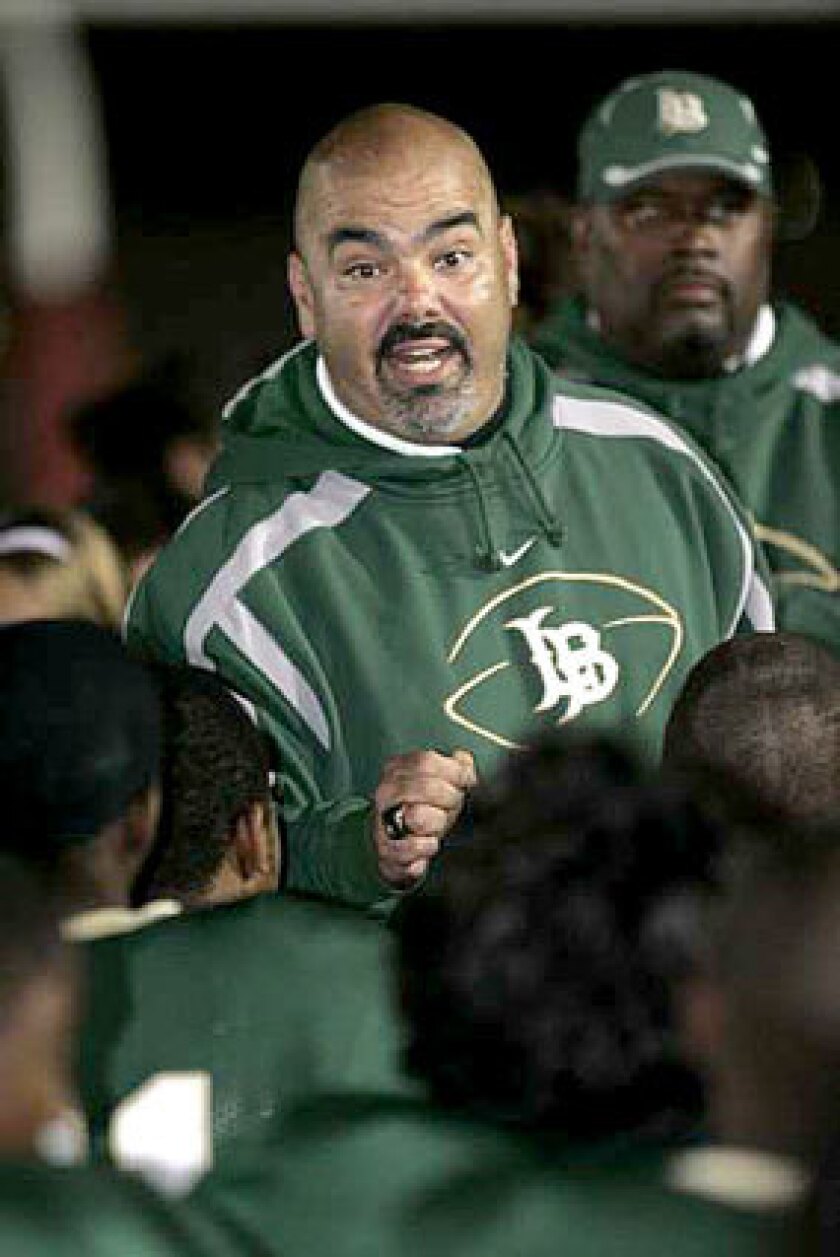 ON HIGH SCHOOLS
A leap of faith is necessary to support the idea that creating separate public and private school playoff divisions in the Southern Section would be good for Southern California's high school sports.
If you believe the proponents' arguments, such division would eliminate complaints about "uneven playing fields." Public schools would feel revitalized, fans would fill stadiums and gyms in expectation of equitable contests, and sportswriters would gush about competitive balance.
There's one major problem with this vision -- it's delusional. It has been concocted under the false pretense that the Southland's high school sports scene is in need of a serious overhaul.
Yes, there are inequity issues, but they've existed since the Southern Section was formed 95 years ago as a public-private school partnership.
Separating public schools from private during postseason play, as called for by a Century League proposal set for its first reading before the section's general council on Thursday, will not put an end to the bitterness felt by a public school coach when he loses a top athlete to a private school.
It won't mean public schools will suddenly have the funds necessary to hire full-time trainers or build artificial-turf fields. It won't prevent a parent from shopping around his son or daughter, looking for the program that can provide the best exposure to college recruiters.
What separate playoff divisions would do is make public school championships irrelevant except, of course, to those who get to hang a banner in their gym.
Instead of providing balance, there would be wide gaps in ability. Long Beach Poly would likely win every football championship by large margins and soon, few would want to play in Poly's division, let alone attend the championship game.
No one is saying there aren't serious issues that need to be resolved to reverse the deteriorating relationship between public and private school athletic programs.
"There needs to be a fair playing field," Poly football Coach Raul Lara said. "That's what everybody is complaining about."
Orange County is one of the hot spots in this debate. Some of the private schools of the Trinity League -- Santa Ana Mater Dei, Orange Lutheran, Santa Margarita and San Juan Capistrano Serra -- have built up their athletic facilities and are engaged in an all-out competition to outspend and outsell one another.
This has left some public schools feeling quite helpless in their ability to attract and keep top players.
The same heated environment can be found in Ventura County, where the rise to football prominence of Ventura St. Bonaventure and Westlake Village Oaks Christian is even more provocative because they compete in leagues with public schools -- something the Trinity League schools did as recently as three years ago.
Their ability to offer enrollment to students from any attendance area has left some public school coaches raising the white flag of surrender.
Moorpark lost running back Darrell Scott when the All-American shopped around after his junior season and settled on St. Bonaventure.
Running back Marc Tyler, currently at USC, enrolled at Oaks Christian while his family lived in Palmdale. He stayed with the family of a teammate, quarterback Jimmy Clausen, to cut down on travel time. It was within the rules, but no public school could have pulled it off without cutting through a mountain of red tape.
The solution for Ventura County is to follow the lead of Orange County and put Oaks Christian and St. Bonaventure in private school leagues, such as the Mission. They would have to travel farther for games, but that's the consequence of having ambitious athletic programs.
As for Orange County, the big-time private schools want to be the best they can be. They have dedicated parental support, lots of private money and a belief in academic and athletic excellence.
And that's the answer to the public schools. It's up to individual coaches, parents, principals and communities to work through their supposed disadvantages. All it takes is energy, ingenuity, competence and commitment.
Brea Olinda, Fullerton Troy and San Clemente have been girls' basketball powerhouses. Mission Viejo and schools in the Sunset League have more than held their own against Mater Dei and Anaheim Servite in football.
Placentia El Dorado, Anaheim Esperanza and Mission Viejo Capistrano Valley have top baseball programs and facilities.
Each is a public school that has found a way to succeed through strong leadership by coaches supported by administrators who believe in their sports programs.
As someone who has covered high school sports since the 1970s and graduated from a public high school in Southern California, I have come to the conclusion that some private schools do have a definite advantage. But so do some public schools.
Athletes like to be challenged, and there are few things more rewarding than a public school athlete outplaying his counterpart from a private school in the playoffs.
"I think everybody wants to see great games," Poly's Lara said. "And in order to have great games, you have to play against great competition."
Separating public and private schools in the playoffs is not the answer to improving the high school sports experience. That will come by building programs with good coaches, good facilities and convincing athletes they'll have the opportunity to compete against the very best.
---
Get the latest on L.A.'s teams in the daily Sports Report newsletter.
You may occasionally receive promotional content from the Los Angeles Times.