Tim Hardaway says his anti-gay comments from 2007 are keeping him out of Hall of Fame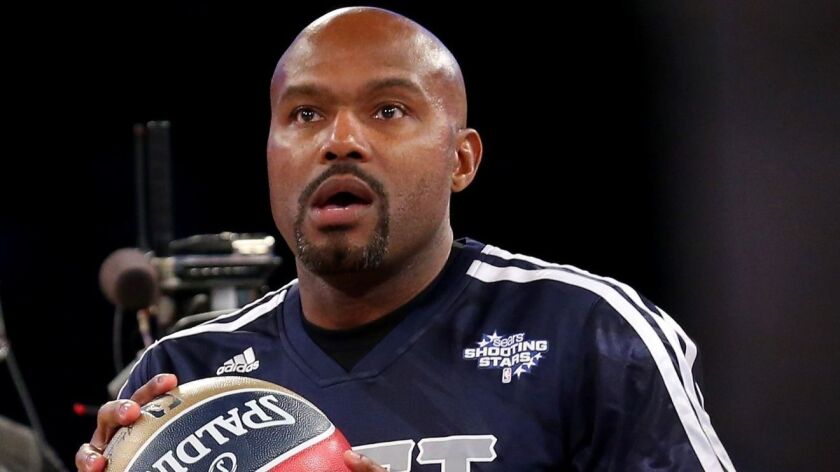 Tim Hardaway was an all-star five times and finished in the top 10 of MVP voting three times during an NBA career that spanned 1989 to 2003. He finished with 7,095 assists (16th all-time), 1,542 three-pointers (29th), 1,428 steals.
As a member of the Golden State Warriors, he and teammates Mitch Richmond and Chris Mullin gained notoriety as "Run TMC." Richmond and Mullin have since gone on to be inducted into the Naismith Memorial Basketball Hall of Fame.
Hardaway has not. And he thinks he knows the reason.
"The reason I'm not in is because of what I said in 2007 about gay people," Hardaway told HoopsHype in an interview that was published Tuesday. "That's why I'm not in right now, and I understand it."
Hardaway is referring to comments he made on Dan Le Batard's Miami radio show 12 years ago.
"You know, I hate gay people, so I let it be known," Hardaway said on Feb. 14, 2007. "I don't like gay people and I don't like to be around gay people. I am homophobic. I don't like it. It shouldn't be in the world or in the United States."
After making those and other similar remarks on the show, Hardaway was banned from the 2007 NBA All-Star weekend. He has since apologized on numerous occasions and has said he's "opened my eyes" regarding the LGBTQ community.
"I hurt a lot of people's feelings and it came off the wrong way and it was really bad of me to say that," Hardaway told HoopsHype of his 2007 comments. "Since then, I've turned a wrong into a right. My parents used to always tell me, 'If you do something wrong, look it in the eye. Don't back down from it and be scared of it. Go make it right and make people understand that you made a mistake.' And that's what I did. I'm trying to do what's right, supporting gay people and transgender people."
In 2011, the former UTEP standout returned to El Paso to support the mayor's proposal for domestic partnership benefits for gay and unmarried couples. Two years later, he was the first to sign a petition demanding the legalization of gay marriage in Florida. He also called then-NBA-player Jason Collins to give his support after Collins in 2013 became the first openly gay active male athlete in a major U.S. professional sport.
Sign up for our daily sports newsletter »
"Life is too short to be out here hating one another and trying to hurt one another," Hardaway, an assistant coach for the Detroit Pistons from 2014-18, told HoopsHype. "I understand that."
A Hall of Fame finalist many times over, most recently in 2017, Hardaway seems to have come to terms with the fact that he may never get in.
"There's nothing I can do about it," he said. "You got to take your bumps and bruises, and that's what I've been doing. I just try to be positive. It hurts. But, hey, I understand the ramifications of [what I said]. I understand why I'm not in. All I can do is keep living."
Twitter: @chewkiii
---
Get the latest on L.A.'s teams in the daily Sports Report newsletter.
You may occasionally receive promotional content from the Los Angeles Times.