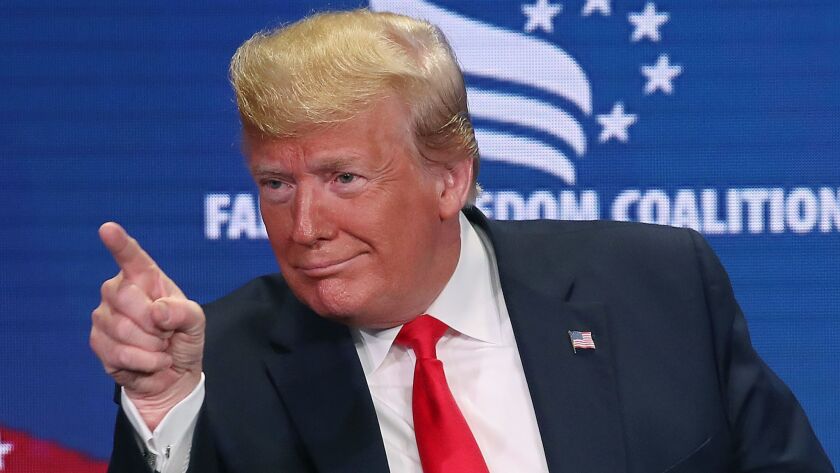 A 21-year-old college student was walking out of a 7-Eleven on Wednesday morning when her phone buzzed. She was startled to learn she had just been mentioned in a tweet from the president of the United States.
"I was like, 'Oh my God, I'm going to jail,' " she told Yahoo Sports.
But the student, who has not revealed her real name, quickly realized that President Trump hadn't tweeted her personal account. Instead, it was one she had set up back in high school to discuss U.S. women's national soccer and had long since forgotten about.
The Twitter handle for that account is @meganrapino, an homage to soccer star Megan Rapinoe. That's who Trump thought he was tagging during a Twitter rant that started with "Women's soccer player, @meganrapino, just stated that she is 'not going to the F...ing White House if we win.'"
But the real Rapinoe's Twitter handle is @mPinoe. So instead of lashing out at the outspoken soccer star, Trump had accidentally targeted a young woman who lives in Virginia, works at Starbucks, loves K-pop and just happens to agree with Rapinoe's stance on a potential USWNT White House visit.
So she responded to his comment about Rapinoe — "and she was right to say so cry me a river plus this isn't even her acc," she tweeted — but told Yahoo Sports she figured no one would see the tweet.
"Mistake," she said. "Everyone saw it."
So she decided to have some fun with her instant Twitter fame and started trolling the president, even after he eventually deleted his original tweet to correctly tag Rapinoe.
mom come pick me up old men are attacking me

— not megan rapinoe (@meganrapino) June 26, 2019
to the people tweeting me thinking i'm @mPinoe IM NOT HER sorry to disappoint. do you really think she'd really be tweeting about loona and red velvet during the world cup ?? eye-

— not megan rapinoe (@meganrapino) June 26, 2019
The woman behind @meganrapino realizes this kind of social media fame is fleeting and figures her life will go back to normal very soon. She joked with Yahoo Sports that all she really wanted from the experience was "just like a tweet or something" from U.S. Soccer.
"Like, 'Hi,' " she said.
@USWNT soooo when are you flying. me out to france ?? 👀

— not megan rapinoe (@meganrapino) June 26, 2019
Twitter: @chewkiii
---