Column: Battered Josh Rosen is not the reason Bruins couldn't put it together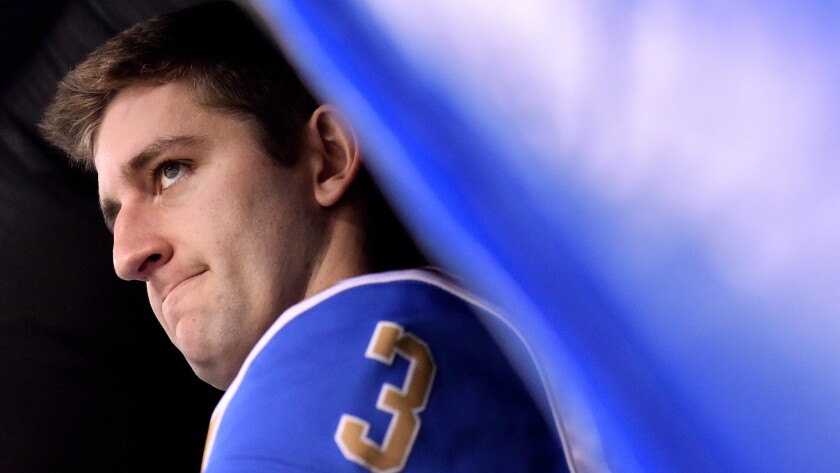 Reporting from Phoenix —
The physicians evaluating Josh Rosen did what UCLA's offensive line couldn't do: They shielded him from physical harm.
So the likely end of Rosen's collegiate career was marked by the same disappointment that characterized the three years leading up to it, with the junior quarterback in concussion protocol and confined to the sideline of a minor bowl game contested in a half-empty baseball stadium.
Only the disappointment shouldn't be directed at Rosen, but at UCLA.
If his freshman season showcased his potential, the two seasons that followed exposed the program's shortcomings. The Cactus Bowl was more of the same, as UCLA was taken down 35-17 by an unremarkable Kansas State team.
In Rosen's sophomore and junior seasons, the Bruins were a combined 10-15.
Think about that. They had a projected top NFL draft pick playing the single-most important position and failed to win half of their games over a two-year period.
The team's underwhelming performance underscored why UCLA had to do something dramatic with its Under Armour millions and hire someone like Chip Kelly.
The Bruins have to do more than land a top quarterback. They have to build a complete roster, which Jim Mora couldn't do.
The next time they attract another five-star player at the position, they can't make the same mistakes they did with Rosen. They can't waste that three- or four-year window because windows like that rarely open.
They have to complement their next star quarterback with more than the second-worst rushing offense in the country, as they did with Rosen last year. They have to back him with more than the second-worst rushing defense in the country, as they did with Rosen this year.
And they have to find linemen who can protect him.
Which brings us to why Rosen was on the sideline at Chase Field.
A disturbing pattern emerged last year in Rosen's sopohomore season, when UCLA moved into a pro-style offense. Rosen started to get crushed. The player nicknamed "Chosen Rosen" or "The Chosen One" was paying for the sins of a depleted offensive line.
There was talk about Rosen not playing well, or even regressing, but the reality was that he was still making incredibly difficult throws under particularly difficult circumstances. He was sacked 13 times in six games, his season shortened by a shoulder injury that required surgery.
This season was comparable in its violence. Rosen was removed from an Oct. 28 loss to Washington because of a concussion. He sat out a game, played against USC and Arizona State, only to suffer another concussion in a Nov. 24 victory over California.
Last year, Leonard Fournette of Louisiana State and Christian McCaffrey of Stanford declined to play in their respective bowl games, electing instead to preserve their health and draft status. But Rosen said he wanted to play in the Cactus Bowl, differentiating his situation from Fournette's and McCaffrey's.
"They play really physical positions," he said, ignoring that quarterback at UCLA can be an extremely physical position.
Rosen warmed up with his teammates Tuesday. But when they ran out of a makeshift tunnel for the game, Rosen wore his blue No. 3 uniform over a long-sleeve shirt instead of pads. His participation was limited to the coin toss.
"I want to be clear on this: Josh wanted to play," interim coach Jedd Fisch said. "Josh was unable to play because of the fact that he had two concussions within a four-week span in November and our physicians didn't feel comfortable putting him out there and putting him at risk for a possibility of a third concussion."
Fisch said the obvious, which is that Rosen is NFL-ready.
"I think everybody could use another year of college," Fisch said. "But I think he has the ability to go out there and throw any ball to anybody he wants. He has incredible accuracy. He's incredibly talented. I'm sure if he wants to move on, he's able to do that. If he wants to come back, he'll help this team."
Rosen is expected to speak to his parents in the coming days about whether he should declare for the NFL draft or return to school for his senior year. As a probable high first-round selection, Rosen is expected to turn professional.
The purpose of college is to prepare people for the remainder of their lives. By that standard, UCLA can claim a certain measure of success with Rosen.
But it feels like something is lacking here, like UCLA should have lifted a couple of trophies before Rosen walked across the stage at the NFL draft.
Follow Dylan Hernandez on Twitter @dylanohernandez
---
Get our high school sports newsletter
Prep Rally is devoted to the SoCal high school sports experience, bringing you scores, stories and a behind-the-scenes look at what makes prep sports so popular.
You may occasionally receive promotional content from the Los Angeles Times.