Tennis' U.S. Open to be played on Serena (Williams) Time and ESPN's dime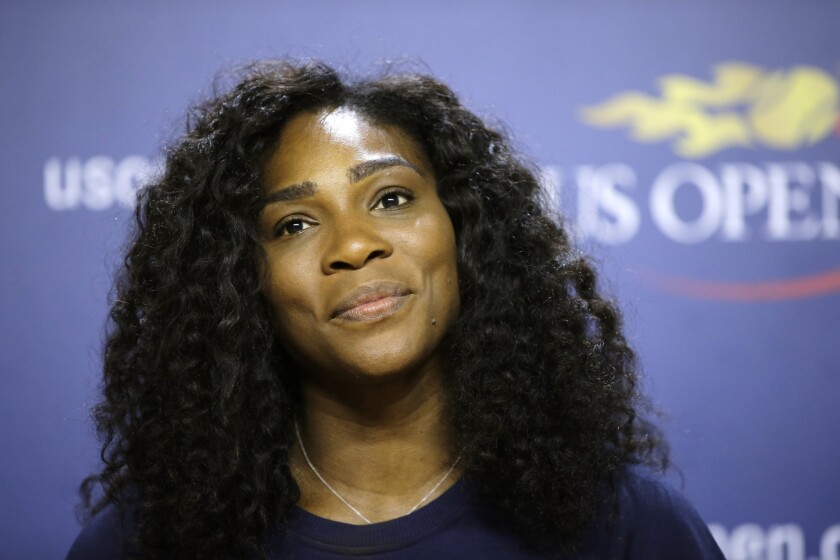 NEW YORK — For once in a pro sport, money is taking a back seat to history, even though a victory in the U.S. Open tennis tournament would be worth $3.3 million for Serena Williams.
It is the Grand Slam she most feverishly pursues, although if she does win it, cashing that check won't be bad, either.
Even more so than usual, Williams is the talk of this tournament, which is the annual, always-looming grand finale of a grueling year of pro tennis. She is going for the calendar-year Slam.
That means victories in 2015's entire menu of majors, beginning in the oppressive heat of Australia in January, moving to the oppressive slow clay of Roland Garros in Paris in May, then on to the oppressively unpredictable speed and bounce of the grass at Wimbledon in July, and closing with the oppressive pressure of all things New York at the Open in September.
Three women have done it: Maureen Connolly in 1953, Margaret Court in 1970 and Steffi Graf in 1988. Two men have done it: Don Budge in 1938 and Rod Laver — twice, incredibly — in 1962 and 1969.
Clearly, this is not a simple task, and clearly, it is less so for Williams in an era of mass media and social media so all-encompassing that her life for the next two weeks will be a glass house. Get ready for the tweets: "Serena just blew her nose before she came on court."
She has not only won the last four majors, going back to last year's U.S. Open — she is going for her fourth straight title here — but has won 21 majors. Making this all the more incredible is the most telling number of all. Two weeks after the tournament ends, she will turn 34.
Williams has lost only once in 60 matches in the first round of a major. That came in 2012 on the clay at the French, to Virginie Razzano.
Her opener here will be the first night match Monday (7 p.m. in the East, 4 PDT). As Dick Vitale would say, prime time, baby.
ESPN has paid huge rights fees and is now in its first year of handling the entire tournament schedule, all the way through the women's singles final, scheduled Sept. 12, and the men's final Sept. 13. Williams couldn't have gone on her record chase at a more opportune time for the network.
Ratings, baby.
Her opening opponent will be 25-year-old Russian Vitalia Diatchenko, ranked No. 86, with a 13-13 record this year and a three-ring circus to play in Monday night.
Even the player who according to the rankings has the best chance to ruin Williams' record run, No. 2 Simona Halep, got caught up a bit in the historical hype, which translates in the minds of other players as something that is good for tennis.
Halep said, "If I'm not in the final, then I will want her to win."
Williams' path to the title perhaps became easier Sunday when No. 3 Maria Sharapova, a potential semifinal opponent, withdrew from the tournament because of a leg injury that has sidelined her since her semifinal loss to Williams at Wimbledon.
A day earlier Sharapova, a frequent Williams foil who hasn't beaten her in 11 years, had been asked whether Williams' run could be viewed as a reflection of the quality of her competition. "She's been playing on an incredible level, and that doesn't take anything away from other players," Sharapova said.
Even Novak Djokovic, the men's No. 1 seed who is seeking to cash one of those $3.3-million checks himself, and whose pursuit of a third major title this year (Australian and Wimbledon) is somewhat lost in Williams' story, joined the Serena cheer team.
"I'm sending her good vibes," Djokovic said.
Djokovic also opens Monday, playing the third match of the day session. Second-seeded Roger Federer, who lost the Wimbledon final to Djokovic but beat the Serb in the final of a recent U.S. Open lead-in tournament in Cincinnati, begins Tuesday.
ESPN's 11-year deal with the U.S. Tennis Assn., costing an estimated $770 million that includes rights to the lead-in tournaments , includes nearly 200 hours of live tennis. But ESPN's presence is not the only change at the Billie Jean King Tennis Center these days.
It will be the last year of play on the Grandstand court, a fan-friendly sort-of appendage to Louis Armstrong Court 2, which used to be Center Court until monstrous Arthur Ashe Stadium was built.
Next year, the Grandstand will be replaced by a court, currently under construction, that will sit about a pitching wedge away from the main entrance to Ashe. Also next year, a retractable roof will cover Ashe. The huge beams to support that are already up, and they actually make Ashe Stadium look a bit smaller, even cozier.
And by 2018, a new Armstrong Court is projected to be finished.
Times, they are a changin' at the U.S. Open.
Don't even be shocked if, in mid-match but during a change of sides, ESPN conducts an interview with one of the players. That's under discussion, and if players are amenable — as NASCAR drivers are as they go into a turn at 190 mph — we could hear what a tennis player is going to do, rather than, at the end, what he or she should have done.
That's all part of tennis today, the new U.S. Open chapter, which is currently running on Serena time.
Follow Bill Dwyre on Twitter @DwyreLATimes
---
Get our high school sports newsletter
Prep Rally is devoted to the SoCal high school sports experience, bringing you scores, stories and a behind-the-scenes look at what makes prep sports so popular.
You may occasionally receive promotional content from the Los Angeles Times.