U.S. Open coverage on Fox is wild, but not too wild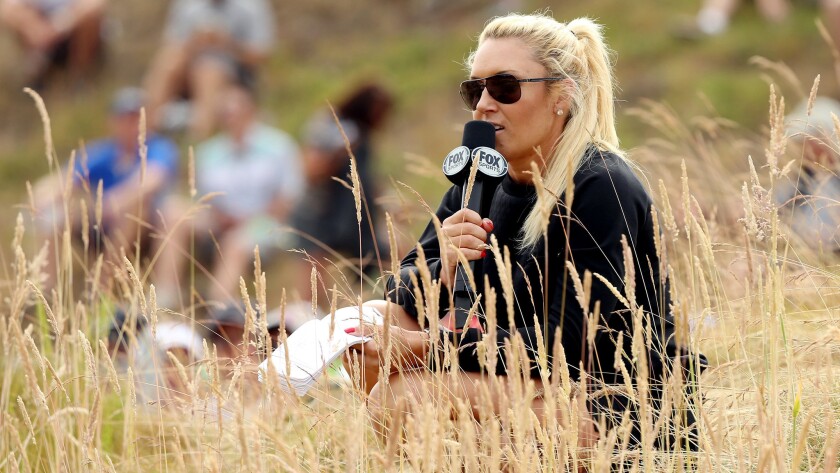 No one does visual bling like Fox Sports, which offers a snazzy, sometimes-too-ornate jewelry box of special effects.
This week, Fox has brought all that jazz to the U.S. Open. Drones. Topo maps. Microphones in cups. Around the golf hole, they've added smudges, the same sort of blur the NHL once used to super-size the puck.
What sounds like troubling video game magic was actually pretty nuanced, at least in the early rounds.
On Friday, the topographic enhancement of undulating greens, known as the "Shaded Green" system, was underwhelming. The swales were almost as evident without the magic trick.
Used sparingly, concentric circles showed the location of the cups, in an odd neon green that look like a spilled daiquiri. As the field thins, expect to see more of these new tricks as the pace of the telecasts slows.
According to Fox, they wedged tiny microphones into the cups, but any sort of rattle-kerplunk they produced was lost on me.
Most effective was the digital vapor trail that shows the amplitude of tee shots, an effect we've seen before. For golf, it has become the equivalent of the yellow stripe that marks potential first downs. Known here as the "Lexus Ball Tracer," the special effect has its own sponsor (doesn't everything?).
Surprisingly engaging were super slow-mo replays of a club striking the ball, producing a volcano of dirt, grass, dinosaur dust and whatever else serves at the mattress for this odd public course.
Lord, what a wicked playground this is. For players, it must seem godless, even amid the drop-dead-gorgeous backdrops of Puget Sound.
But, man, is it fun to watch. It's not so perfect as the typical lush USGA stage. If you haven't already, tune in simply for the cinematography.
Chambers Bay looks like something the Allies invaded in 1944. The best club for this course is probably a shovel. Once in the rough, you'd be best off grabbing for your nine-sickle and a pocketful of Prozac.
And those oily traps: You'd have better luck hitting a matzo ball out of a bowl of soup.
It is on this strangely brown course that Fox debuts its stash of special effects, one of the promises it made to the USGA two years ago when it won the contract away from NBC.
But for all the gizmos, the commentary stole the show in the first couple of days. Having Joe Buck at the helm never hurt any telecast, but I found myself paying the closest attention to Tom Weiskopf's pithy, honest commentary.
"I hate to watch this, to tell you the truth," Weiskopf said as Tiger Woods seemed to morph into a weekend duffer.
Later, Fox's audio team caught wunderkind Jordan Spieth growling over a typically troubling Chambers Bay challenge.
"This is the dumbest hole I've ever played in my life … unbelievably stupid," he complained, evidently unaware his voice was being picked up.
Finding a story line among modern players must be the toughest work. Not sure how you find a mainstream audience for the likes of Joost Luiten and Brandt Snedeker, who sound like characters out of a Meredith Willson musical.
What can possibly resonate here beyond the game's most avid devotees? This is a sport where the guys still wear white belts, after all. And not a tattoo in sight.
Yep, what golf needs desperately now is a story line: Nicklaus vs. Palmer. The Shark vs. Larry Mize. Doug Sanders vs. a three-foot putt.
In that vein, I suppose there's Tiger. He's a difficult guy to feel sorry for, but I think we've reached that point. Increasingly, he has become a poster child for athletes who stay on a little too long.
Hey, maybe can Fox make a digital trajectory of that.
Follow Chris Erskine on Twitter @erskinetimes
---
Get our high school sports newsletter
Prep Rally is devoted to the SoCal high school sports experience, bringing you scores, stories and a behind-the-scenes look at what makes prep sports so popular.
You may occasionally receive promotional content from the Los Angeles Times.