USC's offense runs through Jordan McLaughlin in 98-87 victory over UC Santa Barbara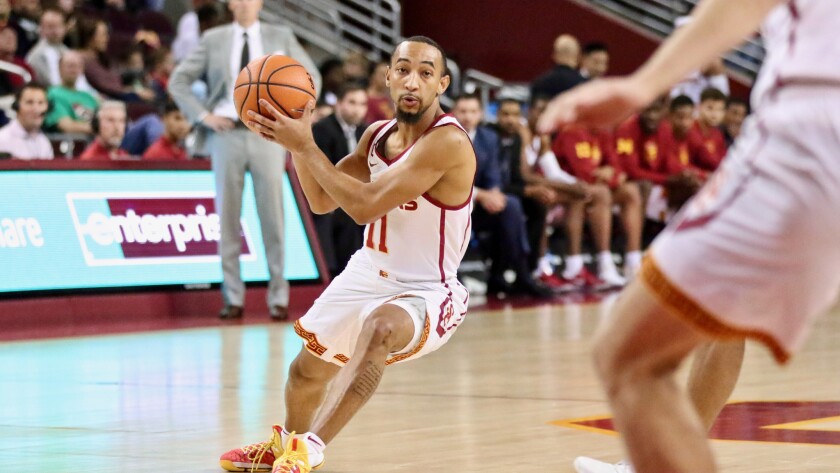 It was as if basketballs needed to touch Jordan McLaughlin's generous hands before they could pass through Galen Center's nets. The senior guard had two hands in half of USC's converted field goals Sunday.
His 19 assists in the Trojans' 98-87 win over UC Santa Barbara broke by three the university's all-time record, which McLaughlin had set as a sophomore in 2015. His total tied the Pac-12 Conference record. No NCAA men's player has recorded more in nine years.
McLaughlin learned of his feat only as the crowd of 3,519 did, late, when the news came over the loudspeakers and the game began to resemble a farce. With 108 seconds remaining, coach Andy Enfield removed McLaughlin from the game to applause.
Seven seconds later, made aware of the record at play, Enfield inserted him back in for an inbounds pass. Twice, McLaughlin delivered passes to teammates that preceded shots, and twice they missed. When the Gauchos fouled McLaughlin with 52 seconds to go, the crowd booed. On USC's last possession, fans shouted at each recipient of a McLaughlin pass to shoot. No man converted.
"I wish we would've made one," Enfield said. "He deserved it."
McLaughlin's assist rate picked up some in the second half, with 11. But he started at once, connecting with sophomore forward Nick Rakocevic on a perfect pick-and-roll for the game's first basket. Rakocevic added a hook after a Santa Barbara three-pointer. The teams exchanged baskets before Jonah Mathews drilled a three-pointer in the corner and Chimezie Metu knocked in two free throws.
USC soon stretched its lead to eight points on an Elijah Stewart three-pointer in transition, as freshman forward Jordan Usher dove through the lane, then flung a ball to Stewart in the corner. The senior's shot has never developed into something resembling an NBA swingman's, but at this level it is functional.
The lead lengthened into double digits before 12 minutes had elapsed. It did not stay that way, USC lapsing on free throws and Metu taking an elbow to his head near the basket. Blood pouring from his temple, he missed the final five minutes of the first half and received stiches. The Trojans then strung together two quick three-pointers and a few runners, headed for their locker room the owners of a 52-33 lead. It was an imperfect half, but it was impossible to quibble with the results.
Back for the second half, Metu swished consecutive three-pointers and nodded his head toward Santa Barbara defenders, secure in his knowledge that he was far more skilled at the game they were playing. The Gauchos did not relent and sliced the Trojans lead to 12 points halfway through the period, where the score generally stayed thereafter.
Metu logged the game's second-most superlative stat line, with a career-high 31 points and three converted three-pointers. Rakocevic registered 12 points and 12 rebounds, his second career and second consecutive double-double.
McLaughlin had 10 points and only two turnovers. He's scoring and assisting more than ever before while cutting his turnovers. His assist-turnover ratio is now more than four to one.
"To have that many assists and so few turnovers," Enfield said, "he's just been so good all season long."
Though Santa Barbara brought an 8-2 record into the game, the Gauchos could not contend with the Trojans' size. And that was with Bennie Boatwright, USC's burliest player, out because of a plantar wart on his right foot. USC was also without Derryck Thornton, who's nursing a shoulder injury, and De'Anthony Melton, who continues to be held out because of an FBI probe in a bribery and corruption case.
Max Heidegger (17 points), Gary Vincent (17) and Leland King II (15) paced Santa Barbara, as they have all season. Heidegger, a sophomore guard, hails from Malibu. His father was once an Austrian alpine skier, his mother the heiress to Kiehl's, a cosmetics company sold to L'Oreal for an estimated $100 million in 2000. The Oaks Christian graduate is the Gauchos' top scorer.
UP NEXT
Tuesday vs. Princeton, 8 p.m., Galen Center, Pac-12 Network — The Tigers played Butler and Brigham Young close to start the season, but lost both. They've lost six times in 10 tries.
Follow Pedro Moura on Twitter @pedromoura
---
Get our high school sports newsletter
Prep Rally is devoted to the SoCal high school sports experience, bringing you scores, stories and a behind-the-scenes look at what makes prep sports so popular.
You may occasionally receive promotional content from the Los Angeles Times.