Cody Kessler and USC beat the fight right out of Irish in 49-14 romp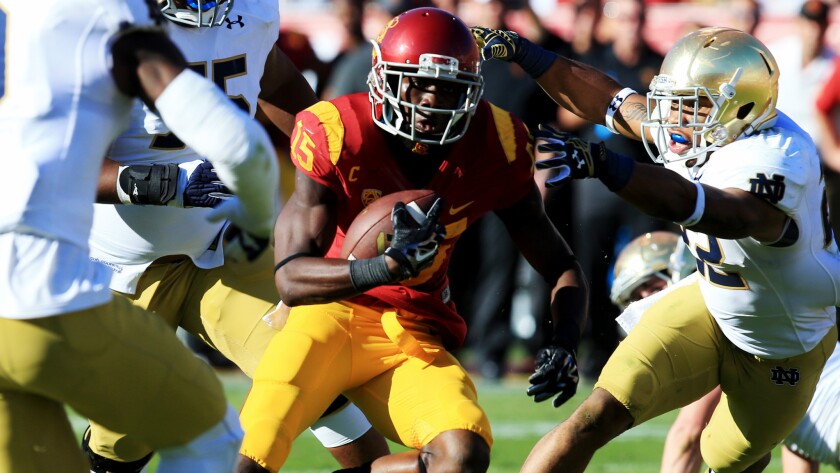 Notre Dame took a 24-0 lead on USC in 1974 at the Coliseum and everyone thought the game was over.
It wasn't.
USC took a 35-0 lead on Notre Dame on Saturday at the Coliseum and everyone thought the game was over.
It was.
This classic intersectional series dating to 1926 has offered plenty of plot twists, but Saturday wasn't one of them.
Saturday, the Trojans twisted the Fighting Irish like a pretzel.
In a resounding response to a limp loss to UCLA last weekend, USC dismantled Notre Dame, 49-14, before a sun-drenched crowd of 79,586.
"Performances like this show you what you are capable of doing," USC Coach Steve Sarkisian said. "We all came here to be champions, to be the best. We are capable of being that."
This was not going to be a reverse-curse repeat on the 40th anniversary of USC's epic 55-24 comeback victory.
USC came out fast, with the up-tempo blur not seen since the 105-play opener against Fresno State.
The Trojans ran 93 plays in running the Irish back to South Bend.
Junior quarterback Cody Kessler, who set a school record with seven touchdown passes against Colorado last month, added six more to push his season total to 36 against only four interceptions.
Five of Kessler's touchdowns came in the first half.
He became the first quarterback to throw six touchdowns passes against Notre Dame.
The Irish, since a 6-0 start, have lost five of their last six, including the last four in succession
Coach Brian Kelly called it a "red-letter day" for the program.
"Two years ago we were playing for a national championship," Kelly said of his team's last Coliseum visit. "Today we got our butts beat."
The Irish, depleted by defensive injuries, could not keep up with USC's pace.
"It was obvious how tough it was for them to get lined up," Kessler said. "It played to our advantage today."
Sarkisian's first-year goal to make tempo the new Trojans mantra got stalled, at times, by lack of depth and stiffer competition.
USC played with an angry edge after the 38-20 UCLA defeat, which ultimately cost the Trojans the Pac-12 South division title.
USC unleashed its "fast and furious" campaign on Notre Dame in a battle of struggling, unranked, 7-4 teams trying to finish the regular season with some sort of spark to satisfy their insatiable fan bases.
Only one team succeeded.
The Trojans amassed 577 total yards, held Notre Dame to 349, and averaged 6.2 yards per play.
Kessler completed a career-best 32 passes, missing on only eight, for 372 yards with no interceptions.
He left the field to a hero's exit, with 10 minutes 9 seconds left, when backup Max Browne replaced him in the huddle.
He might have tied his school record of seven touchdowns had a scoring pass to JuJu Smith on USC's first possession not been overturned after a replay review.
Kessler answered on the Trojans' next series with a 48-yard scoring strike to George Farmer.
That was followed by two more first-quarter touchdown passes, a 16-yard slant pass to Adoree' Jackson followed by Farmer's second, this one 31 yards.
Kessler was playing darts against the Irish defense. He added a six-yard second-quarter toss to Darreus Rogers to make it 28-0, and then a 14-yard scoring pass to Nelson Agholor with 5:15 left in the half.
It was indicative of Notre Dame's futility that Agholor broke four tackles on his short run to make it a 35-0.
Notre Dame benched starting quarterback Everett Golson and inserted left-hander Malik Zaire, who provided an instant spark with an 11-yard touchdown run with 4:11 left in the half.
Any notion that the Irish might mount their own epic comeback, however, ended when Kyle Brindza's 44-yard field-goal attempt hit the left upright just before halftime.
To put a cap on things, Kessler opened the second-half scoring with his sixth touchdown, a nine-yard pass to Randall Telfer.
Sarkisian, who earned the moniker "Seven-win Sark" while he was at Washington, earned his eighth win in his debut season at USC.
The Trojans have a chance to make it nine in their yet-to-be-determined bowl game. A Holiday Bowl representative attended Saturday's game and expressed interest in USC provided the Trojans defeated Notre Dame.
USC, shockingly, has never played in the Holiday Bowl, but where the Trojans go will depend on how other Pac-12 schools finish.
It seems ages ago when USC opened the Sarkisian era with a 52-13 home romp over Fresno State on Aug. 30.
Saturday's romp was a nice bookend.
The losses at Boston College and UCLA still sting, but those were emphatic defeats in which USC was outplayed.
The last-second collapses against Arizona State and Utah are the defeats that will haunt USC into March and April.
"I do think, 'what if?'" Sarkisian said.
He said he's been keeping copious notes on the little things that kept a good season from being great.
"It's my job to figure that out so it doesn't happen again," he said.
More important, he added, is the question: what's next?
Even with the burps and bobbles, Sarkisian thinks he has put down a lasting foundation.
"Our future is ridiculously bright," he said. "We're going to be good and we're not going anywhere."
Twitter: @DufresneLATimes
---
Get our high school sports newsletter
Prep Rally is devoted to the SoCal high school sports experience, bringing you scores, stories and a behind-the-scenes look at what makes prep sports so popular.
You may occasionally receive promotional content from the Los Angeles Times.