When USC swimmer Louise Hansson finds her comfort zone, school records fall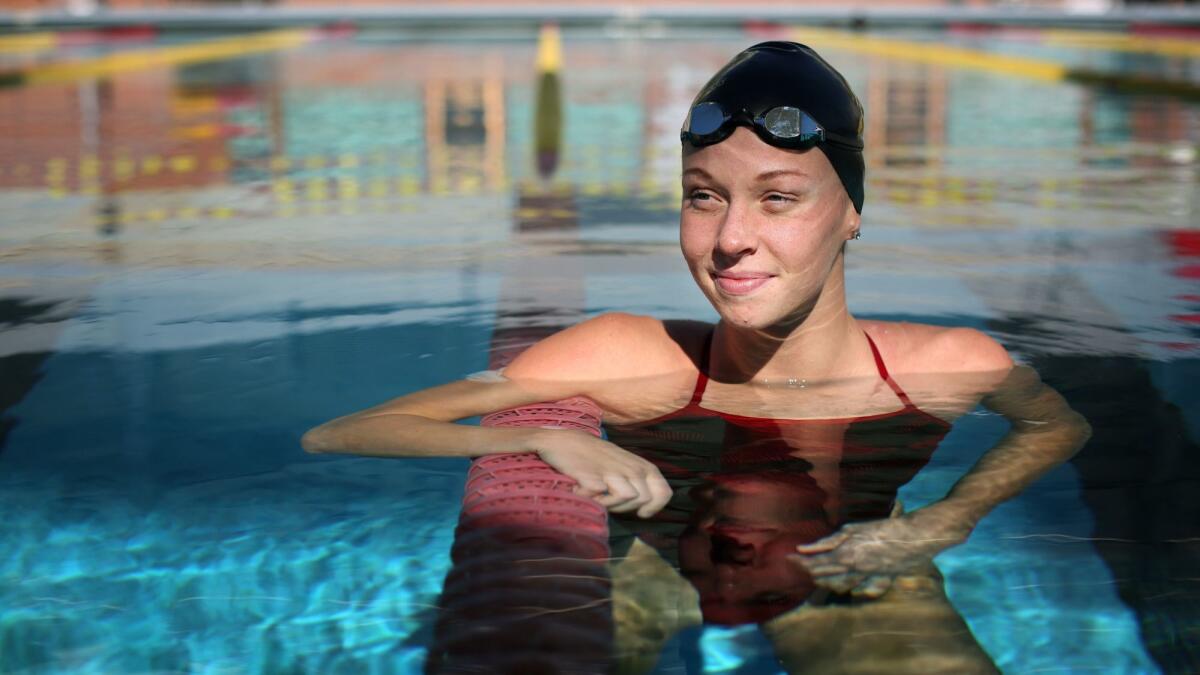 Dave Salo, USC's swimming and diving coach, scanned the 12-foot by 12-foot section of the pool deck where his team was sandwiched between a towering brick wall supporting the stands and the pool, rimmed by crowds of swimmers and coaches cheering each race at the NCAA championships last March at Ohio State. Competitors were to the left and right of the Trojans; the space was congested, the air thick and noise constant.
There was no sign of Louise Hansson.
One of her races was coming up, the 200-yard butterfly, a race Hansson had swum fewer than 10 times. Earlier that day, Salo saw something he had never seen before in his top swimmer — nerves. With years of experience competing for the Swedish national team, including the 2016 Olympics, Hansson rarely showed any semblance of worry. But leading up to that race, she was withdrawn, tense.
"All season long she was one of the best in the country," Salo said. "So it was kind of weighing on her a little bit."
Hansson performs best when her mind is planted in the moment, but she could feel her thoughts fleeing elsewhere as her heartbeat quickened. She sought out Lexie Malazdrewicz, a team captain and close friend. The two walked down the pool deck and through double doors to a quiet area by some ice baths near the women's locker room. The pool was safely out of sight. Hansson leaned against Malazdrewicz's shoulder as they sat on the floor.
"Louise doesn't need a lot of pep talks," Malazdrewicz said. "I told her, 'You're gonna be fine, you got this,' and that was really all it took."
Soon, Hansson's breathing eased; once she composed herself she turned to Malazdrewicz and nodded. She was ready.
Hansson finished third in that race, a day after winning the 100-yard butterfly with the second-fastest time ever, 48.9 seconds, though few races outside the U.S. are measured in yards. It's one of four individual races where she holds school records, along with three relays.
Now a junior, Hansson is a two-time Pac-12 champion in the 100-yard butterfly and an All-American in four individual events and four relays over two years. She is a co-captain for the No. 15 Trojans, who face No. 25 UCLA in dual meet Friday, their final meet of the regular season.
Normally, only those who know Hansson well can tell if she's nervous. Her expression hardly changes; she just becomes slightly more tense. Junior Catherine Sanchez said that before races Hansson is very composed.
"If I didn't know her, I would be very, very intimidated by it," Sanchez said.
Twenty minutes before her race, Hansson goes silent. Apart from her team, she stands on the pool deck wearing flip flops and a USC parka. No headphones adorn her ears; music is too distracting. She goes over her race plan in her head as she loosens her arms and kicks her knees up high like she's dancing. Her posture is relaxed, her expression steely.
"I go in my bubble," Hansson said. "And as long as I stay in there, I usually can handle it."
Hansson doesn't know when or how she began finding solace in her bubble — just that the timing overlaps with when she joined the Swedish national team at 15 years old. Her earliest memories take place in the pool, splashing with the swimmers her father coached. She started swimming competitively when she was 9 and was a natural talent, but with that came expectations that rose each year.
She was hundredths of a second away from qualifying for a relay team for the London Olympics in 2012, then was part of Sweden's 400- and 800-meter freestyle relay teams that finished fifth four years later at the Olympics in Rio de Janeiro. But Hansson was dissatisfied with her performance. Shoulder pain in the months prior hampered her training, and she faced a distraction — days after the Olympics she would begin school at USC.
"Having just the idea, even though I didn't try to think about it, like, I'm moving across the world in a week," Hansson said. "There were a lot of things going on."
Stina Gardell, a former Swedish national team member and USC alumna, connected Salo and Hansson. From there, the recruitment was straightforward. Hansson impressed Salo with her 6-foot-2 height and varied skill set in the water, while USC allured Hansson with Gardell's positive feedback, Salo's success coaching and the school's history of training Olympians, such as gold medalist Katinka Hosszu.
After the Olympics, Hansson flew back to Sweden for one day of goodbyes before her move. She had dinner with her family and hung out with friends after, then flew to Los Angeles the next day.
Her first month of college was a whirlwind. Hansson struggled to adjust to the language barrier in her classes and to the high intensity in swim practices, which simulated races daily.
Unlike the metric pools Hansson was accustomed to, collegiate pools in the U.S. are measured by yards, a slightly shorter distance. It was less familiar but more liberating. Qualifying for the Swedish national team is dependent on hitting a time, as opposed to winning a race. In a yards-long distance Hansson had no idea what time to aim for, so she competed freely.
"It allowed her to get back to that sense of just racing," Salo said.
Swimming collegiately, Hansson said her mental toughness has improved. She works with the Swedish national team's sports psychologist and has grown used to pushing through demanding practices and regularly competing against top swimmers.
Hansson leads the Trojans by carrying herself confidently at practice and embodying a silent determination during drills, Sanchez said. Even on days where she is fatigued, Hansson remains upbeat. The form in her strokes doesn't slacken with exhaustion, and she never expresses doubt in the face of a tough workout.
"She takes on challenges so enthusiastically," Sanchez said. "And I think it excited other people, myself included, just to see someone so passionate about swimming."
In November, Hansson matched her school record in the 100-yard butterfly. A day earlier she set her fourth individual school record, finishing in 51.43 seconds in the 100-yard backstroke, the seventh-fastest time in the nation this season. She has the nation's fastest times in the 100-yard and 200-yard butterfly this season, two of eight races where she has earned one of the top 15 times in the nation.
When this year's NCAA championships arrive, Salo expects Hansson will be ready. There won't be as much pressure this time, he said. She has already proven herself.
"Just practicing those situations, that's made me more comfortable," Hansson said. "I don't see those scenarios as scary anymore."
Sign up for our daily sports newsletter »
Get our high school sports newsletter
Prep Rally is devoted to the SoCal high school sports experience, bringing you scores, stories and a behind-the-scenes look at what makes prep sports so popular.
You may occasionally receive promotional content from the Los Angeles Times.