Traveler, USC's mascot, comes under scrutiny for having a name similar to Robert E. Lee's horse
During a rally to show solidarity in the aftermath of the violence in Charlottesville, Va., a USC campus group linked the mascot's name to Confederate Gen. Robert E. Lee. (August 21, 2017) (Sign up for our free video newsletter here http://bit.ly/2n
When Richard Saukko galloped his chalk-white Arabian horse named Traveler around the Los Angeles Memorial Coliseum almost 56 years ago, it was supposed to be a one-time stunt.
Instead, the brief performance before USC kicked off its season against Georgia Tech turned into one of college football's iconic traditions. A succession of white horses named Traveler have followed — Traveler IX debuts this fall — trotting out of the tunnel as "Conquest" plays and the costumed Trojan warrior atop the horse waves a sword. But during a rally earlier this week to show solidarity in the aftermath of the violence in Charlottesville, Va., a USC campus group linked the name to Confederate Gen. Robert E. Lee, whose favorite horse was Traveller.
At the rally, according to the student newspaper the Daily Trojan, Saphia Jackson, co-director of the USC Black Student Assembly, asked students not to be quiet, and reminded that "white supremacy hits close to home" and referenced the name of the Trojans mascot.
The Black Student Assembly did not respond to requests for comment, but questions about the name's provenance have increased on social media in the midst of the national discussion on race.
Saukko died in 1992, but his widow wasn't surprised when a reporter called Friday.
"The problem is this: maybe three weeks ago it was fine," Pat Saukko DeBernardi said. "So now the flavor of the day is . . . we all have to be in hysteria. . . . It's more of a political issue. The horse isn't political and neither am I."
She noted that the name of Lee's well-known horse included an extra "l" and, besides, Traveler was already named when her late husband purchased him for $5,000 in 1958, half the asking price. The horse was a fixture in movies like "Snowfire" and "The Ballad of a Gunfighter."
"He was a movie horse and he turned mean," Richard Saukko once told The Times. "That's how I got him so cheap. A few months later, he'd become so gentle again, people wouldn't believe it was the same horse."
USC officials spotted Saukko, a salesman from Sunland, riding Traveler during the Rose Parade in 1961. Three days before football season started that fall, they asked him to perform. He used Charlton Heston's leftover costumes from "Ben Hur" to assemble a Trojan warrior outfit — though the armor bruised his arms.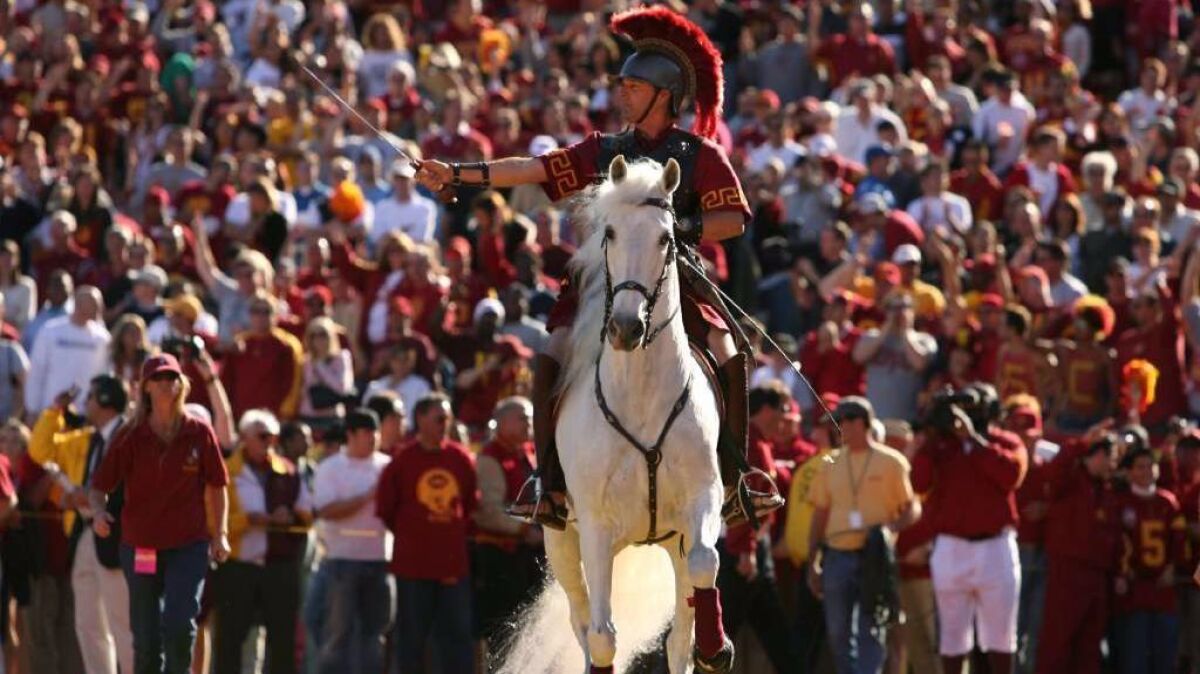 A USC spokesman pointed to a history of Traveler on USC's website when asked about the name's origin.
"USC's mascot horse is a symbol of ancient Troy. Its rider, with costume and sword, is a symbol of a Trojan warrior," the final paragraph said. "The name Traveler, spelled with one 'l,' is a common name among horses. . . . USC's Traveler is and has always been a proud symbol of Troy. There is no truth to any other claims or rumors about its name."
But the name isn't that common. According to Equibase, a leading source of horse racing statistics, there have been only three registered thoroughbreds named Traveler in the U.S. since 1945. Only two quarter horses have been registered with the name. Another site, which tracks pet names, doesn't rank Traveler in the top 100 most popular names for horses.
The earliest mention of a connection between Lee and USC's Traveler appears to have come in Saukko's four-paragraph obituary in The Times.
"Saukko's first horse was half Arabian, half Tennessee walker and was named Traveler I, after the horse of Civil War general Robert E. Lee," the story said.
The detail wasn't attributed to a source and the obituary didn't carry a byline.
An Associated Press story in 2005 described the similarity to the name of Lee's horse as "merely coincidental," but, again, didn't attribute the information.
The name remains an institution at USC. It's trademarked. For $1,700 plus transportation expenses, the horse will appear at your event. A statue of Traveler was unveiled in 2010, modeled after the "pure white Andalusian horse that is our majestic mascot." Traveler VII's hoofprints were memorialized in concrete in 2012 to be displayed on campus.
But unease lingers in some quarters over Traveler's name and what it might represent today.
Pat Saukko DeBernardi declined to wade too far into the issue.
"Over at USC they're nonpolitical about their horse," Pat Saukko DeBernardi said. "What if their name would be Lee? Would they want to change it? It doesn't make any difference. . . . He's a wonderful horse and a great mascot."
Twitter: @nathanfenno
ALSO
Robert E. Lee was not the George Washington of his time. But a lot ties them together
What to do with Confederate monuments? Put them in museums as examples of ugly history, not civic pride
A black mayor who leads the former capital of the Confederacy sees both sides of the monument debate
Get our high school sports newsletter
Prep Rally is devoted to the SoCal high school sports experience, bringing you scores, stories and a behind-the-scenes look at what makes prep sports so popular.
You may occasionally receive promotional content from the Los Angeles Times.