Column: Veterans show no signs of letting up as Venus Williams and Roger Federer move into semifinals at BNP Paribas Open
Reporting from indian wells —
Venus Williams was 2½ years into her professional tennis career when Daria Kasatkina, who will be her semifinal opponent on Friday in the BNP Paribas Open, was born in Togliatti, Russia.
Williams turned pro at 14 and at 37 she was the oldest woman in the draw at the Indian Wells Tennis Garden. She's also one of only four still standing from the 128-woman field. Those are the only numbers she considers relevant — not her age, or Kasatkina's, or the results of their previous two encounters, which, for the record, they split.
"I'm about tomorrow. I'm a tomorrow person," Williams said after completing a 6-3, 6-2 mastery of Carla Suarez Navarro in the quarterfinals Thursday at Stadium 1. "If you can learn from the past, that's great to be better in the future."
Roger Federer, 36, last month became the oldest man to be ranked No. 1 since the ranking system was introduced in 1973. His quarterfinal opponent Thursday, Hyeon Chung of South Korea, is 21. But Federer, too, has made a mockery of the calendar and continues to redefine the possibilities for 30-something players. "Experience is a good thing, too," he said, "not just the young legs."
Federer's 7-5, 6-1 victory, which he capped with an ace, vaulted him into the semifinals against 21-year-old Borna Coric, another of the up-and-comers who aspire to do what Federer has done so gracefully and successfully for so long. Federer's triumph against Chung completed a bit of business that was left unfinished when Chung retired because of foot blisters during the second set of their Australian Open semifinal in January. It also ensured that Federer will stay No. 1 no matter the outcome here and will extend the record he already holds by owning the No. 1 ranking for 306 weeks.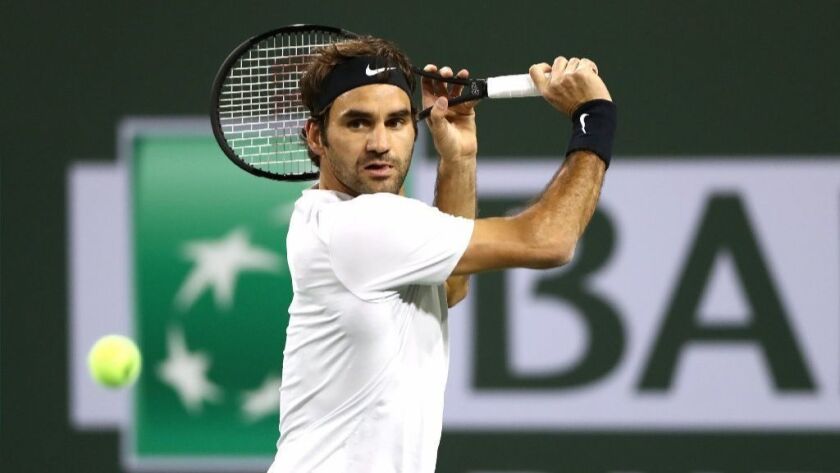 Federer is 16-0 this year, matching the career-best start he had in 2006. Asked how the Federer of today compares to the younger version of himself, he came up blank.
"A long time ago," he said. "What was I doing back then? I honestly can't remember. Hopefully I can do one more and beat my best streak on Saturday."
Chung, who is projected to move to No. 23 in the rankings next week, was as much a fan of Federer's as he was an opponent Thursday. Chung had barely caught his breath before Federer sped out to a 3-0 lead in the first set. "I was down one break, and I'm just trying to stay calm and I'm just trying to learn from Roger," said Chung, who earned applause from the crowd when he managed to pull even at 5-5. "I think all the fans love Roger's play, so I'm just trying to play my tennis all the time against Roger. So I'm just really happy."
Federer was equally glad to prevail over Chung. The challenge of figuring out young players' games keeps Federer sharp, a game he plays within the games. On Thursday the breezy conditions also kept him constantly adjusting, and he did all of that well enough to save a couple of break points early in the second set and cruise to the finish. "I like it when it's the unknown, even though it can be a bit scary," Federer said. "It's all good."
Williams was satisfied with her play especially because she didn't have to go the distance against Suarez Navarro. "You hope for this kind of scoreline but you never know if you're actually going to get it," Williams said.
She has played two matches against Kasatkina, who will turn 21 in May, and both went three sets.
The most recent was a 10-8 third set in Williams' favor in the round of 32 at Wimbledon in 2016. Williams said she had no special plan this time. "Really just to play well," she said.
So far, she and Federer are keeping those up-and-comers at bay.
"I'm just happy that I'm able to keep up a good level. Same for Venus," Federer said. "Really happy for her that she's really consistently, easily making all these semis and finals and winning tournaments. It's great."
But it won't last forever. "The young guys are still calibrating their game, understanding what they need to do. They are still working on a lot of things," Federer said. "So there is a lot on the plate for them, but they will learn and they'll get better and eventually push us out and that will be the end from us. Pretty simple, right? That's just how life is."
With any luck, though, their time won't end for a while.
Follow Helene Elliott on Twitter @helenenothelen
---
Get our high school sports newsletter
Prep Rally is devoted to the SoCal high school sports experience, bringing you scores, stories and a behind-the-scenes look at what makes prep sports so popular.
You may occasionally receive promotional content from the Los Angeles Times.