Column: Victor Conte, of BALCO fame, has found a new home in boxing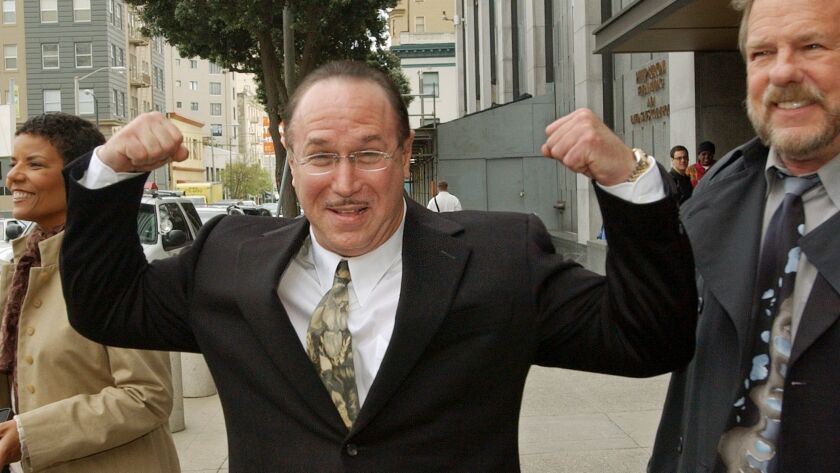 Only in America? Certainly.
In the case of Victor Conte, however, Don King's signature catchphrase should be slightly modified. More appropriate would be something like, "Only in boxing."
Only in what Conte described as the "red-light district of sport" can a convicted steroid distributor be part of a high-profile event and do so in full view of the public.
"I was banned everywhere else," Conte said with a chuckle.
Now a vocal advocate for year-round drug testing, the self-educated former BALCO mastermind helped lightweight champion Mikey Garcia move up to the heavier welterweight division for his showdown with hard-punching Errol Spence on Saturday at AT&T Stadium. Conte works with several other fighters, including top middleweights Danny Jacobs and Demetrius Andrade.
At a crowded hotel bar three nights before the fight, Conte was but another person in the sport with a sketchy past. Conte mentioned King, the promoter who was charged in the killings of two people in separate incidents (in 1954 and 1967). He also pointed to Bernard Hopkins, who was incarcerated for five years before becoming one of the most decorated middleweight champions of all-time.
"I'm not the only guy that's been to prison," Conte said.
This is a world in which there are already whispers about matching up the winner of Garcia-Spence against a 40-year-old Manny Pacquiao, not because the once-dominant Filipino represents a legitimate threat to either fighter but because he could be used as a vehicle to introduce Garcia or Spence to a larger audience. If transforming Garcia or Spence into a mainstream attraction requires Pacquiao to be subjected to a legally permissible form of elder abuse, so be it.
The inner workings of boxing are a reminder that morality is relative.
"It doesn't mean what I did was OK," Conte said. "It was not. I made serious mistakes and caused a lot of damage to others around me, but I learned from those mistakes."
Conte, 68, spent four months in prison in 2005 for his role in the BALCO scandal, which tarnished the reputations of high-profile athletes such as Barry Bonds and Marion Jones. He claimed he is reformed, saying he now provides high-tech training and legal supplements to athletes instead of performance-enhancing drugs. He pushed Garcia and Spence to enroll in a 10-week random drug testing program overseen by the Voluntary Anti-Doping Association.
Nonetheless, his history makes his presence here remarkable. The optics are troubling. That alone would make it considerably harder for him to openly associate with athletes in other sports. But boxing's fragmented structure — there is no league or single governing body — leads to institutionalized buck-passing that doesn't exist in other sports.
"We have absolutely no authority to limit anybody's participation in any activity in the world," World Boxing Council president Mauricio Sulaiman said.
Spence said when asked about Conte, "I don't know. He didn't really work anybody in boxing that I know of, but I mean, I don't know. We're supposed to be on the VADA testing thing, but I haven't been tested by VADA in like two weeks, so I don't know what's going on with that. I don't know."
Spence's trainer, Derrick James, said Conte's involvement in Garcia's camp didn't bother him.
"I think that Victor Conte is who he is and does what he does, but I'm not worried about that," James said. "I would be more fearful if he was a Christian than Victor Conte. Jesus is greater than Victor Conte will ever be."
The event's promoter, Richard Schaefer, said he believes in second chances. So do Sulaiman and Garcia.
"We know that he has some history in the past," Garcia said. "He handled that. He paid his price, in a way. But he's really turned it around."
Garcia and his trainer-brother have talked openly about their work with Conte, insisting they have nothing to hide.
"We're clean," Garcia said.
Conte had an entirely different relationship with his first post-BALCO boxing client, Andre Ward. The now-retired former super middleweight and light heavyweight championship wanted their connection to be kept secret. Ward and his trainer, Conte said, "used to come over and sit in the parking lot and bicker out in the front about whether this was a good idea or a bad idea to be associated with me."
Ward parted ways with Conte after they were publicly linked.
The stigma lessened over time. Robert Garcia became familiar with Conte through another of his fighters, former four-division champion Nonito Donaire. Mikey Garcia said he has been taking legal supplements from Conte's SNAC brand — Scientific Nutrition for Advanced Conditioning — for several years.
When Mikey decided to move up from the 135-pound lightweight division to the 147-pound welterweight category, Robert reached out to Conte to see if he could help him prepare. Conte said yes, but under one condition: Garcia had to enroll in VADA's drug-testing program.
Conte wanted to protect himself against the possibility of Garcia doing something outside his purview and testing positive. Garcia agreed, figuring that the random exams would temper suspicions that would arise from his association with Conte.
Garcia spent the first five weeks of the year in the San Francisco Bay Area under Conte's watch. Outdoor workouts involving bands and plyometrics were overseen by Remi Korchemny, a former sprint coach who is serving a lifetime ban from United States Track and Field for his role in the BALCO scandal. Garcia also worked indoors with Mike Bazzell, who had him alternating between exercises wearing an oxygen-limiting mask and activities in oxygen-rich enclosures.
Garcia added six to eight pounds of muscle, but said, "we also didn't want to be big and slow because that's not what I want to use against Spence. So we decided to focus on the speed. Keep that speed, that explosiveness."
He returned to camp in Riverside pleased with the results.
Conte remains convinced the use of performance-enhancing drugs remains rampant in sports.
He described methods that could be used by athletes to avoid detection and named one particular substance for which there is no effective test. And while he said testing has improved since the BALCO days, he claimed, "They're beatable to this minute."
But if Conte believes drug use remains prevalent and he insists his own fighters remain clean, isn't he placing them at a disadvantage?
"No, because I'm helping level the playing field for my guy," Conte said. "I'm taking the advantage away from the other guy."
Conte changed course.
"Let me put this in perspective," he said. "People say, 'He's so smart, he might still be tricking people.' First of all, I went to prison. I caused all sorts of anguish and pain for my family."
He said his legal supplement business made $250 million over the last 19 years, $50 million of which went into his pockets.
"I'm the guy with the cash in the bank," he said. "I'm not going to go there. It's not worth it to me. I'll be 69 this year."
Asked how he is leveling the playing field, Conte replied, "I make sure they're enrolled in VADA. VADA's most stringent testing there is."
But what about the undetectable substance he previously mentioned?
"Nobody can test for that," he conceded. "Listen, if I can block 99 out of 100 doors, that's better than none."
Conte believes the post-BALCO chapter of his story is written.
"Everybody thought, well, the only reason he's got all these great athletes with him is because he's giving them drugs and he's a cheat," he said. "Look at my history now. I have more than 20 world champion boxers that have been through the SNAC program, so I'm probably more successful now than when I was providing undetectable drugs."
He's also found a home of sorts in boxing. Of how Garcia has publicly embraced him, Conte said. "He's proud of the association, he's not hiding from it, which means maybe we live in a society that gives second chances."
At minimum, Conte now works in a sport that does.
Sign up for our daily sports newsletter »
Follow Dylan Hernandez on Twitter @dylanohernandez
---
Get our high school sports newsletter
Prep Rally is devoted to the SoCal high school sports experience, bringing you scores, stories and a behind-the-scenes look at what makes prep sports so popular.
You may occasionally receive promotional content from the Los Angeles Times.