Departures from Tampa add to Rays' attendance and ballpark troubles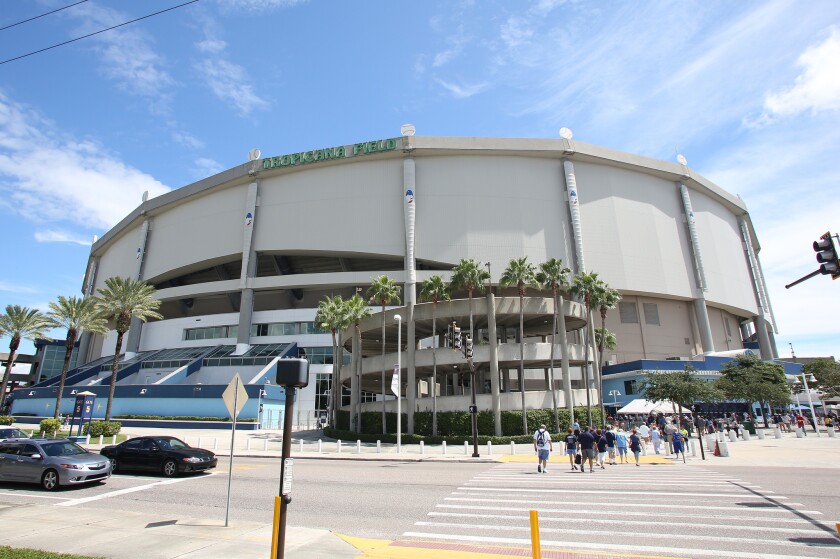 Reporting from SAN FRANCISCO —
In an era when the best free agents can make more than $200 million, teams in small markets cannot always afford to retain their best players.
However, when those teams cannot afford to retain their best management personnel, should the viability of the franchise come into play?
In the abstract, probably not. But, when the franchise in question is the Tampa Bay Rays, the departures of two key employees coincides with perennially low attendance and a seemingly endless search for a new ballpark.
Andrew Friedman, the Rays' general manager, left to become the Dodgers' president of baseball operations — for a contract worth $35 million, according to ESPN. Joe Maddon, the Rays' manager, opted out of his contract in search of a deal in the $25-million range, according to the New York Post.
The Rays sold an average of 17,858 tickets per home game this season, the lowest figure in the major leagues, despite playoff appearances in four of the six previous seasons. They have not sold 2 million tickets since their inaugural season of 1998.
Commissioner Bud Selig traced the Rays' inability to retain key personnel — at least in part — to the inability to secure a new ballpark.
"The team has to have a ballpark that makes them competitive," Selig said before Game 4 of the World Series. "It doesn't produce the kind of revenue they need."
Does Selig consider Tampa Bay a viable major league market?
He paused — a long pause — then declined to answer. He said he prefers to leave that judgment to the owner in each market.
Rays owner Stuart Sternberg has discussed moving the team to Montreal, the New York Daily News reported Saturday. Selig said Sternberg has not told him of any interest in relocation.
For now, Montreal has the same problem as Tampa Bay: no new ballpark, and no plan for financing one. However, Montreal Mayor Denis Coderre visited Dodger Stadium last month and met with Dodgers President Stan Kasten, who oversaw new or renovated sports facilities in Los Angeles, Atlanta and Washington.
The Toronto Blue Jays played two spring training games at Montreal's Olympic Stadium this year and will do so again next year. Baseball officials were intrigued by the crowded houses in Montreal, a city in search of a second chance after being abandoned by the league a decade ago.
"I give them credit," Selig said. "I told them I was proud of them last spring, when they put 95,000 people in there for two games. There's a lot of work to be done. But I am hopeful for them."
To the point
There is an art to saying nothing in a long answer, or to talking around an issue you would rather not address. Then there is San Francisco Giants starter Madison Bumgarner, who starts against the Kansas City Royals on Sunday, as the actual question and answer below shows.
Question: "You were very successful against this team in Game 1. Could you share, if possible, some of the things that you learned from that game that may help you in this next outing?"
Bumgarner: " No."
Short hops
Mike Trout of the Angels and Giancarlo Stanton of the Miami Marlins were announced as winners of the Hank Aaron Award, presented to the top hitter in each league. Trout did not attend the ceremony here; he told MLB officials in advance that he would be traveling. … Bryan Stow, the Giants fan who suffered brain damage in a 2011 parking lot attack at Dodger Stadium, hollered "Play ball!" loud and clear before the game. Stow took the field in a wheelchair. … Four games into the World Series, and one former player has thrown out the ceremonial first pitch. The pitches have been thrown by a war veteran, Royals legend George Brett, a fan and Little League World Series star Mo'ne Davis.
Twitter: @BillShaikin
---
Get our high school sports newsletter
Prep Rally is devoted to the SoCal high school sports experience, bringing you scores, stories and a behind-the-scenes look at what makes prep sports so popular.
You may occasionally receive promotional content from the Los Angeles Times.