Report: Josh Brent banned from Cowboys' sideline for rest of year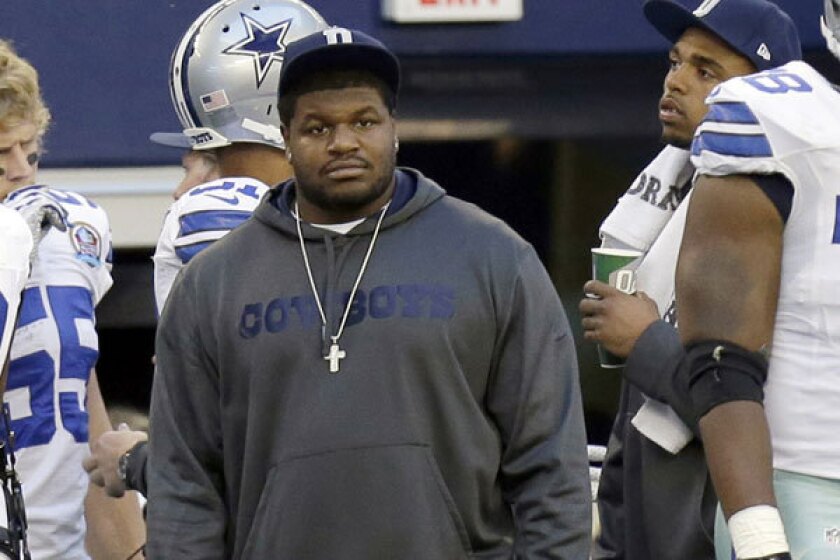 Josh Brent was on the Dallas Cowboys sideline Sunday, cheering on his teammates while facing intoxication manslaughter charges from the car crash that killed practice squad member Jerry Brown.
He won't be there again this season.
ESPN is reporting that team and league sources said Brent's presence on the sideline during this week's game was inappropriate and that the nose tackle would not be permitted there again this year.
Brent's season was ended early last week when he was placed on the reserve/non-football illness list following the Dec. 8 crash.
According to the ESPN report, Coach Jason Garrett did not know Brent would be at Sunday's game until pregame warmups and didn't realize he was on the sideline until after the game had started. Also, owner Jerry Jones found out when he saw Brent on TV.
Still, Garrett and Jones were supportive of Brent's decision to attend in their comments Monday.
"What we wanted to do as an organization was support Jerry Brown's mom's wishes," Garrett said. "The players encouraged Josh to be there, a number of phone calls, 'You're coming to the game.' That's just our guys understanding the situation, understanding Stacey Jackson's wishes for Josh. She considers Josh a son and she loves him very much. We love him very much and we're going to try and support him every way that we can."
Jones said: "His teammates asked him to come and be down there with him, so that's where we are. I do know that certainly there's the other side of the coin, but this is the case of the people that he's arguably the closest to really wanted him around."
Also on Tuesday, a state district judge lowered Brent's bond from $500,000 to $100,000 and ordered him not to drink alcohol or drive without a valid driver's license. Brent, who is being accused by prosecutors of driving with a suspended license on the night of the crash, is required to wear an electronic monitor to detect if he drinks any alcoholic beverages.
ALSO:
Is Kirk Cousins too good to be a backup quarterback?
Will Adrian Peterson break Eric Dickerson's rushing record?
Chris Johnson pays tribute to Newtown shooting victims on 'MNF'
---
Get the latest on L.A.'s teams in the daily Sports Report newsletter.
You may occasionally receive promotional content from the Los Angeles Times.