What would happen if Mark Cuban actually drafted Brittney Griner?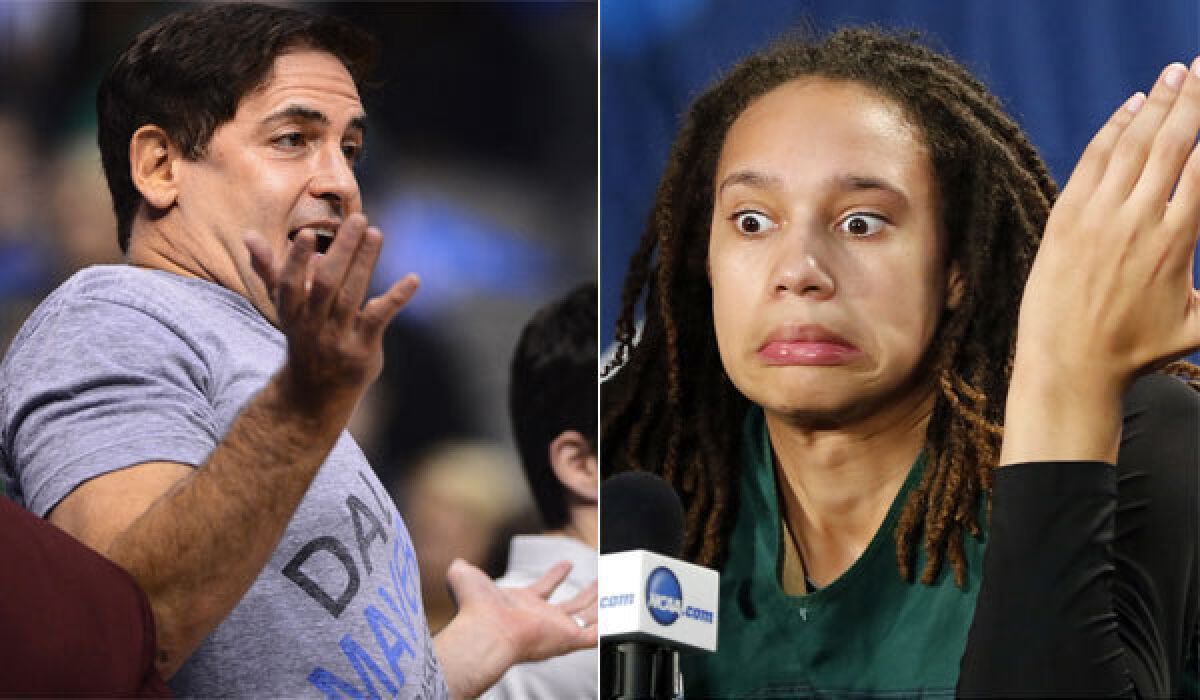 Dallas Mavericks owner Mark Cuban told reporters Tuesday night that he would consider drafting 6-foot-8 former Baylor women's basketball star Brittney Griner.
Griner later tweeted: "I would hold my own! Lets do it."
Writers from around Tribune Co. discuss whether Griner should be given a chance to play for the Mavericks. Check back throughout the day for their opinions and feel free to join the conversation with a comment of your own.
John Altavilla, Hartford Courant
I am all for the idea of shameless, aimless promotion in professional sports. But I must hold up an assertive stop sign when it comes to the idea of the Dallas Mavericks offering Brittney Griner of Baylor the chance to play in the NBA.
Listen, Griner may be the women's basketball version of Lew Alcindor. But the idea stinks on many levels -- sort of like the Mavericks do this season.
Just the suggestion that Griner could or should play in the NBA brings up -- once again and needlessly -- the delicate gender issue this young woman has had to deal with her entire playing career. Mavericks owner Mark Cuban should know better, and I am assuming he does.
And anyway, Louisville proved Griner may not even be physically and mentally prepared to play in the WNBA. And another thing, Alex Rodriguez may need work soon.
[Updated at 11:11 a.m.:
Shandel Richardson, South Florida Sun-Sentinel
If this question could have been posed three days ago, then maybe, just maybe, it would all make sense.
I'm being asked if Brittney Griner could play in the NBA as part of some April Fool's Day joke, right?
Wrong.
Sadly, when Mark Cuban opens his mouth, we in the media have to react. In this case, Cuban is just flat-out wrong. I'm not even sure if Cuban believes that Griner can play in the NBA. He just knows making such a statement will draw attention.
And we continue to fall for it.
It's an insult to even subject Griner to this debate. She's a great, great college women's basketball player. Let's just leave it at that instead of wondering how she would stack up against her male counterparts.
She's revolutionized the women's game. Isn't that enough of an achievement?]
ALSO:
Kevin Ware of Louisville tweets he'll 'be back by next season'
Mike Rice fired as Rutgers coach after airing of practice video
Rutgers coach used gay slurs, threw basketballs at players [Video]
Get our high school sports newsletter
Prep Rally is devoted to the SoCal high school sports experience, bringing you scores, stories and a behind-the-scenes look at what makes prep sports so popular.
You may occasionally receive promotional content from the Los Angeles Times.