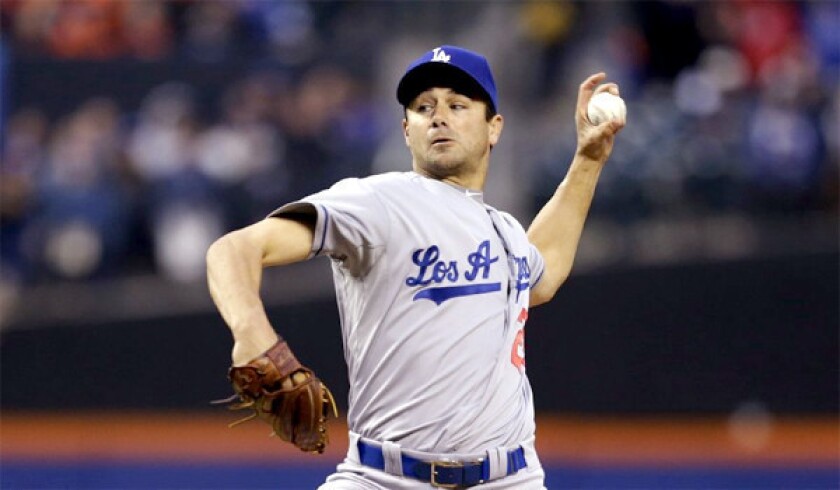 NEW YORK — Considering Ted Lilly hadn't pitched in more than 11 months, considering he was recovering from shoulder surgery and considering no one really knew what to expect from him, his start Wednesday marked a minor victory for the Dodgers.
Lilly pitched the first five innings of the Dodgers' 10-inning, 7-3 defeat to the New York Mets at Citi Field, holding the home team to a run and six hits.
Only a week ago, the 37-year-old left-hander appeared as if he wasn't part of the Dodgers' plans. He was on the disabled list even though he wasn't hurt and resisted prolonging his minor league rehabilitation assignment. But Chris Capuano, who replaced the injured Zack Greinke in the rotation, went down with a calf injury and suddenly Lilly was back in the mix.
"I was definitely under the impression I had to prove myself at this level," Lilly said. "That's understandable, coming back from shoulder surgery. To me too."
Making his first start since May 23, 2012, Lilly said he woke up nervous.
"I had a lot of everything," he said. "Nervous, anxious, excited."
Lilly held the Mets scoreless until the fifth inning, when rookie pitcher Matt Harvey doubled to left field. Harvey scored on a single by Ruben Tejada to tie the score, 1-1. By the end of the inning, Lilly had thrown 86 pitches.
Lilly said he felt responsible for how the Dodgers lost in extra innings, noting that he put the team's heavily worked bullpen under pressure by failing to pitch past the fifth inning.
"I would have liked to give us one more," Lilly said. "If I have a clean fifth inning, I probably go back out there for the sixth."
Ramirez prepares
Noting his increased comfort throwing the ball, Hanley Ramirez said he is hopeful he can start a minor league rehabilitation assignment next week.
"I think it's going to be like three games," said Ramirez, adding he could be back in the lineup when the Dodgers visit the San Francisco Giants on May 3 to 5.
But Ramirez expects he will still be wearing a splint on his surgically repaired right thumb.
"It's still swollen," he said.
Capuano also close
Capuano threw a bullpen session and is on track to be activated May 3, the first day he is eligible to be reinstated from the 15-day disabled list.
Before Capuano returns, he is expected to pitch in a minor league game. The veteran left-hander still hasn't run on his strained left calf, but "he's been able to do everything else," Manager Don Mattingly said.
Capuano figures to take the rotation spot occupied by Stephen Fife, who was called up from triple-A Albuquerque on Sunday to replace sidelined Chad Billingsley.
Catcher optioned
Catcher Tim Federowicz was optioned to Albuquerque to clear a roster spot for Lilly. Federowicz, 25, started the season as the backup to A.J. Ellis but lost his place on the major league roster when the Dodgers traded for Ramon Hernandez this month.
Mattingly said he has talked to Federowicz about remaining patient, explaining to him that the Dodgers' acquisition of Hernandez was a reflection not on him but of a desire for increased depth.
"If A.J. gets hurt, Fed is probably going to get most of the at-bats," Mattingly said.
Twitter: @dylanohernandez
---