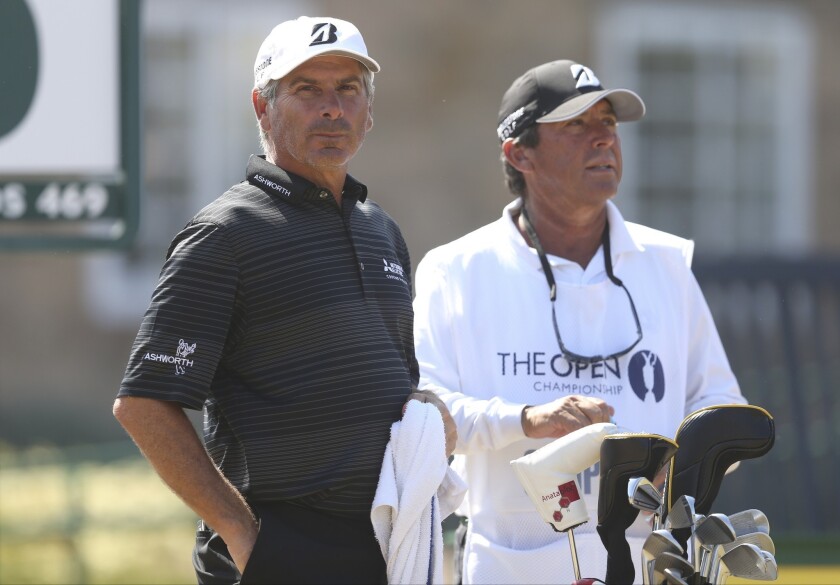 GULLANE, Scotland — You could argue that Fred Couples found what Ponce de Leon couldn't. He is 53, still hitting it a mile and still in the occasional mix at major golf tournaments.
Mr. Fountain of Youth shot two-over 73 in the British Open on Saturday, after making the cut well in front of 43 mostly younger guys. That went with his opening 75 and Friday's 74.
"Looking for a 72 Sunday," Couples joked.
There are dozens of reasons, at his age, for Couples to merely show up, enjoy being there and not be competitive. But he is still quite good. He plays in the Masters as a past champion (1992) and he qualified for this year's British at Muirfield by winning last year's Senior British Open. This year's Senior British is next week at Royal Birkdale, on the west coast of England, and Couples will be there.
"I'll see if I can get back to this one again," he said.
He joined the Champions Tour (age 50 and older) three years ago and has made well in excess of $5 million. He has played in three regular tour events this year, made the cut in all three, including the Northern Trust at Riviera, and got a share of 13th at the Masters.
So life is good, his chronically injured back seems to be holding up, and chances to leave home in La Quinta during the heat of a Palm Springs summer, always welcome, are in abundance.
But this British Open had a little extra lure with his pairing in the first two rounds with Nick Faldo and Tom Watson.
Faldo is 56 and stopped playing in the early 2000s. He is now a network television commentator. He won three British Opens. Watson is 63, has continued to play regularly on the Champions Tour, and nearly added a sixth British title to his resume in 2009.
Neither Faldo nor Watson made the cut here, but Couples said Saturday that he thoroughly enjoyed being part of this legendary trio for the first two days.
"It was great, just great," he said. "People pay lots of money to watch these guys play, and I got to walk along for free."
He said he was amazed how well Faldo was able to play, despite being away from this level of competition for so long.
"I defy anybody to try that," Couples said.
As for Watson, with whom he is paired occasionally on the Champions Tour, Couples said, "He still hits the ball so pure; it's fun to watch."
Faldo said he used the long-hitting Couples as a measuring stick, and Couples said Faldo got him a couple of times.
"I remember once," Couples said, "walking to my ball and he was well in front of me. I said, wow."
Not lying down
Ernie Els was the toast of Muirfield before this tournament started, and rightly so. He had won last year's British at Royal Lytham & St. Annes and had won the last time the tournament was played at Muirfield, in 2002.
But so far, it has been a struggle, something that eased a bit Saturday, when he shot a one-under 70.
Asked after his round whether he were still enjoying himself, he said, "I'm trying to. It's tough when you've won and you had lots of things going your way and then, the next year, you don't get the bounces."
His 218 total, five over par, may actually still be in contention. Els trailed leader Adam Scott by seven shots during last year's final round and still won. And, with Saturday's leaders struggling to stay under par, anything is possible.
"I'm a competitor," Els said. "You're not going to lie down until the 72nd hole."
Mood swing
Two-time British winner Padraig Harrington may have to lie down a bit before that 72nd hole. The mood of the affable Irishman was low after his 77 on Saturday, to go with his 73-75, that put him at 12 over par.
Asked one of those silly questions after his round — "How do you feel at the moment in general?" — Harrington replied, "I just shot 77."
Moving too slowly
Japanese player Hideki Matsuyama, playing an excellent tournament, was penalized a stroke for slow play on the 17th hole Saturday. He was playing with Johnson Wagner, who was not penalized. Officials said that, with Matsuyama struggling with a tough second shot, they gave him plenty of time to get ready to hit and, when the stroke still took 2 minutes 12 seconds to execute, they assessed the penalty.
Several other duos were "put on the clock" by officials, including the Tiger Woods-Lee Westwood grouping. But no other stroke penalties were assessed.
Matsuyama finished the day with a 72, and his three-over-par 216, even after the penalty, was just six behind leading Westwood.
---