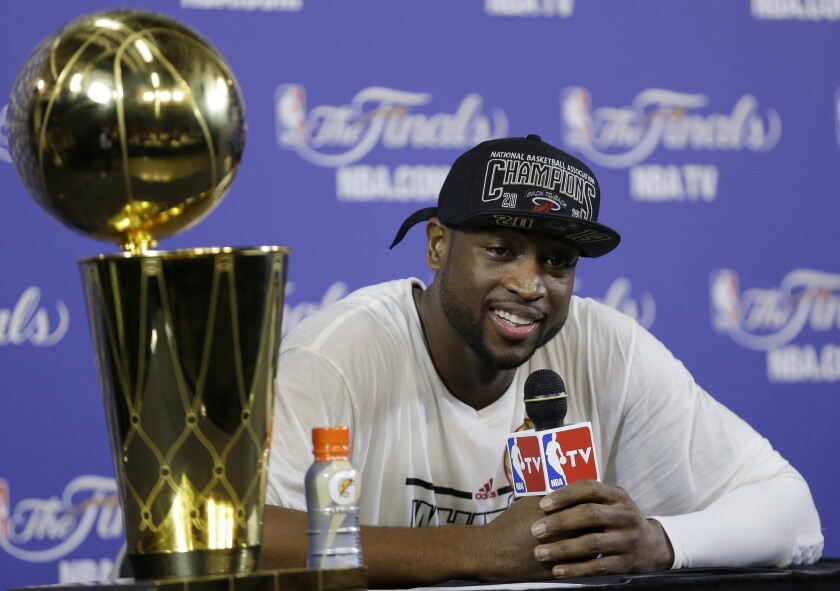 A financial settlement has been reached between Miami Heat star Dwyane Wade and ex-wife Siohvaughn Funches, bringing to an end a long and bitter divorce saga.
The Chicago Sun-Times is reporting that as part of the settlement, Funches will receive $5 million, four cars and a mansion she once shared with Wade. There is also an agreement that says neither side can make disparaging comments about each other, the Sun-Times reports.
The settlement comes three days after Funches sat alongside a busy Chicago street outside a courthouse with a sign implying that the three-time NBA champ had left her homeless and destitute. She made similar comments to the press at the time.
Wade's attorney James Pritkin said Wade has been paying Funches $25,000 a month, as well as her mortgage, for the cars, attorneys fees from the divorce and custody battles, and more.
According to the Sun-Times, Funches voiced her displeasure with the non-disparagement portion of the settlement outside the courtroom Monday.
"My voice isn't for sale, my story isn't for sale, no thank you," she said.
The nine-time All-Star filed for divorce in 2007. It was granted in 2010, with Wade gaining sole custody of the couple's two sons the following year.
But court battles for the two aren't over, as Pritkin says Funches' visitation rights still need to be determined.
"The safety and well-being of his children are [Wade's] main priority," Pritikin said in a statement. "Due to Ms. Funches' current unstable mental state, her visitation will be determined by the court. Mr. Wade continues to hope that one day he will have a civil relationship with his ex-wife for the sake of their sons."
ALSO:
Bill Plaschke: Ryan Braun, and belief, are both suspended
Ryan Braun makes best of bad situation by accepting suspension
NFL, players' union inch closer to deal on human growth hormone test
---