Matt Forte, Emmitt Smith, other RBs oppose proposed rule change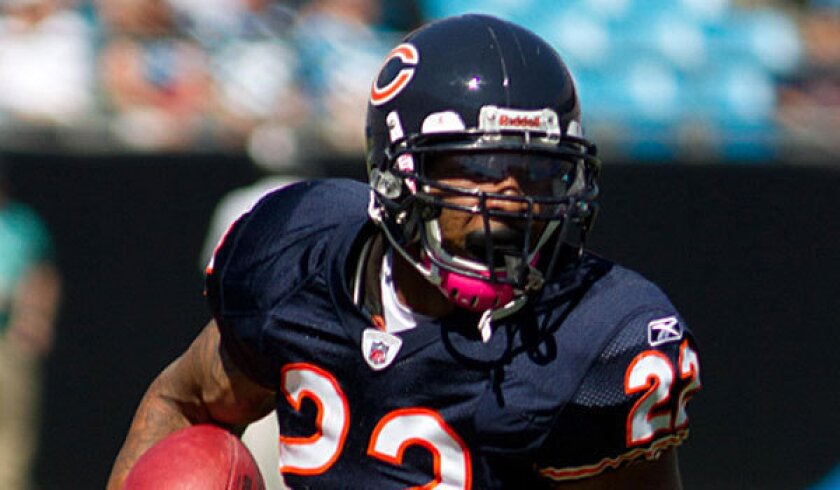 NFL owners are scheduled to vote this week on a proposed rule change to prohibit running backs from delivering a blow with the crown of their helmets in an open field.
Matt Forte does not get a vote because he is a running back, not an owner. Still, he had plenty to say about the proposal on Twitter this weekend.
"The proposed rule change for running backs might be the most absurd suggestion of a rule change I've ever heard of," he said in a series of tweets. "In order to lower ur shoulder u obviously have to lower ur head. It's a way of protecting ur self from a tackler and a way to break tackles. U can't change the instinctive nature of running the football."
He's not the only one doesn't like the potential change. Emmitt Smith, the NFL's all-time leading rusher, offered his opinion on Dallas radio station 105.3 The Fan.
"I'm a running back and I'm running into a linebacker, you're telling me I have to keep my head up so he can take my chin off?" Smith said. "You've absolutely lost your mind. As a running back, it's almost impossible [to not lower your head]. The first thing you do is get behind your shoulder pads. That means you're leaning forward, and the first part of contact that's going to take place is your head, regardless."
But Dallas Cowboys owner Jerry Jones says the rule change would not have affected the playing style of his former player.
"This rule wouldn't apply to Emmitt," Jones told USA Today. "He was never the type to use his head or neck. We studied some of Emmitt's runs as part of this. He probably doesn't understand that we aren't trying to do anything that would have changed the way he played."
Still, the criticism keeps coming from some of the best players to have ever played running back. "The new RB rule is a joke," Hall of Famer Marshall Faulk tweeted. "A RB can't lead with his helmet. A lot of chins are about to get busted."
Former Pittsburgh Steelers great Jerome Bettis told USA Today: "The problem is that you lower your head when you lower your shoulder. That's how you protect yourself. If you run exposed, you're going to get hurt."
Not surprisingly, defensive players don't seem to have much sympathy for the running backs. Free agent defensive end Lawrence Jackson tweeted: "Looks like Matt Forte is starting to see what it feels like to play defense."
New York Giants cornerback Terrell Thomas added on Twitter: "It's hilarious seeing all these RB complain about the rule change...welcome to the last 5 years of a defenders life."
ALSO:
Georges St-Pierre defeats Nick Diaz at UFC 158
Race car driver kills cousin, one other in track accident
Clay Matthews is latest victim of double-broken-leg online hoax
---
Get the latest on L.A.'s teams in the daily Sports Report newsletter.
You may occasionally receive promotional content from the Los Angeles Times.