Dodgers will throw their best stuff at Cardinals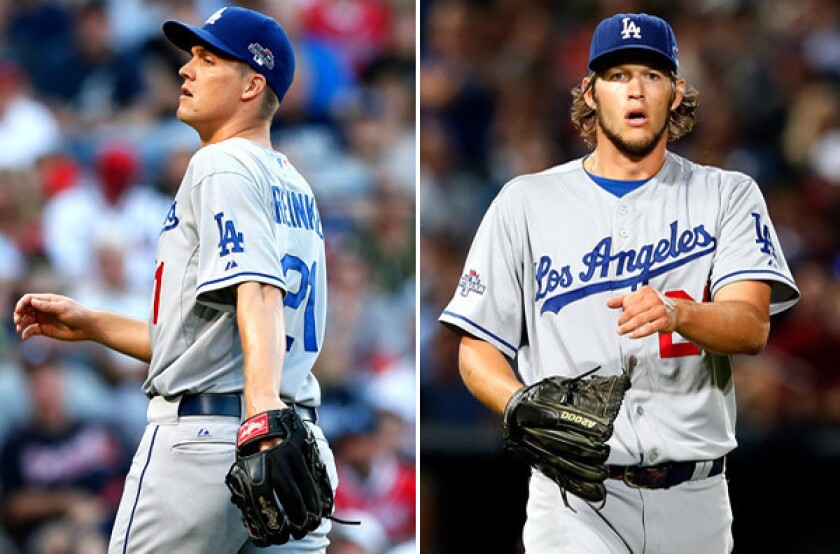 ST. LOUIS — When Zack Greinke watches Clayton Kershaw pitch, he is reminded of a pitcher with whom he is very familiar.
"He's pitching how I did three or four years ago," Greinke said. "He's just executing his pitches as good as he possibly can."
Life was easy for Greinke back then. Draw up a game plan, pick up a baseball and throw it.
Greinke was the best pitcher in baseball in 2009, a title that presently belongs to his left-handed teammate. Greinke won the American League Cy Young Award that season pitching for the Kansas City Royals, posting a 2.14 earned-run average.
His fastball had life. His breaking ball was sharp.
Some time between then and now, pitching became more difficult. Greinke can't really explain why or how. What he knows is that he has adjusted.
If Kershaw is the Dodgers' No. 1 pitcher, new-look Greinke is No. 1A, giving the club a formidable 1-2 punch at the top of its rotation.
Greinke will take the national stage Friday, when he takes the mound for the Dodgers against the St. Louis Cardinals at Busch Stadium in Game 1 of the National League Championship Series.
"Now, I'm more thinking along with the hitter and able to process more stuff," the right-hander said.
Comparing himself to Kershaw, the ever-candid Greinke said, "I'm not saying I'm better, but I think I'm thinking more out there than he is."
Kershaw is also regarded by his teammates as a cerebral pitcher.
Catcher A.J. Ellis said of Greinke, "This is a guy at the top of my list when I'm trying to find someone to have dinner with on the road. I'm going to walk away having learned something. This guy makes me rethink the way I think about the game of baseball. He always has a different spin on some classical thoughts."
Greinke spent a decade in the major leagues before reaching this point.
He described his career as an existential crisis of sorts, as he wavered between thinking he should be a power pitcher and thinking he should be a command pitcher. Most pitchers can be only one because they lack either the necessary velocity or the control to be the other. Greinke, who used to throw in the high 90s, could be either — but not at the same time.
"If I start to focus to throw power, then I have trouble dialing it back down," Greinke said. "I can't turn it on and off."
Because of this, Greinke said, "I've always gone back and forth."
Finally, at age 29, he has settled on an identity, deciding that he would rely less on his arm and more on his brain.
"This is the first year I've tried to not be a power pitcher," he said.
The result: his best season since he won his Cy Young Award. In the first year of his six-year, $147-million deal with the Dodgers, Greinke had a record of 15-4 with a 2.63 ERA.
The numbers could have been even better. Greinke was bothered by elbow pain late in spring training. Then, two starts into the regular season, he suffered a fractured collarbone in a bench-clearing incident involving the San Diego Padres and missed a month.
Over his last 16 starts, Greinke arguably was better than Kershaw with a 9-2 record and 1.57 ERA.
Greinke credited his late-season form to a mechanical adjustment recommended by pitching coach Rick Honeycutt, which helped him move more directly toward the plate. The change allowed him to be more consistent. But as well as he has pitched, Greinke still has doubts about his new method.
"The thing I'm battling with is, is it really reaching your potential if you're not throwing as hard as you possibly can and making your breaking ball as nasty as you possibly can?" Greinke said. "I still don't know the answer to that."
That's not all he wonders about.
"The problem is, if you're off, you can't just make mistake after mistake," he said. "You have to be on. If you're a power pitcher and you're off, you can make mistakes and still have a good game. The room for error is a lot smaller now."
While Greinke is fairly set in his ways, he said his thoughts on pitching have been challenged by Kershaw, whom he calls "the best in baseball."
"Kersh, not always, but he's going to do what's he's good at," Greinke said. "His best stuff, even if the hitter usually hits that type of stuff, Kersh will still throw it. If your best pitch is a fastball down and away and that's the hitter's, you still have to throw your best pitch.
"It reminds you that you can't completely go to what a hitter's weaknesses are. You still have your strengths."
Greinke and Kershaw's teammates say the two share a similar intensity and competitiveness on the field. Where they differ the most is in their demeanor in the clubhouse before their starts.
Kershaw is in game mode from the time he shows up at the ballpark. Other players don't say a word to him and even avoid eye contact, if possible.
Greinke is talkative on days he pitches. Until it's time to take the field, he will approach teammates to inquire about potential deals in their fantasy football league. In the clubhouse, he's come to be known as "Trader Joe."
Greinke explained that he lacks Kershaw's emotional endurance.
"If I get focused too soon, it wears me out," Greinke said. "He's doing it all day long, it seems like. If I did that, I would get mentally tired. I can't do it to that extreme. I have to stay loose."
Whatever the case, the Dodgers will take it. With Kershaw scheduled to pitch Game 2, Kershaw and Greinke could pitch as many as four times in the seven-game series.
The Cardinals have home-field advantage, but Dodgers utility man Skip Schumaker wondered if they really had an advantage.
"Having Zack and Clayton go here or on the road, it's going to be tough for the other team, no matter what," Schumaker said.
Twitter: @dylanohernandez
---
Get our high school sports newsletter
Prep Rally is devoted to the SoCal high school sports experience, bringing you scores, stories and a behind-the-scenes look at what makes prep sports so popular.
You may occasionally receive promotional content from the Los Angeles Times.