Adrian Gonzalez says Dodgers need to get home-field advantage if in playoffs next season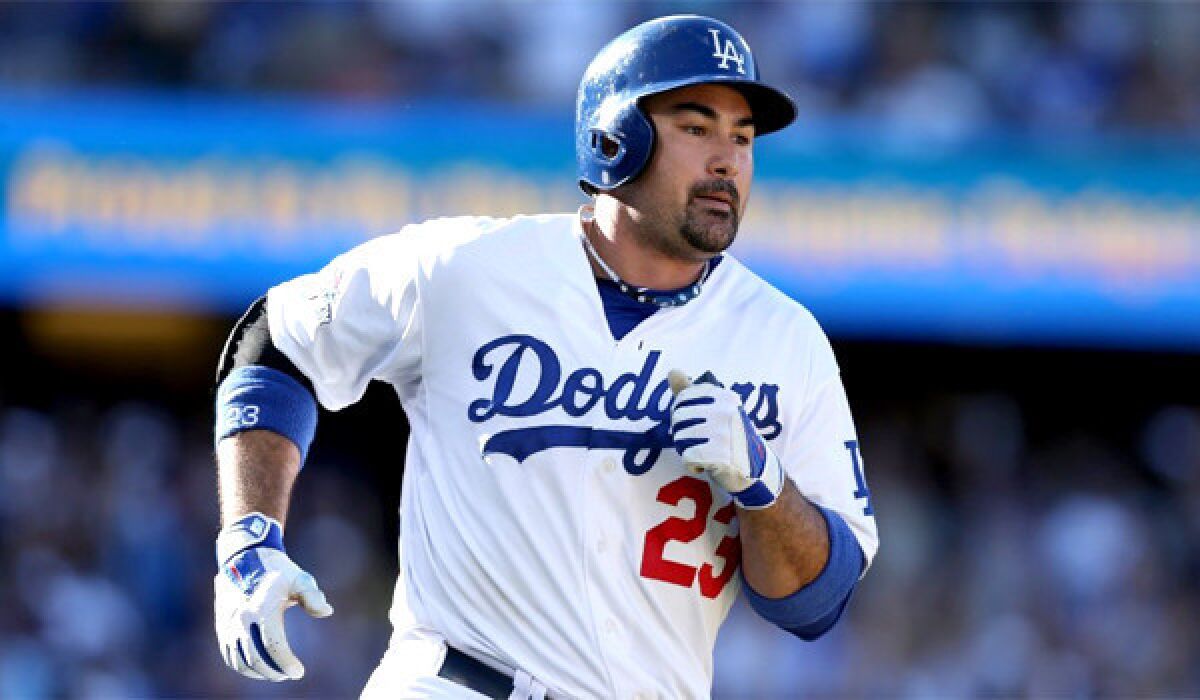 ST. LOUIS — Not too long after the Dodgers were eliminated by the St. Louis Cardinals in Game 6 of the National League Championship Series, first baseman Adrian Gonzalez was already setting goals for next season.
"The goal is to be in the same position next year, but have home-field advantage," Gonzalez said.
As the team with the NL's third-best record, the Dodgers didn't have home-field advantage in a division series or Championship Series.
The Dodgers defeated the Atlanta Braves in a division series in large part because they were able to split two games at Atlanta's Turner Field.
The NLCS was an entirely different story. The venues of the games appeared to significantly affect how the teams played. The Cardinals won all three games at Busch Stadium. The Dodgers won two of three games at Dodger Stadium.
"Losing the three games we played here isn't going to put you in position to win a series," Gonzalez said.
The Cardinals have won 26 of their last 32 games at home, and are 12-1 there since Sept. 15.
Warning about Clayton Kershaw
Pedro Martinez, a former Cy Young Award winner who is working as a studio analyst for TBS, criticized the Dodgers for their handling of Clayton Kershaw.
Martinez went as far as to say Kershaw could have problems with his arm next season. Kershaw pitched a career-high 259 innings and worked on three-days' rest for the first time in his career in the NLDS.
"Watch out next year," Martinez said. "If they don't take care of this kid with the amount of innings he's putting on that shoulder, I guarantee you there is going to be trouble next year for him. That bothers me a lot because, as an athlete, I would like to see the manager and pitching coach stick up for this team.
"This is a special kid that we all have fun watching. You want to protect the treasures that you have in baseball. He is one of the most exciting players that you're going to see in the big leagues. He was being exposed out there for no reason. I was disappointed that [Dodgers Manager Don] Mattingly didn't protect him more."
Don Mattingly is confident
Over the last couple of weeks, Mattingly said he gained confidence that he has what it takes to manage in October.
"The postseason was a lot of fun," Mattingly said. "It was good for me from the standpoint of just concentration and focus. It's good to know that you can get in these games and it doesn't really change. Didn't speed up on me. That's a good feeling to know that I can sit here and watch these games.
"You can question this move or that move, but nothing really caught me by surprise. I didn't feel overwhelmed by it. It was a really good to know that you can get in there and basically slow it down and not get caught up in what game it is or anything else."
Twitter: @dylanohernandez
Get our high school sports newsletter
Prep Rally is devoted to the SoCal high school sports experience, bringing you scores, stories and a behind-the-scenes look at what makes prep sports so popular.
You may occasionally receive promotional content from the Los Angeles Times.