Lou Williams steps in as Clippers' new sixth man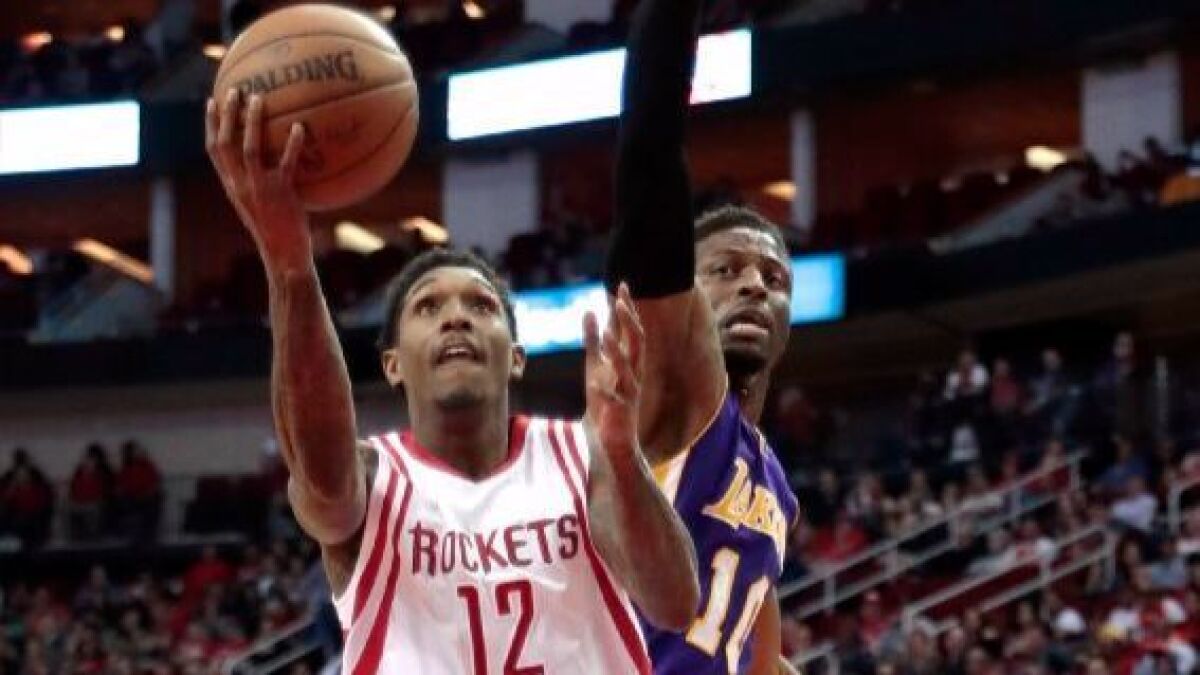 Reporting from Honolulu —
It would not be a stretch to say the most seamless change during a sea of changes the Clippers made during the offseason was in the sixth-man role.
Lou Williams has carved out a successful 12-year NBA career being one of the best sixth men in the league.
It's a good thing for the Clippers that Williams has been such a force off the bench because he's essentially replacing former LA sixth-man savant Jamal Crawford.
Both were part of the alterations the Clippers made during the summer, with Williams coming over from the Houston Rockets in the Chris Paul trade and Crawford being shipped out in the three-team deal that netted L.A. Danilo Gallinari from the Denver Nuggets. Crawford was sent to the Atlanta Hawks, where he secured a buyout and eventually joined the Minnesota Timberwolves.
Williams and Crawford are both known for their ability to change the tone of the game, for their instant offense and for being able to score in a variety of ways.
"You've got a few of us that go out there and we have a short amount of time to go and change the game," Williams said after the Clippers' fifth day of training camp on the campus of the University of Hawaii. "And Jamal was one of those guys who perfected that.
"I'm one of those guys that you can put right up there. You've got a few other guys that you can mention in that same breath. It's a unique position to have. And I think when Jamal was here and other situations, Jamal did a great job of being one of the top dogs. I think at this point, when you think sixth man, you think Jamal Crawford."
That's because Crawford won the NBA's sixth-man of the year award three times, twice with the Clippers. No one has ever won it that many times.
Williams won his sixth man of the year award in 2015 with the Toronto Raptors, who will face the Clippers Sunday night in both team's first exhibition game at the Stan Sheriff Center.
He was in the running for last season's award, coming in third place in the voting to winner Eric Gordon of the Rockets.
"I think the great thing about a sixth man is we have the luxury to go out there and just play as hard as we can and try to go in and change the game," Williams said. "We are wild-card guys. It's like special teams."
Williams averaged 17.5 points per game last season split between the Lakers and Rockets, who acquired him right before the trade deadline.
Crawford averaged 12.3 points per game last season with the Clippers.
Both are known as professional scorers, two players with a unique ability to put the basketball in the hoop.
So what does it take to make a really good sixth man?
"Uh, have no conscience," Clippers coach Doc River said, laughing. "That really is it.
"Lou's great, though. Lou is just so smooth. He's really a terrific offensive player. Guys tend to play off him. He scored today (during a scrimmage) and they didn't run anything for him. He just scores, and that's what makes him so good. He's just a gifted scorer."
And fortunate for the Clippers, they lost an outstanding sixth man in Crawford, but gained one in Williams.
"You lose a Jamal and as great as Jamal was and then you get a Lou, it's like we still have Jamal in some ways," Rivers said. "They are different players, though. But they're both just great offensive players."
All things Lakers, all the time.
Get all the Lakers news you need in Dan Woike's weekly newsletter.
You may occasionally receive promotional content from the Los Angeles Times.