Kobe Bryant still sidelined and looking iffy for Lakers' season opener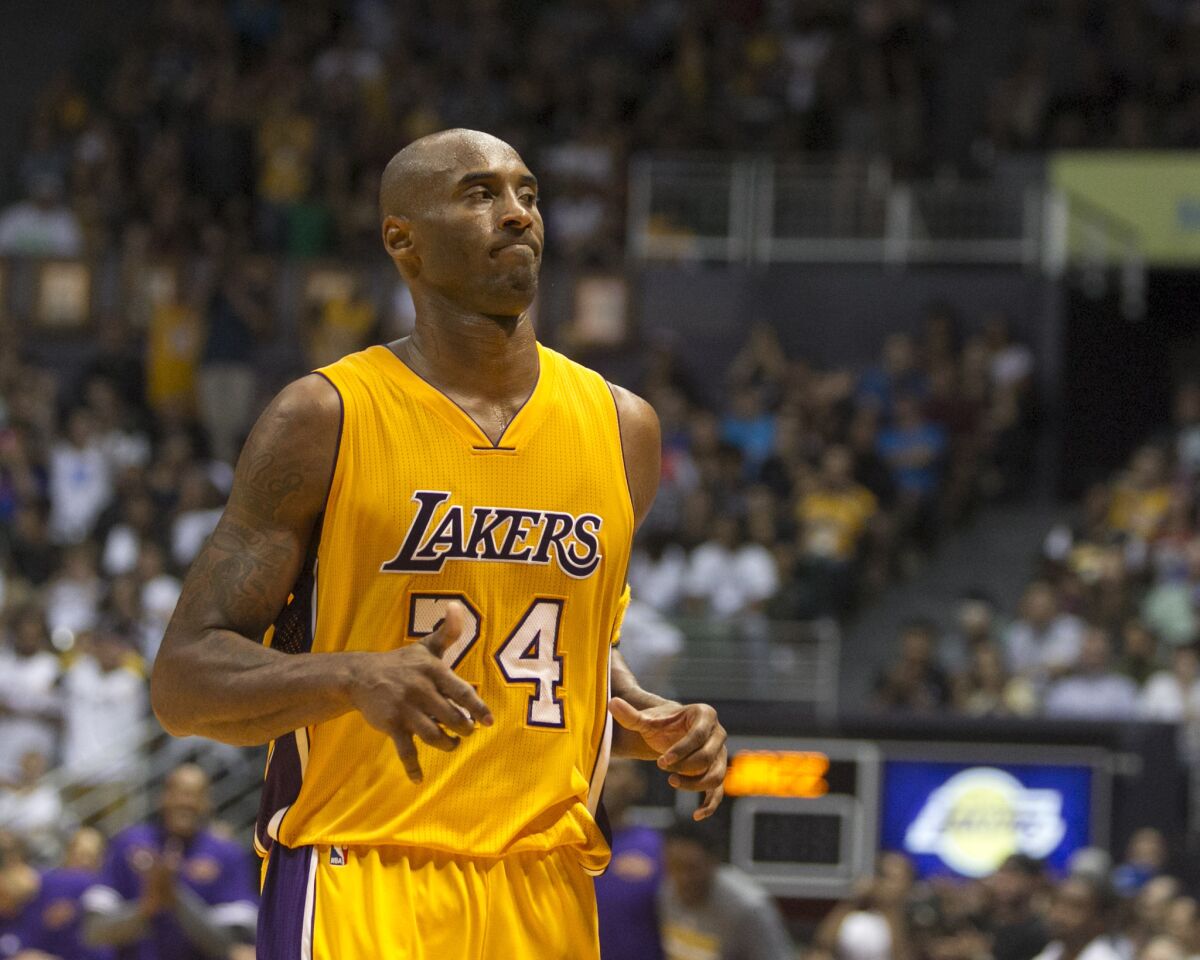 Kobe Bryant doesn't need to practice. Everybody knows that.
But he needs to be healthy. And he isn't. Again.
This isn't a torn Achilles' or wrenched rotator cuff. This is a bruised lower leg, the Lakers say, and it's sidelined him 12 days, since he hobbled off the court and rubbed below and behind his left knee before heading into the locker room in Las Vegas.
He shot around a little at Saturday's light practice but there's still some stiffness in the leg. And there are no guarantees he'll be ready for the season opener Wednesday against the Minnesota Timberwolves.
"I can't guarantee it, no" Lakers Coach Byron Scott said. "Do I think he'll play? I absolutely think he'll play, knowing him like I do."
Bryant isn't really confirming or denying anything.
He hasn't spoken to reporters since a couple of days before Kosta Koufos' knee banged into him, causing a fresh round of "fragile Kobe" questions for a player who has missed 123 of a possible 164 games the last two seasons.
As such, there will be a minutes limitation this season (30 a game is a safe guess) as a 37-year-old tries to make it through his 20th NBA season.
In the short term, the next few days will be an indicator of whether he'll miss his second opener in the last three years.
"We'll wait and see," Scott said. "I'm not trying to predict what he can do [Sunday]. Monday, we want to see a little bit more. Hopefully, Monday and Tuesday will be good days for us."
Bryant worked hard during the off-season to get in shape, and there's no telling how much he lost after two inert weeks.
"I don't know if he'll be 110%, but I think the closer we can get him to that number, the better," Scott said.
Clarkson fine
The injury news wasn't all murky for the Lakers.
Jordan Clarkson felt fine, going through Saturday's practice without any complications from a shoulder flare-up that forced him to leave Thursday's exhibition against Golden State.
An MRI exam and doctor consultation Friday showed that he strained two muscles near his rotator cuff, Clarkson said.
"I just feel it a little bit. I'm just trying to rest it, get ready for Wednesday," he said Saturday. The pain has "gone down drastically," Clarkson added.
One last cut
The Lakers will wait until at least Sunday to make their final roster trim, Scott said, keeping alive the battle between Metta World Peace and Jabari Brown.
It could come down to Sunday's practice, Scott suggested.
"Either way I go, it's going to be a very tough [decision], but I've got to do it," he said.
World Peace and Brown bring radically different elements to the table.
World Peace, who turns 36 in two weeks, still shows quick hands on defense and steers a much-detailed mentorship of Julius Randle. The Lakers know he can't get up and down the court with much quickness but he brings a good locker-room presence.
Brown, 22, is a gunner who had some notable games as a rookie, including a 32-point outburst in the season finale against Sacramento.
Both players have non-guaranteed contracts.
Twitter: Mike_Bresnahan
---
All things Lakers, all the time.
Get all the Lakers news you need in Dan Woike's weekly newsletter.
You may occasionally receive promotional content from the Los Angeles Times.