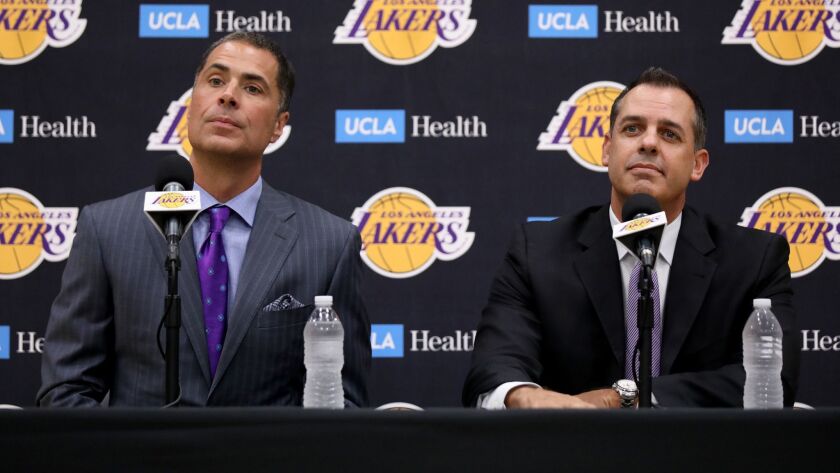 It's been eight years since Frank Vogel first became an NBA head coach and he's seen the league evolve.
The Indiana Pacers hired him in 2011 and there he coached teams with playoff expectations. With the Orlando Magic from 2016 to 2018, Vogel coached a team that was a project.
"Turned it into a little bit of a laboratory for me, to figure out this new NBA, figure out this new world," Vogel said. "What is the exact scheme that needs to go in to be successful in the modern NBA. It was a great learning experience; I continued that in my sabbatical year this past year, visiting with teams all around the league, having a lot of lengthy discussions about just offensively, how to play this style of play, how to transform the scheme and defensively as well."
The new league year opens Sunday and the Lakers are tasked with figuring out how to build the kind of team that will succeed with their new head coach. In some ways it's an easier task than it was perhaps two weeks ago — they now have two superstars around whom to build. In other ways, it's more difficult.
Solving that puzzle will be the responsibility of an oft-criticized man in whom the franchise has placed its faith.
"I think it's all about collaboration," general manager Rob Pelinka said that day. "… Will we use our space to sign another max superstar? That is certainly a possibility. Or if not, as a front office, we have to come together to split the space to arrive at potentially two or three players that complement the rest of our roster and how coach Vogel wants to play. I think that spirit of collaboration will be really important in how we make those decisions."
Five weeks ago, the Lakers introduced Vogel as their head coach on a day that wound up being one of the more awkward in franchise history.
Earlier that morning, Magic Johnson had blasted the franchise, particularly Pelinka, and insinuated the Lakers had too many voices guiding them to be able to make proper decisions. Pelinka offered his best happy face as he responded to Johnson's accusations, disagreeing with them and laying out the Lakers' options for that summer.
Neither Pelinka nor any member of the Lakers' front office has spoken publicly since then. While many teams hold draft-day news conferences, the Lakers went into the draft without any picks. Since they couldn't discuss the trade for Anthony Davis they didn't schedule a media session.
But their actions have been loud. Pelinka pushed all his chips forward in agreeing to a trade that will send the bulk of his young core, the No. 4 pick and two other first-round selections to the New Orleans Pelicans for Davis — a move that instantly made the Lakers favorites in Las Vegas to win the championship.
Now comes the task of building a team around Davis, LeBron James and promising young forward Kyle Kuzma, whom they refused to trade.
Sign up for our Lakers newsletter »
A defense-minded coach, Vogel has been increasingly more open to the three-point-heavy style of the modern NBA.
"There has been a major evolution in stylistically in how I want to play the game and it is about the evolution of the league," Vogel said. "The whole league has changed with the three-point shot and the amount of switching that occurs and that is necessary to occur on some level. I do believe it is overdone on some level."
Last summer's building of the roster did not work. The Lakers lacked perimeter shooters and argued that would be fine because a roster full of playmakers would alleviate pressure from James. A lack of shooters combined with a rash of injuries caused the Lakers to miss the playoffs for a sixth consecutive season.
Now, they could be building from scratch.
The Lakers sent the fourth overall pick, Lonzo Ball, Brandon Ingram and Josh Hart to the Pelicans. The Pelicans traded the pick to the Atlanta Hawks, who were not willing to move back the date of the trade, which would have given the Lakers an extra $4 million in salary cap space. Now, in order to do it, they'll have to trade more players — never a certainty — and convince Davis to waive his $4-million trade kicker. Otherwise they'll have about $24 million in cap space, several million less than a maximum contract is worth per season.
Kyrie Irving and Kemba Walker are point guards who could become free agents the Lakers sign with max space, if they have it. While Walker has expressed interest in returning to Charlotte, Irving has made clear his time in Boston is likely over. He arrived in Boston having forced his way out of Cleveland, chafing under James' shadow. But Irving and the Lakers star have since reconciled, with Irving telling reporters he better understands James' leadership style having grown older.
But teams that have won championships often win on the strength of their role players. This year's NBA Finals showed as much with the Toronto Raptors building around Kawhi Leonard and Kyle Lowry. Should the Lakers find the right ones, their penchant for stargazing might not matter quite as much.
Follow Tania Ganguli on Twitter @taniaganguli
---