Column: This is a big rookie mistake for D'Angelo Russell
As retribution for this latest bit of foolishness, somebody could secretly videotape the innermost thoughts of D'Angelo Russell, except for one problem.
It would be all static. The kid doesn't think.
That Russell secretly taped pillow talk with Nick Young, then somehow allowed that tape to be released, confirms the Lakers' worst fears as they stumble toward the world beyond Kobe Bryant.
Russell is too immature to lead them there.
His teammates no longer trust him, his bosses appear fed up with him, and potential free agents surely will be wary of playing with him.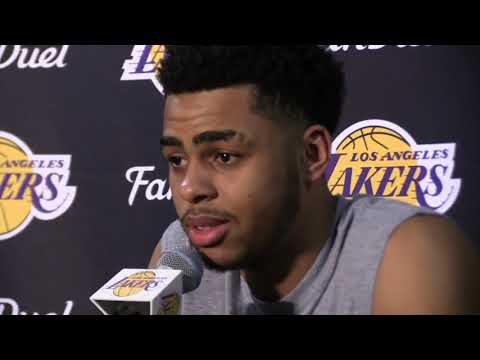 Lakers Nick Young and D'Angelo Russell speak with the media before tipoff against Miami.
Making it unanimous, when he was introduced to the fiercely loyal Lakers fans at Staples Center before the game against the Miami Heat on Wednesday night, he was roundly booed. In fact, every time he touched the ball early in the game, he was booed.
Russell was supposed to represent the Lakers' next generation, but instead has become their next problem. He was supposed to be the new Magic Johnson, but so far has behaved like a retread of Andrew Bynum. He has played decently in spurts, even brilliantly on occasion, but he has done so while acting like an overgrown child.
You can't pass Russell the torch, because he will set something on fire, which is pretty much what happened with this video that recently appeared on a celebrity gossip site.
The tape was less than a minute, but the damage will last indefinitely. It was not only an invasion of privacy for Young, who didn't know he was being taped while talking about being with women other than his fiancee, rapper Iggy Azalea. It was also a violation of the trust of the entire locker room, whose foundations are built on such faith.
"I feel as sick as possible," Russell said before Wednesday's game. "I wish I could make things better right away, but I can't."
Lakers fans who once bet the future on Russell should feel just as ill.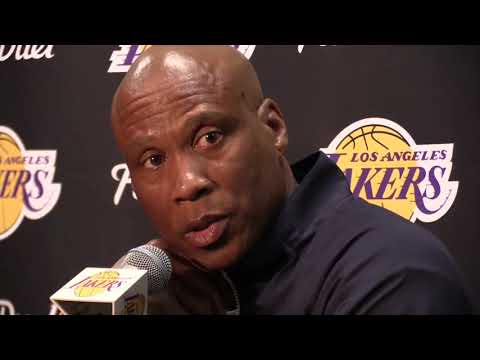 Lakers Coach Byron Scott talks to the media before tipoff against Miami. 
He was drafted second overall last year in the hopes that he would spend this season being a student and a sponge. Instead, he has been 20 going on 12.
When asked about Russell's progress Wednesday, a solemn Coach Byron Scott said, "Up until this point, it's getting better and better. Obviously, this is going to knock it back a step or two."
When asked if this would hurt the already tenuous trust issues in the Lakers' locker room, Scott said, "Absolutely. Absolutely … yeah, absolutely."
At the urging of Lakers officials, Russell did the smart thing by having a news conference and owning up to his mistake.
"It wasn't a prank, it wasn't something for everybody else to see, it was for my eyes, his eyes only," Russell said, later adding, "Like I said, I'm sick. Only time can make this really go away."
But then he did another dumb thing by acting as if he had no idea how the tape got released.
"Honestly, no, this just got in the wrong hands," he said. "I have no clue how that got out. If I did, I would definitely tell you guys."
Seriously? A kid who is digitally savvy enough to secretly videotape a conversation has no idea how that tape went public? Nobody really thinks Russell intended for the videotape to wind up on a website, but it seems clear that, as in his basketball game, he treated his personal life carelessly enough to allow it to happen.
Which brings up a bigger question — why videotape anything with an unaware subject in the first place?
"We play around and we joke and we laugh and we say things that you don't really repeat, that was just an incident of just playing too much goes wrong," Russell said. "I take the full blame for that, recording the video. But leaking the video wasn't me."
He needs to own up to all of this, not just part of it, but that is the Lakers' burden as they begin the long attempt to rebuild his value both inside and outside the locker room.
It is still too early to say he was a draft bust, but it's certainly fair to say he has been a leadership bust.
Some folks have compared Russell's betrayal to the time Kobe Bryant told police of Shaquille O'Neal's indiscretions during the 2003 sexual assault investigation of Bryant. It took Bryant a couple of years to live down a leaguewide reputation for being a snitch before he overcame his past and led the Lakers to two more championships.
This is worse. Bryant didn't tape his interrogation and, if there was a tape, it was never released. Russell knowingly punked Young and then somehow allowed the rest of the world to punk him too.
In making a statement to the media without taking questions Wednesday, Young said, "Right now I think it's best me and D'Angelo handle the situation we have in a private manner outside the media. We really do need to sit down and talk about it."
Russell can talk, but will anyone listen? Should anyone listen? How long before anyone listens again?
The scariest part of all this is that, in seven games, Bryant will be officially retired, and the ball belonging to one of sports' most decorated franchises will be in Russell's hands.
In another secret videotape to be released shortly after the season, Lakers officials will be seen grabbing it from him.
Twitter: @billplaschke
ALSO
Lakers' D'Angelo Russell is contrite over leaked video he shot of Nick Young
D'Angelo Russell has apologized to Nick Young about off-the-court incident
Iggy Azalea thanks D'Angelo Russell for secret video of fiance Nick Young, but she's in the minority
All things Lakers, all the time.
Get all the Lakers news you need in Dan Woike's weekly newsletter.
You may occasionally receive promotional content from the Los Angeles Times.