Lakers, still undecided on pick, host second workout for Josh Jackson, plan one for Lonzo Ball
It was not possible to draw a definitive conclusion from Kansas forward Josh Jackson's second pre-draft workout with the Lakers on Tuesday because the team plans on bringing in UCLA point guard Lonzo Ball for another workout.
Kentucky point guard De'Aaron Fox had worked out for the Lakers earlier in the day before Jackson arrived hours later, in the afternoon.
But according to several NBA officials who were not authorized to speak publicly on the matter because no decision has been made yet, the Lakers are split over whether to use their No. 2 pick in the NBA draft on Ball or Jackson.
The Lakers, the officials said, have been having a healthy debate on which course to take because they are intrigued by the talents of both players.
With the June 22 draft still more than a week away, the officials said, Lakers president of basketball operations Magic Johnson, general manager Rob Pelinka, coach Luke Walton and his staff will keep talking.
The Lakers are being diligent, and bringing Jackson for the workout at their practice facility showed how serious they are about him. The Lakers saw Jackson work out in Sacramento last Thursday.
Ball, who worked out for the Lakers last Wednesday, is a 6-foot-6 point guard many see as being in the mold of Johnson because of his court vision and ability to find open teammates.
Jackson, meanwhile, is a 6-8 wing player who is athletic and versatile. He said he was happy the Lakers asked him in for a solo workout, but didn't put much stock in the notion the team might be leaning in his direction.
"Yeah, it was definitely just more of come in and try to impress them and hopefully I impressed them enough," Jackson said. "But they can't look past any guy in this draft because we're all really, really talented and I think we all bring a lot to the table."
The Lakers were still trying to make arrangements for Ball's second workout sometime this week.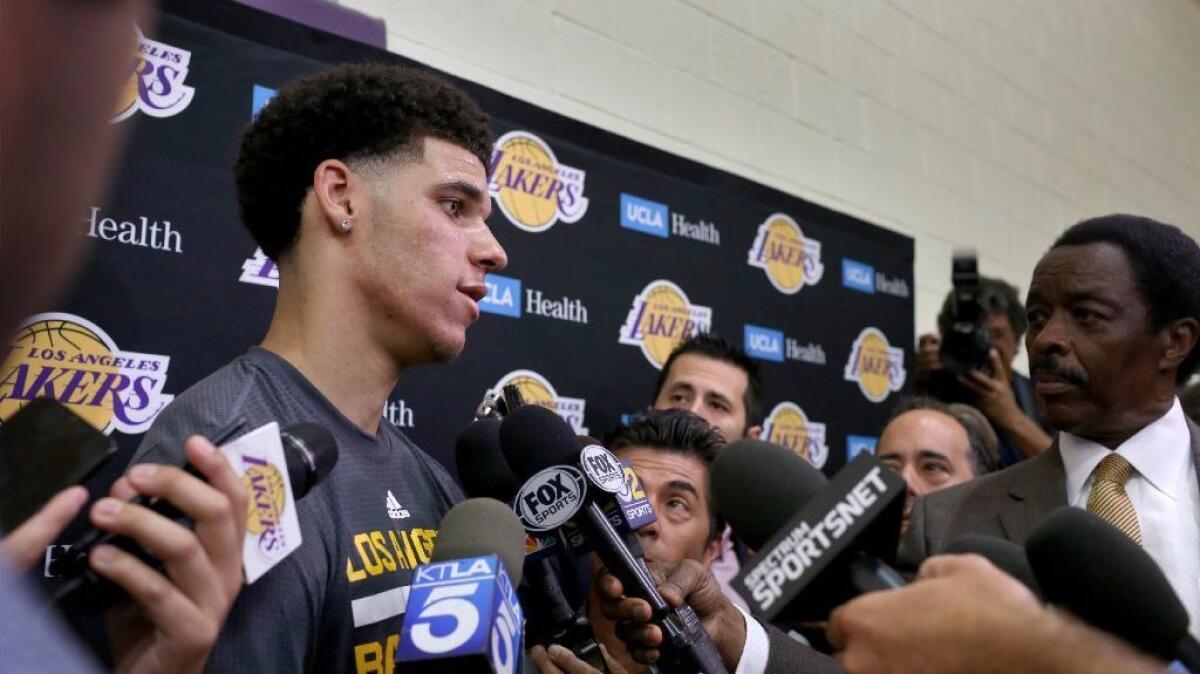 Several executives said Ball appeared "out of shape" and way "too cool" during his first workout with the Lakers, but another executive said the point guard still was impressive and that "his body of work at UCLA" demonstrated how skilled he is.
Washington point guard Markelle Fultz, who is expected to go first to Boston, will visit the Lakers on Thursday.
"The point guards in this draft are really, really, really good and are special," Jackson said. "But I don't think you can really look past anybody in this draft. Point guard or forward, it doesn't matter. I think this is a really good draft class."
In today's position-less NBA, epitomized by the newly-crowned champion Golden State Warriors, Jackson said he thinks he will defend point guards, shooting guards, small forwards and power forwards.
"The way the game is changing so much today, versatility is pretty important," Jackson said. "I think I bring a lot to the table, especially being able to switch on pretty much any position except the five [center]."
The Lakers have a 6-9 small forward in Brandon Ingram, who just finished his rookie season, but Jackson doesn't see that as an issue if the two were to become teammates.
"I don't think playing with Brandon would cause any problems," Jackson said. "I think it would be really special, honestly."
Fox had his moment to showcase his skills for the Lakers in Tuesday's workout. He knows the competition at his position is Fultz and Ball, and was asked after his solo workout whether he was motivated by that.
"Um, I mean, yeah," Fox responded. "You can say that about anybody. But right now I'm just worried about myself. I'm not really worried about those guys."
Jackson admitted he is taking an "anger management" course after having been charged with a misdemeanor count of criminal property damage in December. It was alleged that he kicked a door and tail light of a car belonging to a female basketball player at Kansas.
"It was just something I had to do," Jackson said of the course, "and I learned from the mistake that I made and I'm making it through it."
Times staff writer Tania Ganguli contributed to this report
Follow Broderick Turner on Twitter @BA_Turner
ALSO
De'Aaron Fox gets his moment to shine for Lakers in pre-draft workout
The Logo on the Clippers? The Lakers should be very afraid
All things Lakers, all the time.
Get all the Lakers news you need in Dan Woike's weekly newsletter.
You may occasionally receive promotional content from the Los Angeles Times.