Column: Former Lakers coach Luke Walton might be the big winner in this debacle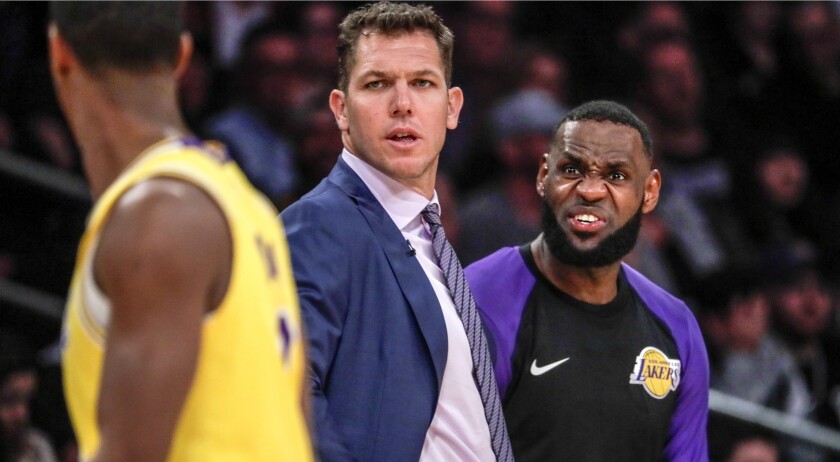 Luke Walton, you lucky dog.
In finally getting dumped Friday by the Lakers, their former head coach made his escape like a man staggering up the embankment from a ditch occupied by the twisted metal of steaming wreckage.
Walton gets to walk away from a basketball operation being run by the "backstabbing and whispering" of the widely unpopular and generally unsuccessful Rob Pelinka.
Walton gets to depart a basketball team being run, occasionally, when he feels like it, by distracted Hollywood mogul LeBron James.
Walton gets to separate himself from a franchise being run by a formerly beloved owner who has presided over the sort of off-court drama that has turned the Lakers into the New York Knicks. Nobody, but nobody, has been more disillusioning in this mess than Jeanie Buss.
"I want to thank Jeanie Buss and the Buss family for giving me the opportunity to coach the Lakers,'' Walton said in a statement. "This franchise and the city will always be special to me and my family.''
Don't be surprised if there was a third quote omitted from the press release, something along the lines of, "Yippee!''
Walton soon could be coaching again in the NBA, maybe in Sacramento, and maybe there he will be allowed to continue growing with a young team. He never had that opportunity here. After two seasons, just when he was finally connecting with some of the over-hyped kids, Walton was handed the headstrong James and a handful of oddballs and the dynamic became unworkable.
For much of last season, it was like he was coaching three teams — the kids, the oddballs, and James. Rarely did all three factions agree on anything. Walton never stood a chance. He was a goner before the season began.
While the symptoms were his coaching struggles, the real disease that ended his tenure was the instability of the Lakers franchise. Even Golden State coach Steve Kerr took the unusual step of calling out the Lakers when asked about Walton's firing during a media briefing Friday in Oakland.
"In this job, as a coach in the NBA, you are 100 percent dependent on your circumstances; the strength of your organization, the momentum, the unity, everything has to be in good order," Kerr told reporters. "Because if it's not, as we have witnessed with the Lakers, then there's going to be casualties, and usually the coach is the first one.''
Let's dissect that quote, charge by charge, for the purposes of clarity and accuracy.
Strength of organization? Nope. Momentum? Nope. Unity? You're joking, right?
Sign up for our daily sports newsletter »
Walton's exit tells us several things about the Lakers, none of them good.
First, we now know exactly why Magic Johnson quit earlier this week. It wasn't because he only wanted Walton fired, because that was going to happen. It was because he also wanted Pelinka fired and, sorry, folks, it's now obvious that isn't happening.
By being given the power to part with Walton, Pelinka has gained even more organizational strength; it appears he will become the new sole basketball boss, and heaven help us all.
Second, it can now be confirmed that Buss and her shadow owner Linda Rambis exist in a purple-and-gold cocoon that has little touch with the reality outside Lakerland. Wait, you say, who is Linda Rambis? She is officially the Lakers' executive director of special projects, but it's the worst kept secret around the league that she helps run the team as Buss' close friend, advisor and confidant.
Buss and Rambis, the wife of former Lakers hero Kurt Rambis, are reportedly in agreement that Pelinka is doing a good job, and that's all that counts. Forget scouring the league for some great basketball mind. Forget finding a deft scout and popular recruiter who can lead the Lakers into what could be the most important summer of their existence. They are sticking with a negotiator who helped build a team that has averaged 36 wins in each of his two seasons while seemingly alienating most of the league with his methods.
Now Pelinka has to find a new coach, and, given the Lakers' record of placating their star, he'll probably just let James make the pick. Instead of canvassing the league for the next Nick Nurse or Mike Budenholzer, here's guessing Pelinka goes for Tyronn Lue, who is a good dude, but he's James' dude, and when James flames out in a couple of years, what happens to Lue?
It would be smart and savvy if the Lakers replaced Walton with a top coaching prospect with no allegiances, somebody who can lead the team beyond the James era. However, given that Pelinka and Johnson once signed the likes of Lance Stephenson and JaVale McGee just to make James happy, there is not much confidence that Pelinka will take a bolder tack.
This leads to the last message delivered by this Walton split, one directed toward the Los Angeles business community and the Lakers' partners specifically.
This is a franchise whose business acumen is still strong, but whose basketball brain has become unhinged. In the course of three days, they have lost their two most popular basketball figures in Walton and Johnson, and it doesn't appear they will make the smart decision in replacing either one. Their best player refuses to fully connect. Their young players don't trust them. They have nobody in the house adept at trading for help or recruiting a superstar. And, of course, they've missed the playoffs for franchise-record six consecutive seasons.
At some point, unless something drastically changes this summer, the product on the court is going to erode a Lakers brand that has consistently filled the stands, and their partners have to wonder what is happening to their investment. Jeanie Buss needs to come up with some answers for her partners, or harder questions will be asked.
All joking aside, the truth is a sad one. A Lakers coach gets pushed out and he's the lucky one.
Get more of Bill Plaschke's work and follow him on Twitter @BillPlaschke
---
All things Lakers, all the time.
Get all the Lakers news you need in Tania Ganguli's weekly newsletter.
You may occasionally receive promotional content from the Los Angeles Times.