It's a night of firsts as Lakers get a win and rookie D'Angelo Russell gets it going
Reporting from Brooklyn —
Byron Scott is a champion of old-school thinking, a defense-first coach who isn't afraid to threaten players with reduced playing time.
D'Angelo Russell is a new-age kid, already a multimillionaire, who carries around more than onecell phone and holds the keys to a nice car or two, not to mention the Lakers' offense.
The two worlds crossed Friday, an hour before the start of what would become the Lakers' first victory of the season, 104-98 over the Brooklyn Nets at Barclays Center.
Scott had firmly stood behind Russell since the Lakers drafted him second overall in June, but the coach wanted more accountability from the 19-year-old.
"He has to start getting it, just like the other young guys have to start getting it, and if they don't, they wont play as much," Scott said. "Playing time in this league is a very precious thing and I don't want our guys to take that for granted. Missing assignments on a continuous basis is not going to go unnoticed. You've got to start developing and doing a better job on that end of the floor."
Or else?
"When you make a mistake over and over again, that wood has a way of talking to your butt a little bit. You get a couple of splinters here and there," Scott said, using old metaphors for the team bench. "Sometimes that has a great way of communicating how important it is to play on that other end of the floor."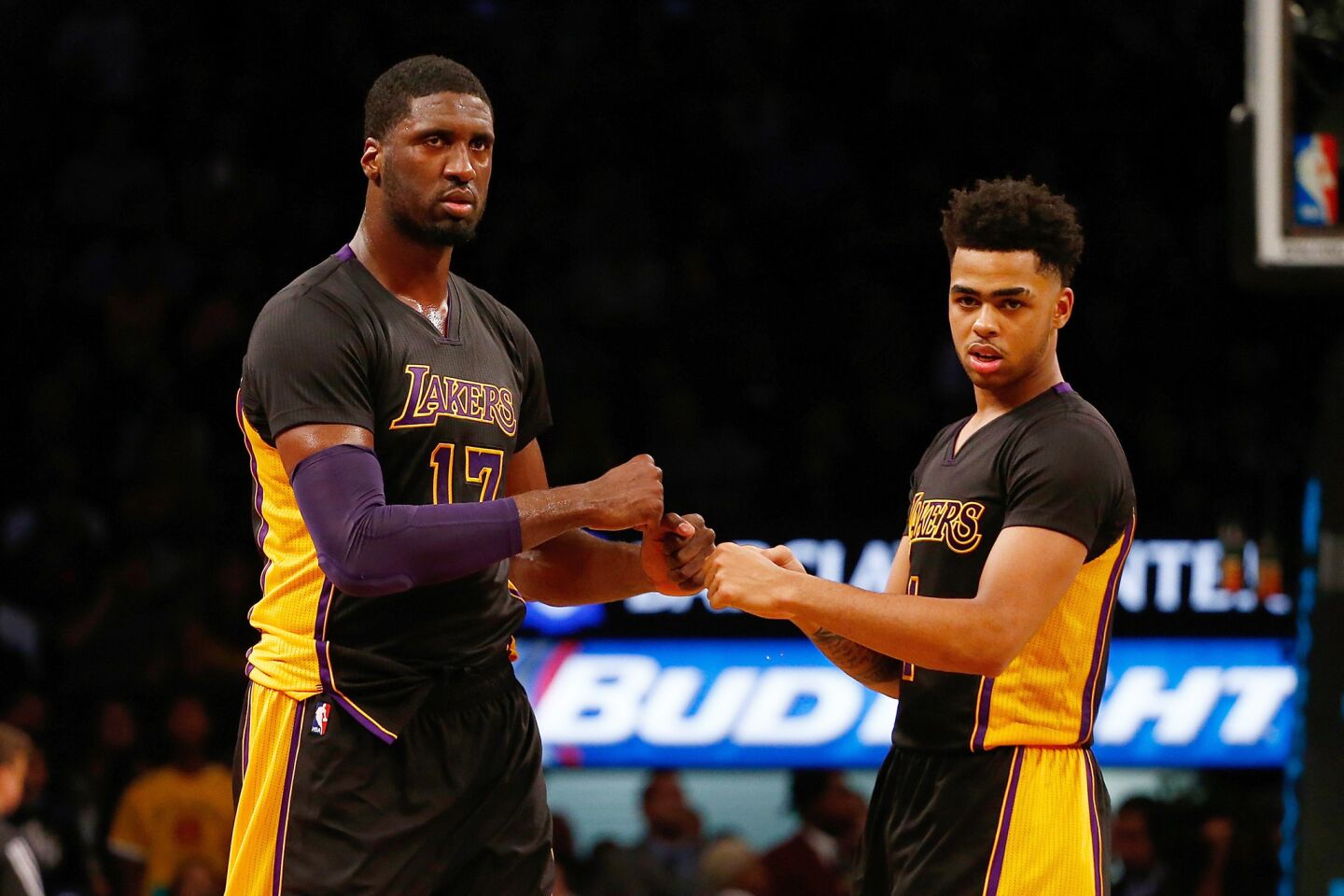 Lakers guard D'Angelo Russell and center Roy Hibbert (17) celebrate during a game against the Brooklyn Nets on on Nov. 6.
(Mike Stobe / Getty Images)
Los Angeles Lakers' Jordan Clarkson (6) attempts a basket against the Brooklyn Nets on Friday.
(Mike Stobe / Getty Images)
Brooklyn Nets' Rondae Hollis-Jefferson (24) and Jarrett Jack (2) defend against Los Angeles Lakers' Jordan Clarkson (6) on Friday.
(Mike Stobe / Getty Images)
Los Angeles Lakers' Jordan Clarkson, left, drives to the basket against Brooklyn Nets' Brook Lopez (11) on Friday.
(Mike Stobe / Getty Images)
Los Angeles Lakers' Kobe Bryant (24) and D'Angelo Russell (1) talk during the game against the Brooklyn Nets on Friday.
(Mike Stobe / Getty Images)
Los Angeles Lakers' Kobe Bryant and Brooklyn Nets' Thomas Robinson fight for the ball on Friday.
(Mike Stobe / Getty Images)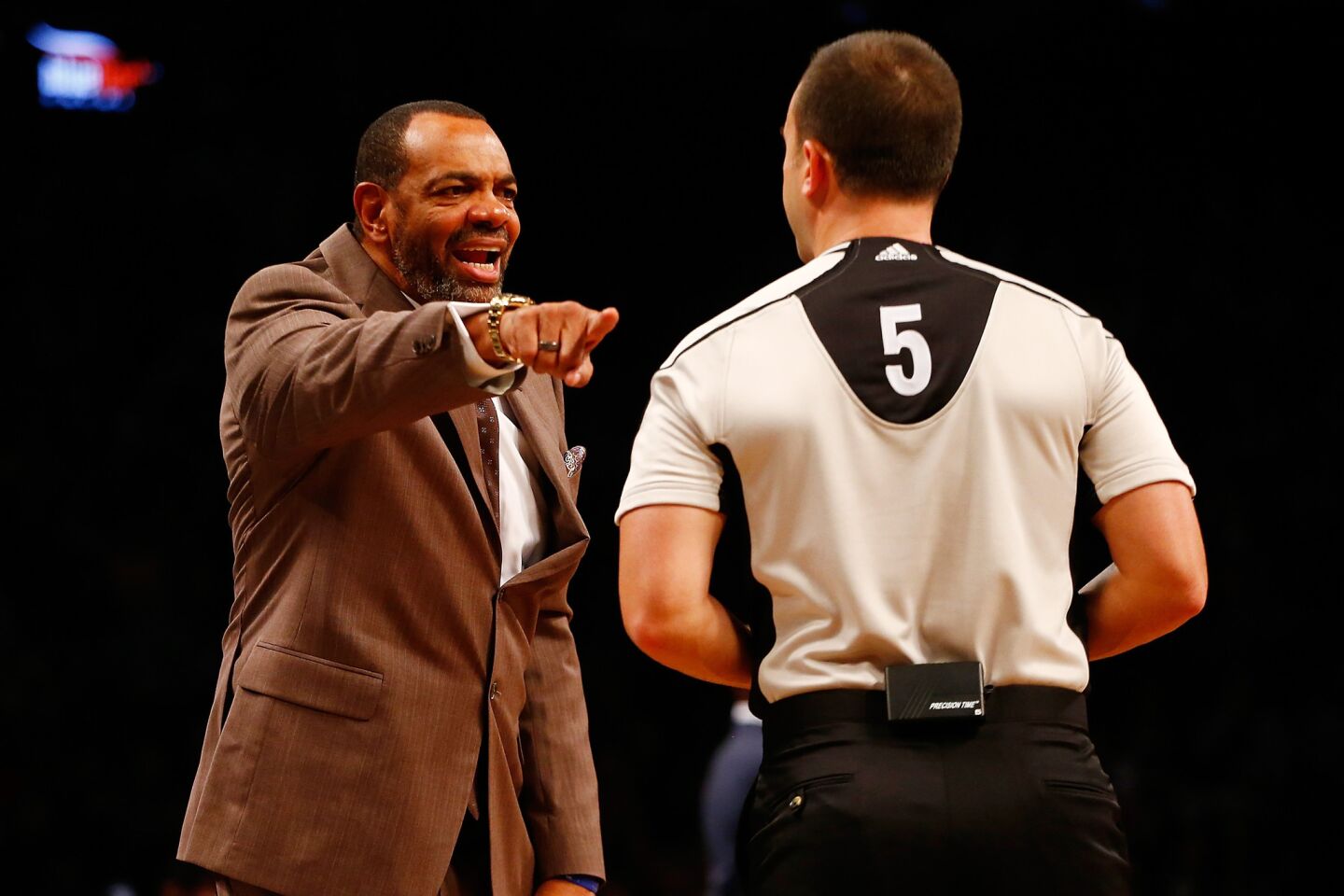 Brooklyn Nets head coach Lionel Hollins, left, argues with referee Jason Phillips duirng the game against the Los Angeles Lakers on Friday.
(Mike Stobe / Getty Images)
Brooklyn Nets' Brook Lopez, right, and Los Angeles Lakers' Tarik Black run after the loose ball on Friday.
(Mike Stobe / Getty Images)
Kobe Bryant tries to drive against Nets forward Joe Johnson during a game on Nov. 6.
(Kathy Kmonicek / Associated Press)
So Russell went out and scored 16 points against the Nets, adding four rebounds and three steals as the Lakers avoided a second consecutive 0-5 start.
Russell didn't know what Scott said until reporters told him after the game. He didn't seem to have a problem with it, knowing he had struggled defensively against Ricky Rubio and Rajon Rondo in earlier games while averaging 8.5 points on 34.1% shooting before Friday.
"Being a rookie, the leash is short. That's the way it should be," said Russell, who made six of nine shots against Brooklyn.
There are plenty of reminders that Russell is still near the bottom of the NBA food chain.
Jordan Clarkson interrupted Russell's postgame interviews by giving him a half-empty Pringles can and telling him to carry it to the bus. Clarkson wanted to finish snacking on the ride to the hotel.
Nick Young came by a minute later, handing Russell his designer headphones and telling the rookie to take them to the bus. Then veteran Lou Williams handed Russell his toiletries bag. Russell already knew: He added it to the stack of things to lug out of the locker room.
Rookie duties aside, there was a rare victory by the Lakers, as Kobe Bryant scored 18 points and Clarkson had 16 against the even more hapless Nets (0-6).
Bryant missed his first six shots and finished with five-for-16 accuracy. He then waved to the surprisingly large sea of Lakers fans before disappearing into the tunnel to the locker room.
An old-schooler himself, Bryant likes Russell and thinks he has a future. He knows what the rookie is enduring.
"I think it's the frustration of seeing some of his peers and the liberties that they have and the way that they play," Bryant said.
But Bryant supported Scott's way of thinking.
"I think [Russell] is in a great situation. Byron's making him earn everything," Bryant said. "Even though D'Angelo might not see it now, years from now I'm sure he'll appreciate it.
"I had to earn it. And I think that does something. When you start to make your mark in the league, you know that you've actually had to earn your position and it wasn't handed to you."
Shockingly, the Lakers' defense made an impact Friday after cratering numerous times in the first four games. Nets forward Thaddeus Young was called for a five-second violation after failing to inbound the ball with 24 seconds left and the Lakers up three.
Bryant made two free throws after getting fouled on purpose and then another two after a Nets miss.
"Both teams at this particular point should be in that desperate mode," Scott said beforehand. "You've got to play like this is almost a Game 7."
Strange words coming very early in an already strange season. But the Lakers won a game. Finally.
Twitter: Mike_Bresnahan
ALSO:
Helton's future at USC could be affected by game against Arizona
UCLA can't afford a loss to Oregon State on Saturday
Kings Coach Darryl Sutter juggles lines to wake up slumping wingers
---
All things Lakers, all the time.
Get all the Lakers news you need in Dan Woike's weekly newsletter.
You may occasionally receive promotional content from the Los Angeles Times.