Lakers! Where are we with Brandon Ingram?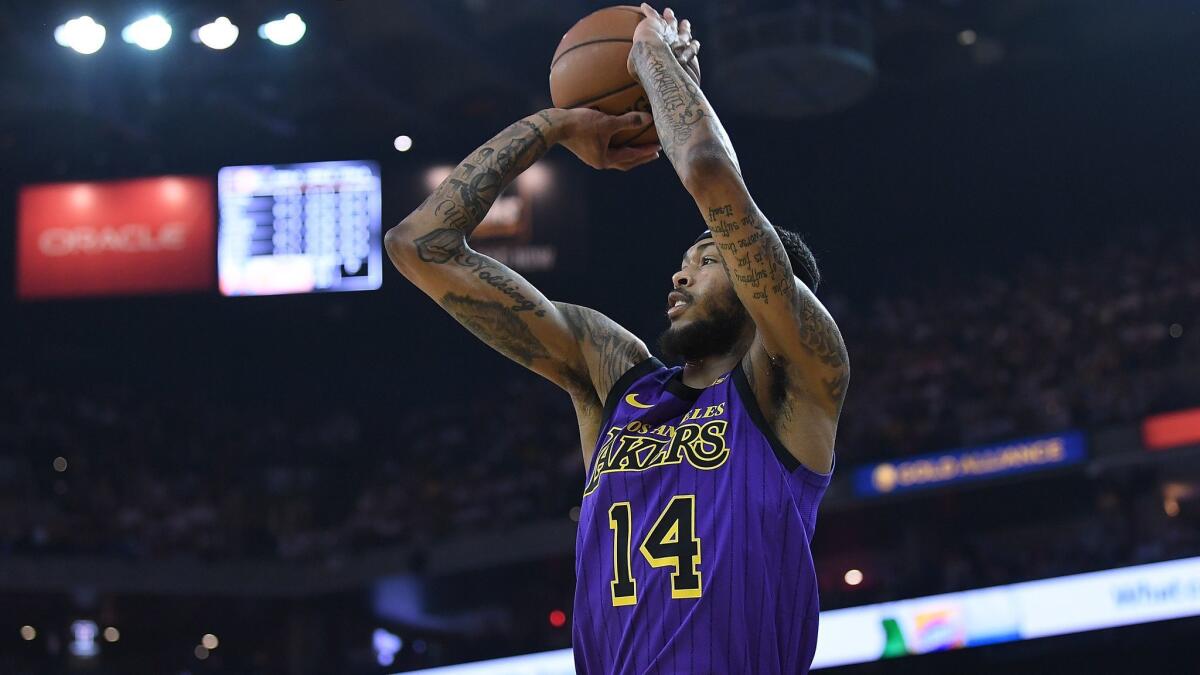 Hi, this is Tania Ganguli, Lakers beat writer for the Los Angeles Times, here with your weekly newsletter.
This newsletter is coming to you a little later in the day than normal, because we wanted to wait for the results of Kyle Kuzma's MRI.
It appears that will come later this afternoon, though, so check back on LATimes.com for that news.
What we know now is that Kuzma got hit in the back at some point during the game. He tried to play with it but was hampered. When he left the locker room after the game, it was on a cart.
A scary sight to be sure.
Kuzma's departure was a blow for the Lakers both on the court and emotionally. They were already down two key players, now losing another for the entire second half of last night's game against the Thunder.
While it's true that the Lakers' atrocious free throw shooting played a part in their seven-point loss to the Thunder, having Kuzma would likely have helped them overcome that self-created adversity.
It's been a trying week for the Lakers. We'll get to all that. But first:
Where are we with Brandon Ingram?
Ever since the Lakers drafted Ingram second overall in 2016, they have been trying to pull consistency out of him.
It's a young player thing sometimes and Ingram is still very young at 21 years old. He came into the league even younger, a 19-year-old who was so skinny it's all anyone talked about. So first, he had to get stronger. Then he had to learn how to use his length. Then he had to grow confident in his abilities.
Ingram is certainly confident now. He's gotten bigger and filled out a little more. He knows how to use his length. His next challenge is learning how his skills can best help the Lakers. That doesn't always mean creating for himself, or trying to do that. Sometimes it means finding a teammate and making plays for other people.
Figuring that out comes more naturally to some people than to others.
"You always hear people say, let the game come to you," Laker Coach Luke Walton said. "That gets easier the older you get, the more you understand the game, the more experience that you have in this league. It's always kind of a feel thing."
In the Lakers' first couple of games without LeBron James, Ingram wanted to step up with James out, but was perhaps doing too much too soon. Against the Sacramento Kings on Sunday, Ingram was much more fluid in knowing when to look for teammates. He's had games of both kinds plenty this year.
Since last we spoke…
--Rajon Rondo had surgery. It was his second surgery on his right hand, this time to repair a torn ligament in his right ring finger. Really tough luck for a very important Laker. His play was a big part of why the Lakers were able to weather losing LeBron on Christmas.
--The Lakers lost their first full game without LeBron James.
--The Lakers lost their second full game without James, and there seemed to be some bickering developing within the team.
--Part of the problem comes late in games. The Lakers young players hadn't been asked to close out games by themselves in a while and they are struggling with it. For a couple of games they started arguing among themselves, which they all knew to be counterproductive. Things get harder when the veterans dwindle.
--LeBron turned 34 and the Lakers got their first win without him.
--Kentavious Caldwell-Pope has had a few really nice games for the Lakers. He's starting to find a rhythm.
--Did you know that Lance Stephenson and Paul George play NBA 2K video games together, each of them creating a player of their own. They join forces and play against other people on the internet and Stephenson insists they've never lost.
--Paul George is having an MVP-type season. He explained why he doesn't regret not coming to Los Angeles. And then he scored 37 points in front of a hostile crowd.
That's all for now. As always, email me your thoughts or questions. Until next time…
All things Lakers, all the time.
Get all the Lakers news you need in Dan Woike's weekly newsletter.
You may occasionally receive promotional content from the Los Angeles Times.