Newsletter: Lakers! Lonzo Ball just adds to the team's injury woes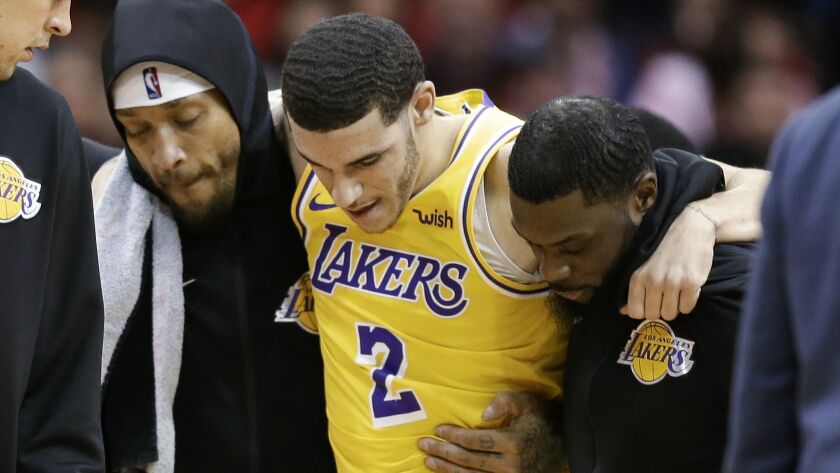 Hi, this is Tania Ganguli, Lakers beat writer for the Los Angeles Times, here with your Lakers newsletter.
Just when things seemed to be turning a corner for the Lakers, the team was dealt another another blow.
Lonzo Ball will be out for four to six weeks with a torn ligament in his ankle. Luke Walton called him "emotionally devastated" at Monday morning's shoot-around, though Kyle Kuzma said he thought it might have been worse. Indeed, Ball's injury right now, a grade three sprain, is as bad as it could have been without being broken.
But there is some good news for the Lakers. I just watched Rajon Rondo participate in a scrimmage after shoot-around and he looked really good. He won't play Monday night but his return is imminent. LeBron James participated in non-contact activities during their unofficial practice Sunday, but he didn't participate in shoot-around Monday.
Kuzma was asked Monday morning if he's been looking over his shoulder wondering if the next game would mark James' and Rondo's returns. He said he didn't at first.
"I'm doing that more now, now with more players out," Kuzma said. "But I wouldn't say as a collective unit we were panicking or any of that stuff."
Under normal circumstances an injury to Ball would be something the Lakers could weather, but being without Ball while they're still missing Rondo and James will be difficult. They have other players who can handle the ball and facilitate for their teammates, but they are now running low on backups at multiple positions and James, Rondo and Ball were their three best ball handlers.
They all knew that, of course, as soon as Ball suffered his injury. It caused an immediate emotional letdown for the team. While they eventually recovered, there was only so much they could do until the game ended.
We'll get to all that happened in the last week soon. But first…
Professor Rondo
Even during his absence, Rondo has been tremendously helpful for his young teammates. He's smart about basketball, but he also understands what it's like to be a young player finding your voice.
It wasn't until his second year in the NBA that he started to really feel comfortable being vocal – an important quality for a point guard.
"It kind of just came natural because I played quarterback, I was a pitcher," Rondo said. "So pretty much every role I played growing up, I was always the guy that was able to be vocal and put guys in [a] place where they needed to be."
That second year in the NBA coincided with when the Celtics, who drafted Rondo in 2006, added Kevin Garnett and Ray Allen to Paul Pierce's team. Having those three players as teammates meant that if Rondo spoke up and was wrong, he'd hear about it.
"A little confrontation is not a problem," Rondo said. "It doesn't hurt the team chemistry. It is all about building and understanding one another, getting on the same page.… Part of learning, there's a learning curve, you're not always going to be right but if you have the right intentions and right heart about what's going on, then it will come out here."
Since last we spoke…
-- Kuzma went through a lower-back injury, recovered and had a 41-point game against the Detroit Pistons. The most impressive part? He played fewer than 30 minutes in the game, making him the first Laker since the shot clock era to play fewer than 30 minutes in a game and score more than 40 points.
-- The Lakers lost two games they absolutely should not have lost. The first was against the New York Knicks. The second was against the Cleveland Cavaliers. Both instilled panic into the fan base and resulted in questions about Walton's job security.
-- There was also a bizarre night in Minnesota when the Lakers lost by 22 points to the Timberwolves and the winning team's coach did get fired. A stark reminder of an NBA coach's shaky job security.
-- Josh Hart played the entire second half of the Lakers' game against the Dallas Mavericks and was a big part of why they won.
-- There is so much the Lakers don't know about what they are like at full strength. Rondo has only played in 14 games. Now when he returns, Ball will be out. Kuzma says the Lakers have a "death lineup" they haven't been able to use yet. Walton said once the Lakers do get completely healthy (which could be in March) the team will be cramming for a final exam. They'll be rushing to learn exactly what they have as the playoffs approach.
-- In Oklahoma City, the Lakers overcame a 17-point deficit to beat the Thunder. It was their best win without Rondo and James, regardless of the fact that the Thunder haven't been playing well. What matters is this: In overtime, with the stakes at their highest, the Thunder's veteran-laden team crumbled and the Lakers didn't.
-- Ivica Zubac had a rough start to the season as he recovered from an illness that caused him to lose a lot of weight. But he has been forcing himself into more minutes for the Lakers. With Tyson Chandler's and JaVale McGee's support, Zubac has been playing really well.
-- Saturday's game in Houston devastated the Lakers for a variety of reasons. They'll now need each other more than ever.
-- And in case you were wondering, James' injury has not deterred All-Star fan voters. He's still leading all players in votes received.
That's all for now. As always, email me your thoughts or questions and sign up for this newsletter here. Until next time…
---
All things Lakers, all the time.
Get all the Lakers news you need in Dan Woike's weekly newsletter.
You may occasionally receive promotional content from the Los Angeles Times.