Lakers! It's time to talk about the future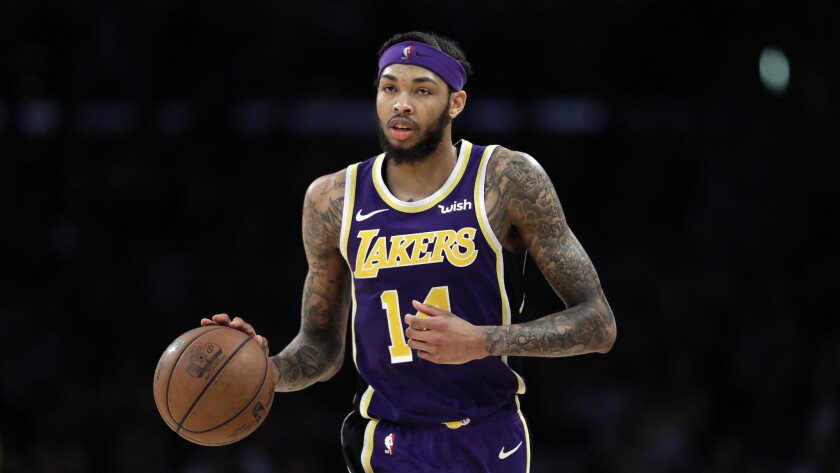 Hi this is Tania Ganguli, Lakers beat reporter for the Los Angeles Times here with your Lakers newsletter.
During the past week some relief came to the Lakers in the form of good news about Brandon Ingram.
Ingram was diagnosed with a blood clot on March 8 – a condition that has ended basketball careers in the past. It's a more dangerous condition when caused by a defect in a person's blood. That means the blood is predisposed to clotting and clots may recur, leading to further potentially life-threatening situations.
It wasn't one clot that ended Chris Bosh's career after all, it was several, including one in his lung.
In Ingram's case, the clot was caused by an obstruction, which pinched his vein. Usually that happens due to a rib's placement, and when the obstruction is corrected, the vein has time to recover. Correcting that obstruction eliminates the problem.
Ingram might be put on a temporary regimen of anti-coagulants after this, but in three-to-four months, he should be ready to go. I should specify that the three-to-four month time frame was given to me by a hematologist who is familiar with these types of cases and how fast a vein takes to recover.
Recently I received an e-mail from a reader who was disappointed I didn't do more research about the recovery time of a Grade 3 ankle sprain. His frustration stemmed from the fact that while the Lakers said Lonzo Ball would return 4-6 weeks after his ankle sprain, that time frame seemed wildly optimistic to him. He made a good point. Ball, of course, didn't return in six weeks and ultimately was ruled out for the season.
The lesson? It's always good to get a second opinion. I will be more vigilant in that in the future.
What matters now?
It's the future that matters most to the Lakers now but it's hard to know what that future will be for the Lakers.
Young players? Veterans' futures? LeBron James' future?
The Lakers' roster is filled with pending free agents. Kentavious Caldwell-Pope, JaVale McGee, Rajon Rondo and Lance Stephenson were guys that went into the season aware of their potential free-agent positioning.
But other players' futures matter too.
Kyle Kuzma is presumably one of those, and Kuzma has spent the past few weeks learning how to become a more complete basketball player.
For Kuzma that's meant learning to share the ball more.
That's just one part of the Lakers paying attention to their future.
Since last we spoke…
--Apparently iconic Lakers fan Jimmy Goldstein is not a Lakers fan.
--The Lakers drafted D'Angelo Russell second overall, traded him and then he became an All-Star.
--As Tyson Chandler sees it, the Lakers season was derailed by the perfect storm. Chandler says LeBron is tough to get used to because of all the things he can do well.
--The Lakers' game against the Knicks led to a last-second block by Mario Hezojna on James' shot. The image went viral.
--Three-point misses have been a thing for the Lakers lately.
--The Raptors had much more at stake when they played the Lakers. They played like it.
That's all for now. As always, email me your thoughts or questions and sign up for this newsletter here. Until next time…
---
All things Lakers, all the time.
Get all the Lakers news you need in Tania Ganguli's weekly newsletter.
You may occasionally receive promotional content from the Los Angeles Times.