This time it is D'Angelo Russell's turn to struggle for the Lakers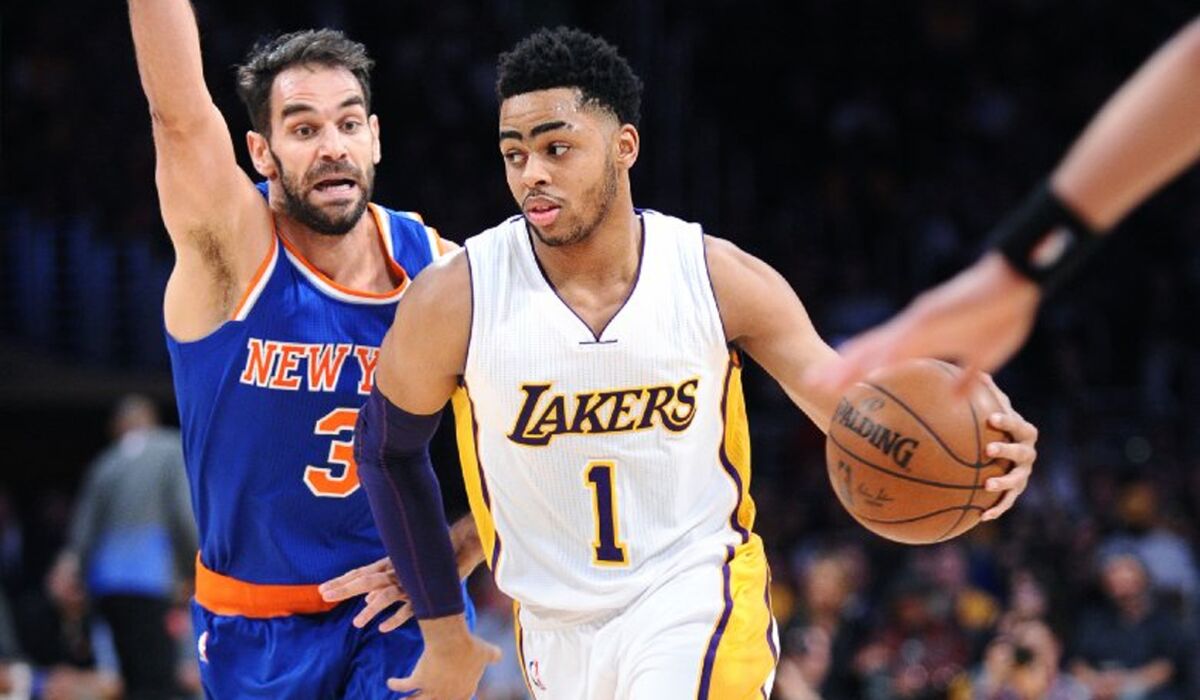 D'Angelo Russell had called it a statement game, an important time to show he deserved to be the NBA draft's second pick last June.
Then a question mark was thrown into his sentence — New York Knicks rookie Kristaps Porzingis sat out Sunday's game against the Lakers because of a stomach illness.
Russell had the stage all to himself. He forgot some of his lines.
After a slew of strong efforts, he was a non-factor in the Lakers' 90-87 loss to the Knicks. He missed six of seven shots and scored only four points with two assists and two rebounds.
He was not in the game down the stretch. Neither was Jordan Clarkson, the Lakers' other backcourt starter.
"He's 20 years old," Lakers Coach Byron Scott said of Russell. "He's had a good run. You expect him to have some bad games sooner or later. The league's going to start really taking a good look at what he does well. They're going to try to make him adjust. He's going to have to figure that out."
It was Russell's 11th game since reclaiming his starting job. His first 10 were almost an unqualified success — averages of 21 points, 4.8 assists and 3.2 rebounds. He was also shooting 46.3% from three-point range.
The most spirited part of his game Sunday was the blue-and-white cap he wore afterward that commemorated the Lakers' back-to-back championships in 1987 and 1988.
"I just didn't make a shot, struggled a little bit in the offensive end," Russell said. "That's about it."
Scott doesn't have much room for hyperbole in his old-school mind-set. He understood what Russell was doing with the "statement game" comment Saturday.
"He's trying to prove that he's worthy of the second pick. For him, if that gets him going, that's fine," Scott said.
Scott questioned Russell's self-motivation earlier this season. He wanted a more serious approach from the rookie. It played into the reasons Russell lost his starting spot after 20 games. On Sunday, Scott said Russell was "OK" at motivating himself.
"You try to compare him to Kobe [Bryant], that's kind of a little bit of a stretch," Scott said. "I don't know if D'Angelo's there yet. I think that's going to take a few years to really even get an answer from that.
"But I do think he's a guy that works. He wants to get better. He'll put in the time, but will he go the extra yard? I don't know yet."
There will be regression at times for a rookie. It's inevitable.
Knicks interim Coach Kurt Rambis liked what he saw of Russell.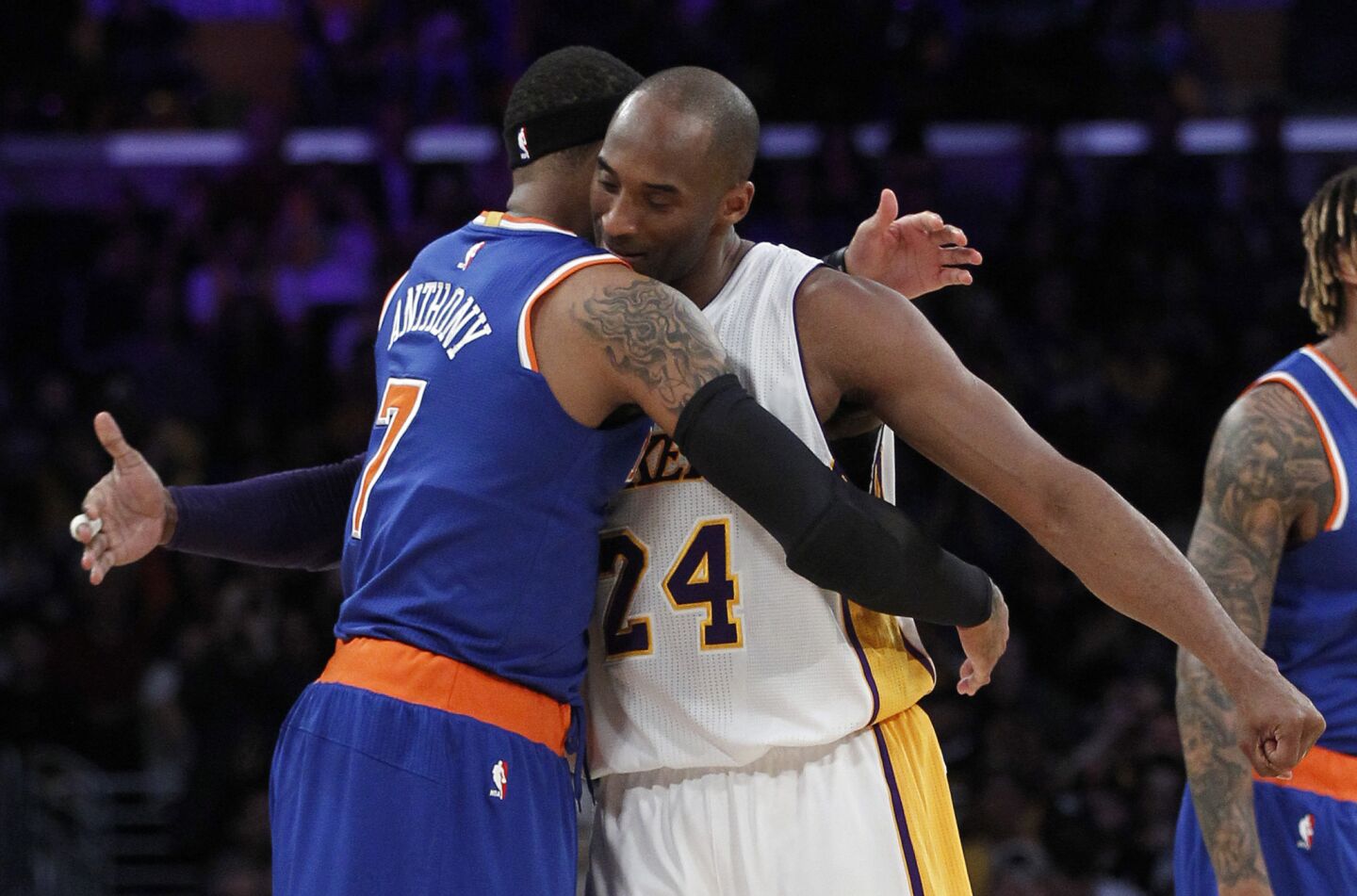 Knicks forward Carmelo Anthony (7) hugs Lakers forward Kobe Bryant (24) prior to their game Sunday at Staples Center.
(Alex Gallardo / Associated Press)
Knicks guard Jose Calderon hits a three-pointer over Lakers guard Marcelo Huertas with 0.2 left in the game.
(Wally Skalij / Los Angeles Times)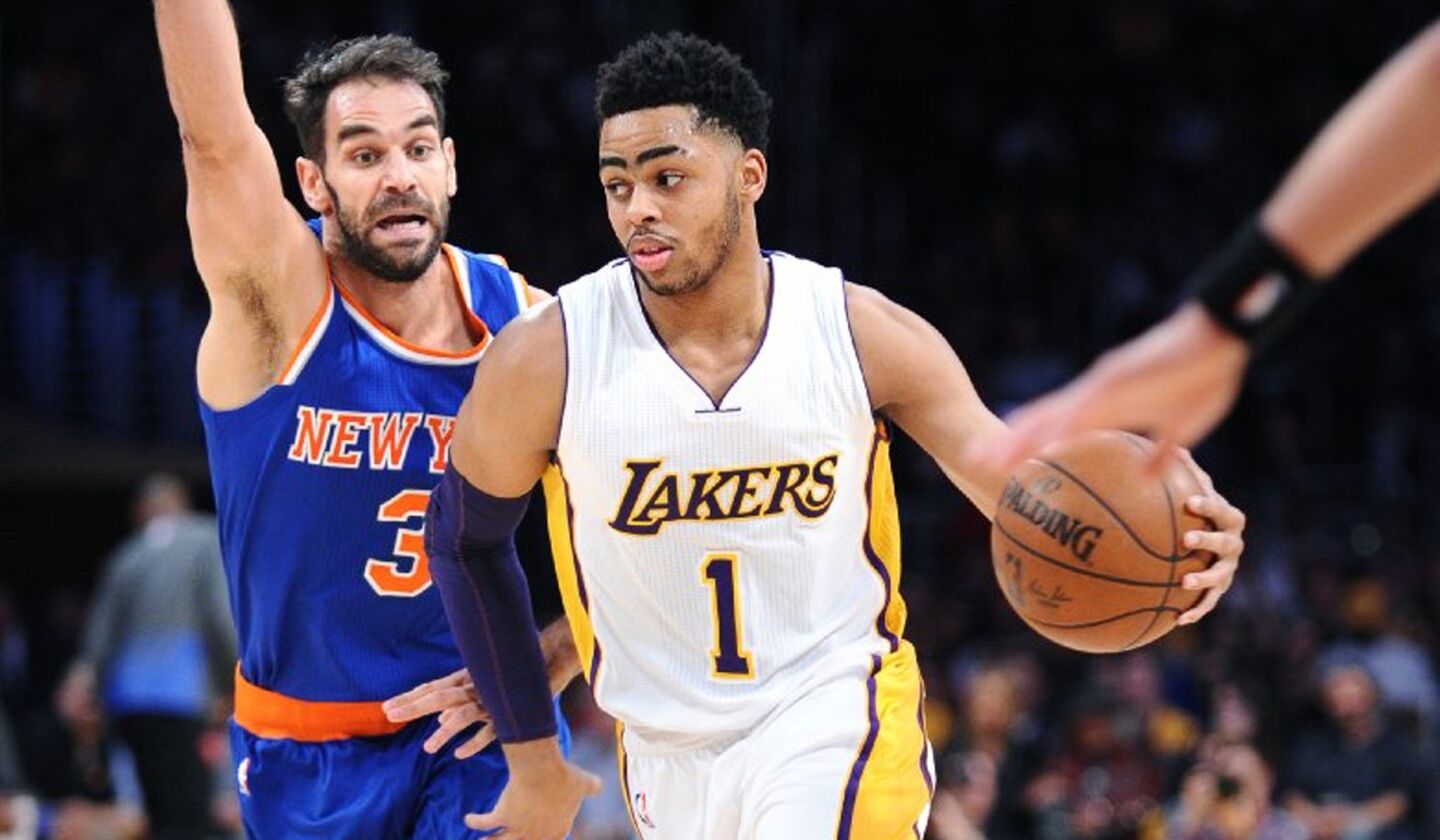 Lakers guard D'Angelo Russell drives past Knicks guard Jose Calderon.
(Wally Skalij / Los Angeles Times)
Lakers forward Kobe Bryant reacts after a turnover against the Knicks in the first quarter.
(Wally Skalij / Los Angeles Times)
Lakers guard Lou Williams is fouled by Knicks guard Sasha Vujacic, right, as Langston Galloway tries to help on defense.
(Wally Skalij / Los Angeles Times)
Lakers forward Kobe Bryant misses the go-ahead shot late in the fourth quarter against the Knicks.
(Wally Skalij / Los Angeles Times)
Lakers star Kobe Bryant hugs the son of Knicks forward Carmelo Anthony, Kiyan, after the game.
(Wally Skalij / Los Angeles Times)
"We all know he's going to be good," Rambis said before the game. "Those young players, it takes them a while to grow up. He's not a finished product by any stretch of the imagination. He's got a lot to learn just like Kris has a lot to learn. He's going to get there. It's just a matter of time before he's a really, really good basketball player."
Porzingis was drafted fourth overall last June. Minnesota center Karl-Anthony Towns was the first pick and Philadelphia center Jahlil Okafor was the third pick.
Twitter: @Mike_Bresnahan
MORE LAKERS NEWS
Will free agents pay attention to rise of Lakers' young guns?
Lakers taking a long look at LSU prodigy Ben Simmons
Kobe chronicles: Kyrie Irving challenged Bryant to a one-on-one matchup
---
All things Lakers, all the time.
Get all the Lakers news you need in Dan Woike's weekly newsletter.
You may occasionally receive promotional content from the Los Angeles Times.