Lakers report: Larry Nance Jr. will be out four weeks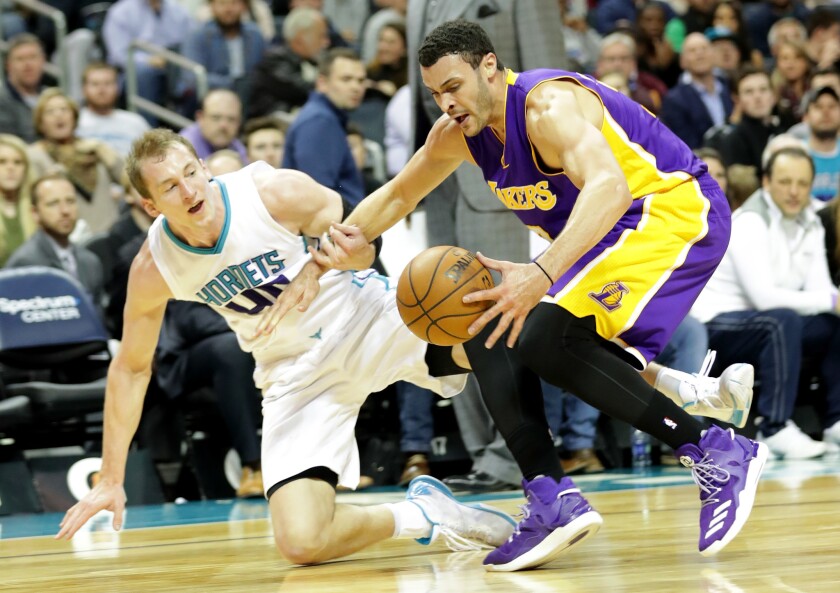 Lakers forward Larry Nance Jr. was examined by the team doctor Sunday before the Lakers played the Clippers. Through the examination, the team concluded Nance has a bone bruise on his knee and is expected to miss approximately four weeks.
Nance suffered the injury in the third quarter against the Charlotte Hornets on Tuesday while he was chasing after a loose ball. He needed help from two teammates so he could leave the court without putting pressure on his left leg.
The Lakers flew to Miami the next day and Nance had an MRI exam there. Because of swelling in his knee, the MRI was inconclusive for anything other than the bone bruise.
Nance's examination Sunday did not include an MRI.
Although Nance has had other knee injuries in the past, the most significant have been to his right knee.
Nance's injury continues an injury-riddled December for the Lakers. They began it without either member of their starting backcourt as Nick Young recovered from a strained right calf muscle and D'Angelo Russell worked to recover from a left knee injury for which he had a platelet-rich plasma injection.
The Lakers have also been without backup center Tarik Black (sprained ankle) and reserve point guard Jose Calderon (strained right hamstring) for most of the month. Black and Calderon both were active on Sunday.
Ball stalling
Part of Lakers Coach Luke Walton's philosophy on offense involves the ball moving with ease. Often, the reward is a high number of assists.
During December, a month in which the Lakers won only one game before Sunday night's matchup with the Clippers, their assists dropped. In 10 of their 13 games heading into Sunday the Lakers had 20 or fewer assists.
To Walton, that's not always the result of poor ball movement. In some of those games, the Lakers struggled to make shots, which affect assist numbers. They are also learning to make the easy pass to the next open man.
"A bigger issue for us is we have guys that aren't ready to pass," Walton said. "D'Angelo cuts very well without the ball. Lou Williams will cut without it. Jordan Clarkson, Julius [Randle] is starting to dive more instead of hanging around the perimeter. But a lot of times when that's happening we're not ready to deliver the pass. I think once we get better at that, and some guys start getting hit for backdoor layups, then it will kind of be that effect of, 'OK, if I do cut I'm gonna get two points on it.'"
Follow Tania Ganguli on Twitter @taniaganguli
---
All things Lakers, all the time.
Get all the Lakers news you need in Dan Woike's weekly newsletter.
You may occasionally receive promotional content from the Los Angeles Times.