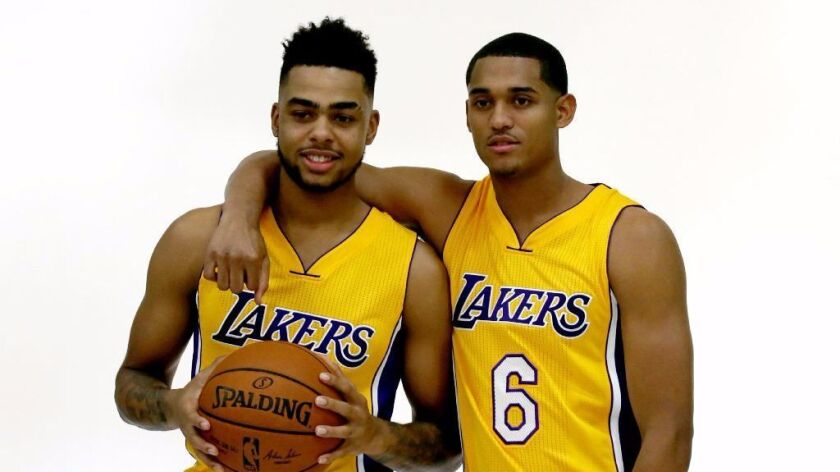 Reporting from Portland, Ore. —
When they were teammates, where you found Jordan Clarkson, you usually also found D'Angelo Russell.
The two young guards were near inseparable during Lakers trips and stayed in touch through a summer of uncertainty for both of them. The Lakers considered trading Clarkson. They actually did trade Russell just two years after drafting him second overall.
On Friday, Russell will return to Staples Center for the first time in a visiting team's uniform. The Lakers will play the Brooklyn Nets.
"He feels amazing," Clarkson said. "Playing well, putting up numbers. Won some games for them. He's feeling good. I feel like he got a new home. He's doing what he's supposed to do."
The Lakers traded Russell to the Nets on June 20, two days before they drafted Lonzo Ball second overall to be their new point guard. The trade sent Russell and Timofey Mozgov to the Nets in exchange for Brook Lopez and a draft pick that later became Kyle Kuzma.
Russell came to the Lakers during a different era. The Lakers' front office team of Mitch Kupchak and Jim Buss drafted him and Byron Scott coached him his rookie year.
It wasn't a smooth road that season. Scott benched him 20 games into the season. In March of that year a video he secretly recorded surfaced that showed Nick Young bragging about being with women other than his then-fiancee Iggy Azalea. The incident caused some Lakers to lose trust in Russell and it also led to the end of Young's engagement.
Last season offered a fresh start of sorts. The Lakers hired Luke Walton, with whom Russell said early on he felt more connected. Still, Russell's approach and mind-set frustrated the Lakers. Late in the season Walton benched Russell for two games and he struggled coming off the bench. In part, the team wanted to see how he would react to the challenge.
When Russell returned to the starting lineup as the shooting guard, he scored 40 points against the Cleveland Cavaliers.
As that happened, the Lakers began narrowing their focus for the upcoming draft on Ball. That experiment, some thought, foretold a Ball-Russell backcourt heading into this season. Lakers forward Julius Randle, who shares an agent with Russell, was among them.
But the Lakers had long since moved on from him.
"I feel like in a way when that situation happened I feel like he knew that something was going to happen," Clarkson said, referring to when it became apparent the Lakers were planning to draft a point guard. "But before, I feel like he didn't know anything. It was a little surprise for him."
So why didn't thing work out?
"You know what? I really don't know," said Larry Nance Jr., who was part of the same draft class as Russell. "Super talented. Sometimes a change of scenery is what you need."
It has served Russell well. He has already notched a double-double and scored 30 or more points twice and 29 points in another game. Now he faces the team that discarded him.
"Oh he's going to be fired up," Clarkson said. "He'll try to go for, 30? 40? I don't know how many shots he's gonna put up. He's gonna come in here, he's gonna try to get a win for sure. He's definitely going to put them up. He's going to try to win the game."
As Walton watched Game 7 of the World Series, he didn't just root for the Dodgers. He also empathized with them.
"I still remember against the Celtics, it was just ugly, know what I mean?" said Walton, harkening back to the Lakers' 2010 championship. "There's pressure that you get used to as an athlete. And then there's Game 7 of the world championship of whatever sport. … You can't prepare your mind for that. There is so much nervous energy and excitement in everything else that comes along with sports that it really is a test of how mentally strong you can be."
LAKERS VS. BROOKLYN NETS
When: Friday, 7:30 p.m. PT
On air: TV: Spectrum SportsNet, Spectrum Deportes; Radio: 710, 1330.
Update: The Nets will have had two days off heading into Friday's game. They are coming off consecutive losses to the New York Knicks, Denver Nuggets and Phoenix Suns.
Follow Tania Ganguli on Twitter @taniaganguli
---