Lakers coach Luke Walton says there is no timetable for Lonzo Ball's return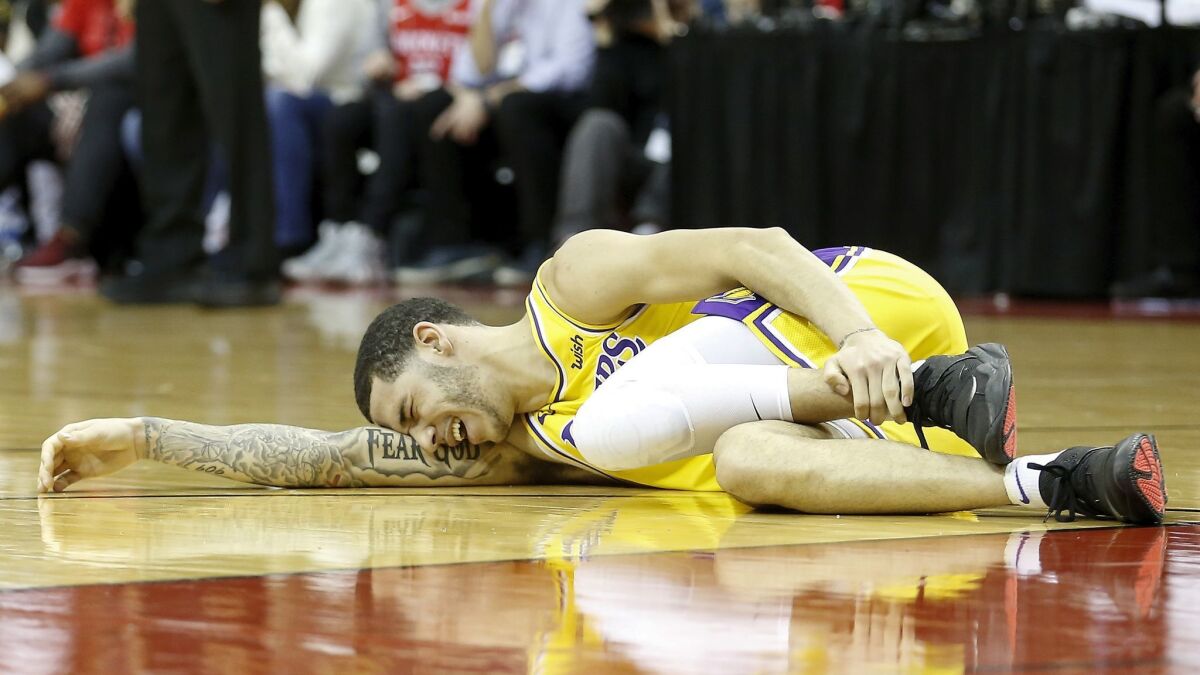 Reporting from Memphis —
Lakers coach Luke Walton said Monday night that the team doesn't have a timetable for Lonzo Ball's return from his injury.
When Ball went down with a Grade 3 left ankle sprain Jan. 19 at Houston, the Lakers said the point guard would be out four to six weeks. But last week The Times reported Ball has a bone bruise in the ankle and his return had been pushed back.
Ball is in Los Angeles getting treatment, and Walton is not sure when his second-year point guard will return to action.
"Nope, they haven't given me a date," Walton said, referring to the training staff and team doctors. "They just said they are working with him and they'll let me know."
Walton said he remains in contact with Ball to see how his treatment is going and keep his spirits high.
"I like staying in communication with the guys," Walton said. "So, I check in with him, just make sure to see how he's doing. I ask about whatever, where his mind is at and those type of things. But we don't speak daily, no."
With Ball out, LeBron James, Brandon Ingram and Rajon Rondo have become the primary ballhandlers. Ball also is one of the Lakers' better defenders, something they are missing in the worst way.
"We obviously miss another ballhandler, another playmaker," James said. "A guy that's very, very good defensively. With his ability to get a steal and pressure the offensive point guard and then push the pace for us, get into our early offense. So we miss that a lot."
Lakers will look for help
The Lakers will keep an eye on players bought out of their contracts to see if they are a fit. The Lakers still can add a player because they have a 14-man roster, one short of the NBA maximum.
Players have to be waived by the end of Friday (8:59 pm Pacific Time) to be eligible to be on a playoff roster.
Walton said he's talked with Magic Johnson, the Lakers' president of basketball operations, and Rob Pelinka, the general manager, about ways to make the Lakers better.
"I've had conversations with them about a lot of things, but they're looking to see how they can help improve the team with that last spot," Walton said. "But no decision from what I've been told so far on what that'll be."
The Lakers wouldn't mind adding another big man, according to people not authorized to speak publicly. But one player the Lakers can forget about is Knicks center DeAndre Jordan, because New York has no intention of buying him out, according to one person.
Milestone for James
James moved into 10th place on the NBA's career assists lists with 8,535, passing Andre Miller on his first assist of the game. James is the first player to reach the top 10 in points and assists; he's fifth on the scoring list with 32,162 points.
Twitter: @BA_Turner
All things Lakers, all the time.
Get all the Lakers news you need in Dan Woike's weekly newsletter.
You may occasionally receive promotional content from the Los Angeles Times.