Column: Lakers can't pass torch to D'Angelo Russell or he'll set everything on fire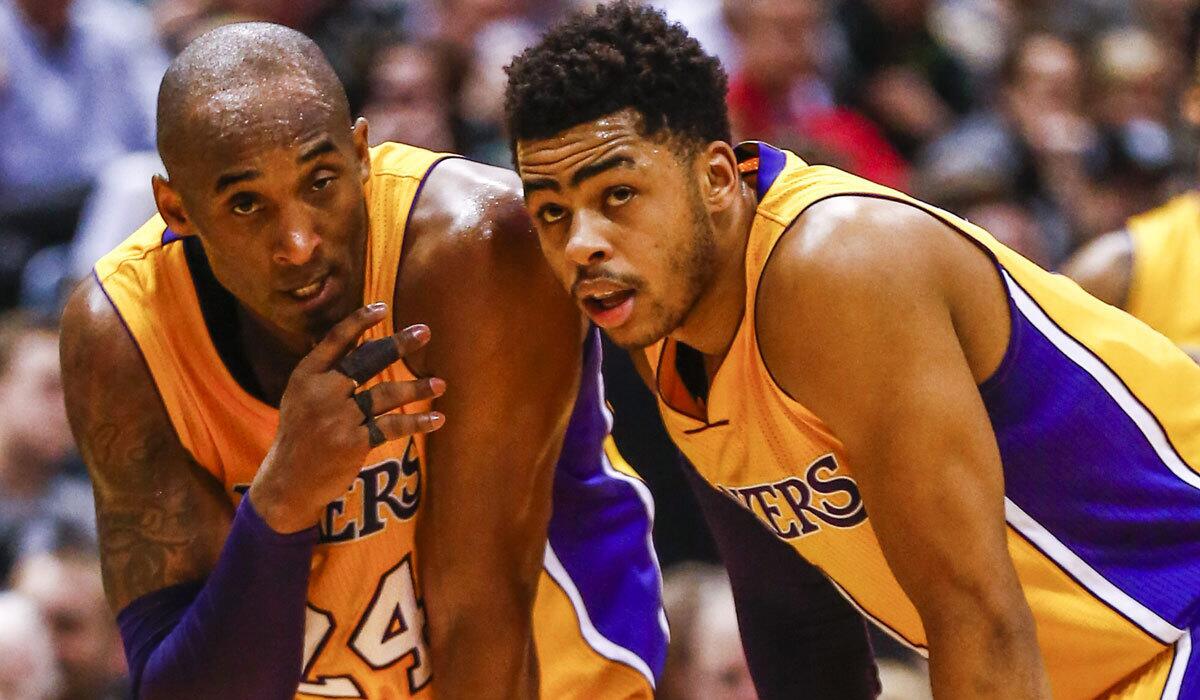 As retribution for this latest bit of foolishness, somebody could secretly videotape the innermost thoughts of D'Angelo Russell, except for one problem.
It would be all static. The kid doesn't think.
The news that Russell is being shunned by his Lakers teammates for secretly taping Nick Young confirms the Lakers' worst fears as they stumble toward life without Kobe Bryant.
Russell is too immature to lead them there.
He was drafted second overall last spring in the hopes that he would spend this season being a student, a protégé, a sponge.
Instead, he has been 19, going on 20, going on 12.
He was supposed to represent the Lakers' next generation, but instead he has become their next problem. He was supposed to be the new Magic Johnson, but so far he is behaving like a retread of Andrew Bynum. He has played decently in spurts, even brilliantly on occasions, but he has done so while acting like the overgrown child that he is.
At the beginning of the month, he rolled off a stretch of eight games that featured seven 20-plus point performances with an average of nearly five assists a game, and talk of him being a blown draft pick was silenced. But after a couple of dreadful weeks, and now this latest incident, the bad buzz is back. If he's not a bust as a potential star, he's certainly been a bust as a potential leader.
You can't pass Russell the torch; he will set something on fire, which is pretty much what happened with this recent video that appeared on a celebrity gossip site.
In the video, Russell is having a conversation with Young about being with women other than Young's fiancee, rapper Iggy Azalea. Young is clearly unaware he is being taped, yet Russell keeps his smartphone rolling. At the end of the conversation, Russell announces the entire thing has been taped, at which point Young turns his head and says, "Huh?"
Once the tape hit the Internet, the Lakers understandably turned on Russell for violating numerous unwritten rules of both the NBA locker rooms and life in general. They have shunned him such that some are wondering whether this dysfunction led to a franchise-tying margin of defeat on Monday night in Utah when the Lakers were blitzed by 48 points.
Nah. They just stink.
The scariest part of all this is that, in eight games, Kobe Bryant will be officially retired, and the ball belonging to one of sports' most decorated franchises will be in Russell's hands.
In another secret videotape to be released this summer, Lakers officials will be seen grabbing it from him.
Twitter: @billplaschke
ALSO
Lakers teammates 'ticked off' at D'Angelo Russell because of secretly recorded video
As Lakers lurch toward season's end, opponents want to spend time with Kobe
We want to hear from you: After 20 years in L.A., what does Kobe Bryant mean to you?
All things Lakers, all the time.
Get all the Lakers news you need in Dan Woike's weekly newsletter.
You may occasionally receive promotional content from the Los Angeles Times.