Kobe Bryant's final road game is just another bum trip for Lakers, who lose by 33 in Oklahoma City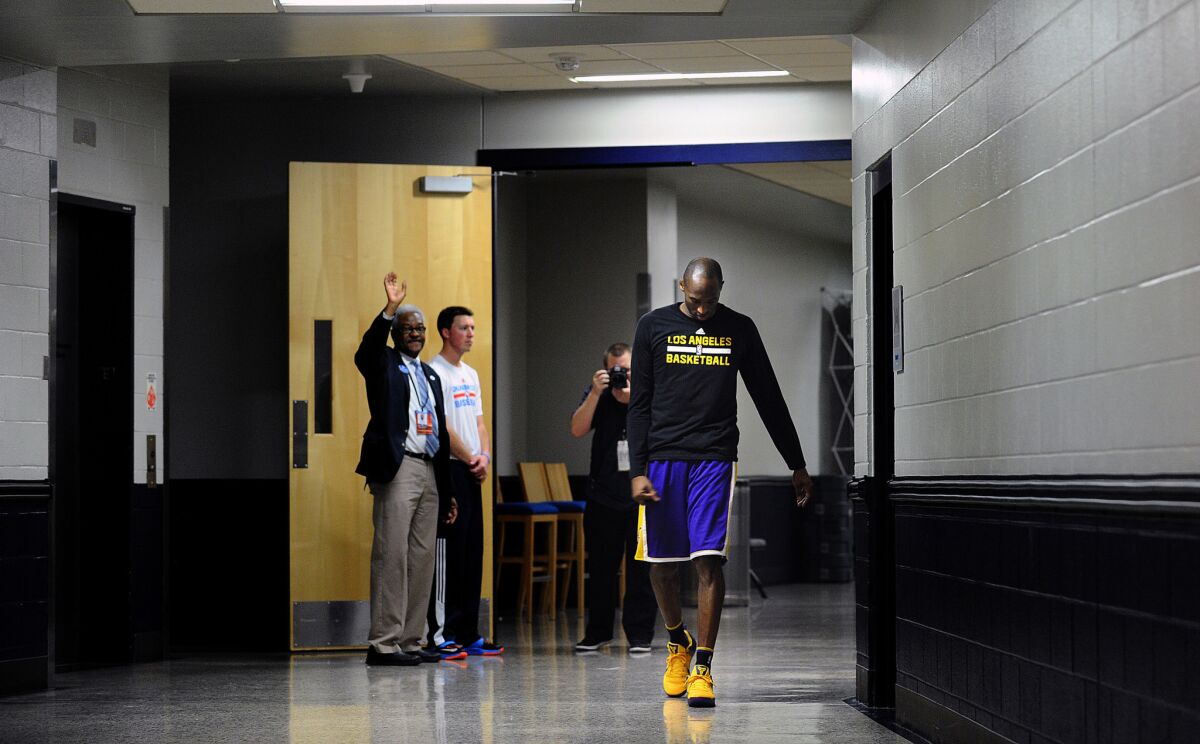 Reporting from OKLAHOMA CITY —
If nothing else, this will always be the last place Kobe Bryant appeared in a playoff game.
It was 2012, back when the postseason was still an annual Lakers rite, and it was vintage Bryant — 42 points in 41 minutes as the Oklahoma City Thunder eliminated the Lakers in Game 5 of the Western Conference semifinals.
Lamar Odom had been unceremoniously dumped a handful of months earlier and Phil Jackson was already on another sabbatical, as he liked to call them. Times were starting to get tough. Or so Lakers fans thought.
Fast forward to now, and just about every Lakers game is a sabbatical.
They were thumped Monday night by the Thunder, 112-79, as Russell Westbrook compiled the second-fastest triple-double in NBA history — 11 points, 10 rebounds and 10 assists in only 18 minutes of playing time in the first half.
This is surely not how Bryant envisioned his final road game, but it was par for the worst Lakers season ever.
The last game of his 20-year career is Wednesday at Staples Center against Utah.
"I feel very excited. Very happy. Looking forward to lacing them up one more time," Bryant said with unmistakable tranquillity after scoring 13 points on four-for-12 shooting in 19 minutes Monday.
It belied everything else going on with the Lakers (16-65).
Fans chanted Bryant's name early in the fourth quarter, tried to get him to reenter the game. One problem: Oklahoma City led, 99-63. He stayed on the bench.
Jordan Clarkson and D'Angelo Russell could barely hit a shot, combining to go five for 24, and no one on the Lakers could stop Westbrook or Kevin Durant.
Durant had 34 points, making six three-pointers at Chesapeake Energy Arena. Westbrook finished with 13 points, 14 assists and 10 rebounds. The only player with a faster triple-double was Jim Tucker in 17 minutes with the Syracuse Nationals in 1955.
"[Westbrook] is probably the most athletic player I've ever played against," Bryant said.
Lakers Coach Byron Scott wasn't quite as happy. He blamed more bad perimeter defense. It's been a season-long gripe. The Lakers continue to linger near the bottom in many defensive categories.
"We're going to have to learn," Scott said. "Obviously it's going to be next year where hopefully our young guys learn that [offense] is not going to define who we are. We're not going to outscore people every single night. The effort on the defensive end has to be a constant."
Tuesday marks an anniversary of sorts for Bryant — three years since he sustained a torn Achilles' tendon.
Returning from the injury was one of his greatest accomplishments, Bryant said Monday, along with eventually coming back from a fractured kneecap the following season and a torn rotator cuff last season.
"Here I am," he said. "The motivation that you have to keep coming back from season-ending injuries, it's very, very tough."
At the end of Monday's game, Bryant, with his right shoulder wrapped up, hugged Durant and Westbrook. Pretty much the whole Thunder team awaited him after that.
He waved as he walked off the court and toward the locker room. One more game left.
mike.bresnahan@latimes.com
Twitter: @Mike_Bresnahan
All things Lakers, all the time.
Get all the Lakers news you need in Dan Woike's weekly newsletter.
You may occasionally receive promotional content from the Los Angeles Times.