Larry Nance Jr. and Jordan Clarkson move on with mixed emotions after trade, and Lakers do too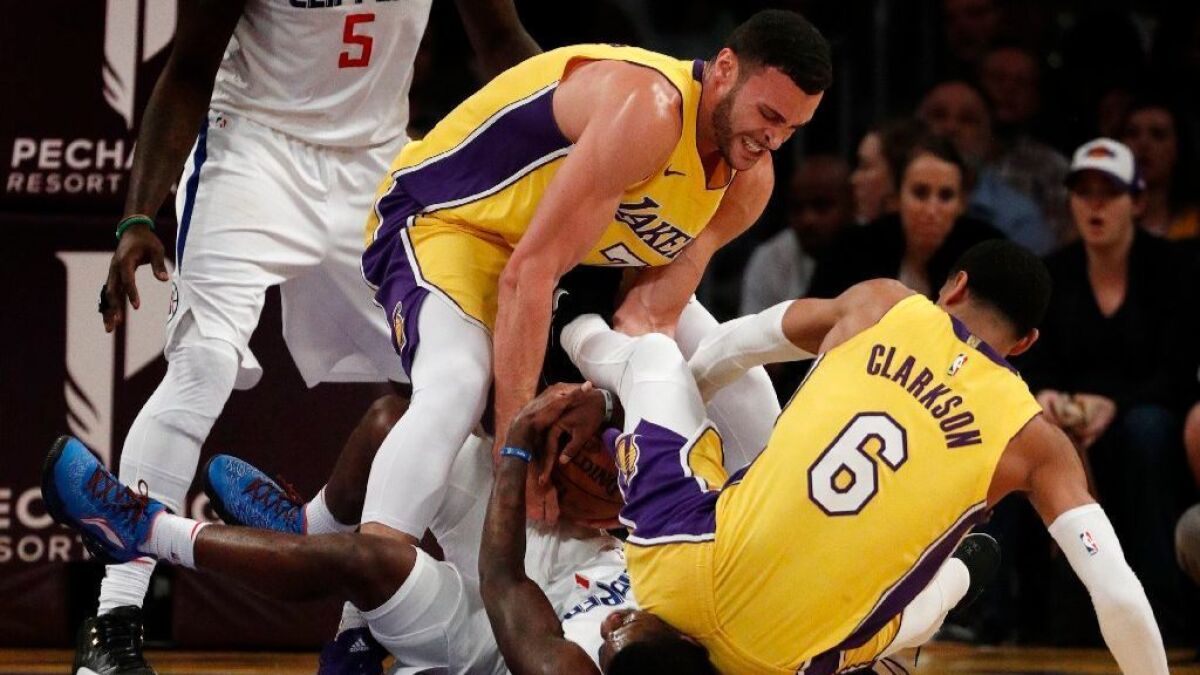 Larry Nance Jr. designed the ring himself this summer with the help of a friend in Cleveland, then he proposed on the balcony of the Redondo Beach apartment he shared with his fiancee. There was nothing frilly or fancy about it. He was just ready for that step.
It was a move forward in Nance's personal life, at a time of changes in his professional life, too.
When Magic Johnson asked the Lakers for a leader to step up at the end of last season, Nance embraced the challenge. The Lakers appreciated it. But it didn't stop them from showing him the door on Thursday.
The Lakers traded Nance and Jordan Clarkson to the Cleveland Cavaliers for former All-Star point guard Isaiah Thomas, forward Channing Frye and Cleveland's first-round draft pick, which is protected if it falls in the top three. It was a move almost entirely about salary cap space — Frye and Thomas both have expiring contracts. But in looking to the future, the Lakers said goodbye to two players who grew up in their organization.
"We had to give up some special guys to get the flexibility that we've been looking for and that is needed to get us to where we want to go," said Johnson, the Lakers president of basketball operations.
Said Clarkson in a phone interview with The Times: "It's kind of early right now; it ain't really set in. I'm definitely going to miss the people and everybody that I met here. My teammates, I'm definitely going to miss all those guys."
Clarkson became a Laker in 2014 after a draft day trade with Washington. The Lakers drafted Nance late in the first round in 2015. Clarkson made his mark scoring while Nance made his mark with defense, hustle and the crowd-pleasing slam dunks that will have him competing in the All-Star dunk contest at Staples Center next Saturday — just not as a Laker.
Both players were forced to adapt to backup roles this season. Johnson and new general manager Rob Pelinka challenged Clarkson to become the best bench player in the NBA, and Clarkson started playing like a candidate for sixth man of the year.
His 732 bench points rank second in the NBA after the Clippers' Lou Williams. Clarkson is averaging more points per game (14.5) than any other player who plays 25 or fewer minutes a game.
"I've just been trying to focus on the basketball and not the business of the game," Clarkson said. "I really blocked everything out. Shoot 'cause I got a job to do. I gotta go out there and perform every night for my team to win."
When the Lakers started winning following a nine-game losing streak, they did it in large part because of Clarkson, who averaged 21 points over an eight-game span, and Nance.
"Larry Nance, we love everything about him, who he is as a person and a player. Jordan Clarkson has been amazing; he's grown up here," Pelinka said. "But sometimes … you have to tear down a corner or you have to redo the kitchen in the remodel on the house, and that can be hard when you're doing it."
Players were quiet during their shootaround after learning of the trade.
"It was emotional in the beginning, since we lost two of our brothers," said forward Julius Randle, himself a trade candidate. "They're in a great spot and they have a job to do."
While it might be a bittersweet moment for all parties involved, there are positives about the trade to Cleveland that could be meaningful for Nance and Clarkson.
Nance will be going home. He grew up in Akron, Ohio, idolizing new teammate LeBron James. His father's jersey is retired by the Cleveland Cavaliers.
And both Nance and Clarkson will have a chance at something they've never experienced before — a playoff run. While neither player has been part of a team better than 26 wins, the Cavaliers have won at least 50 games in each of the past three seasons and played in the Finals each year. Clarkson called the chance to play for a championship "exciting."
It's also a relief; an end to more than a year of uncertainty.
"All that stuff was craziness that's going on," Clarkson said of the trade rumors. "Some of the stuff you don't know if it's true or real. Just knowing that I'm going to be there [in Cleveland] is real cool."
UP NEXT
AT DALLAS MAVERICKS
When: 5:30 p.m. PST, Saturday
On Air: TV — Spectrum SportsNet, Spectrum Deportes; Radio — 710, 1330
Update: Isaiah Thomas and Channing Frye will meet the Lakers in Dallas. Lonzo Ball will miss his 13th straight game with a sprained knee ligament.
Follow Tania Ganguli on Twitter @taniaganguli
---
All things Lakers, all the time.
Get all the Lakers news you need in Dan Woike's weekly newsletter.
You may occasionally receive promotional content from the Los Angeles Times.